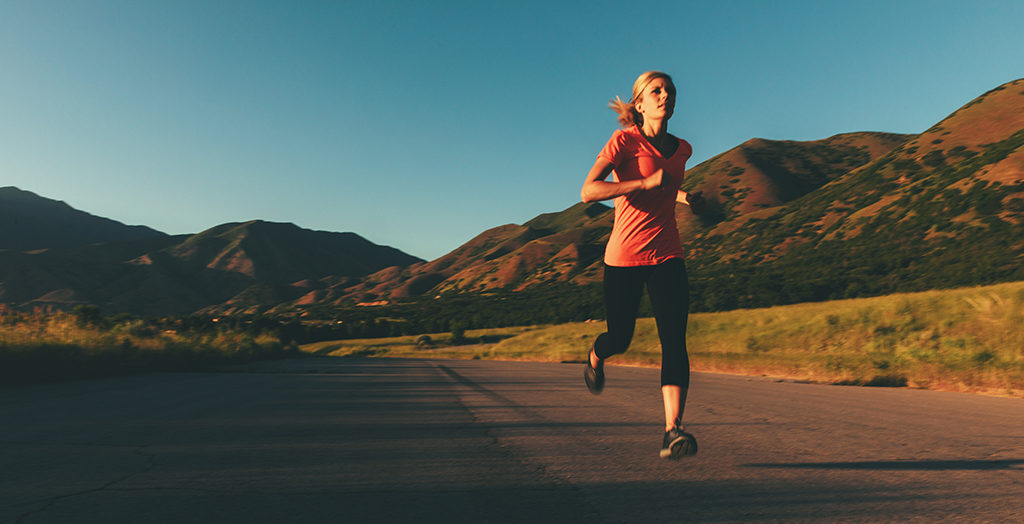 If you're gearing up for running season, you gotta make sure to put the best marathon-specific workouts in your training program. That means over the next few months, you need to craft a rigorous schedule of cross training workouts to improve your speed, endurance, strength, and cardiovascular capacity. Oh yeah, and get you across that finish line injury free!
And remember—it's not all about running. Whether you're an advanced or beginning runner, creating a solid marathon training schedule requires fusing different types of exercises and workouts together. That's why cross training is one of the best workouts for marathon runners. By combining diverse workouts like strength exercises, Spin class workouts, and interval training, you'll prepare your body for the stresses of the race and become a better runner.
We want you to achieve your #marathongoals, so Studio SWEAT onDemand's giving you our picks for the top 5 classes that double as the best marathon workouts ever.
Race Against Yourself!
Want to build endurance and speed? Try this Interval Fun Run treadmill class that uses intervals to maximize your cardio burn. The interval structure in this marathon-specific workout is great for testing your limits and getting you to that high heart-rate zone, but the 37-minute running time makes it a great supplement to your longer runs. Use it with a treadmill, or take it outside. Your choice!
Get Moving with the Best
There are very few of us that get to run with a world-class trainer, personally coaching us along the way. Want the next best thing? Check out this 20-Minute Audio Only Run Workout with Studio SWEAT onDemand founder, Cat Kom! Whether you're looking for advanced or beginner marathon training, Cat Kom's motivating voice in your ears will get you through any intense run.
Queen of the Hill
If you're going to train for a long distance run, you're gonna have to master the incline run. This Killer Cardio: Endurance-Building Treadmill Workout makes the most out of its hour-long duration by using steep hills and tough climbs to make you stronger. By getting you to fight against gravity, you're making your cardio and leg muscles work overtime in short intervals. As far as marathon workouts go, this is a great one for building endurance.
Fast Fusion
If you can't choose between a running or strength-training marathon-specific workout, why not do both? With this Run-Sculpt class, you've got a 2-in-1 option to boost your cardio and build strength using a diverse collection of bodyweight exercises. With moves like squats, lunges, pushups, and more, this class can help you develop your agility and full range of movement—some of the most crucial skills you need to develop before running a marathon.
A Good Ole'

Spin Class Workout
Want the ultimate workout that's still easy on the knees? Look for a Spin class workout that doesn't skimp on the weight training—like our Spin-Sculpt class. With this fierce Spin class workout, you'll be reaching for heavy weights in between fat-torching Spin sessions, making it one of the best marathon workouts out there. And, if you're not in the mood for lifting, just hop on the bike to build your leg and lung strength without the knee pounding that happens when you hit the road.
Better than Bootcamp
We get it—marathon training ain't easy. If you need a little extra motivation to get you through those tough, I-want-to-stay-in-bed days, check out our killer Bootcamp Class. This combination cardio and strength-training class is absolute fire. And by wrapping up workout drills and intervals in an intense, non-stop program, Bootcamp classes are guaranteed to whip you into shape.
Stretch to be Safe
Listen up runners, unless you want your running career to come an abrupt stop, you have to include 2 types of stretching: Dynamic Stretches before you run, and Static Stretches after each Run. Not sure what to do? That's okay, just follow Cat and AJ in their 5 Minute Pre-Run Warm up and Post Run Stretch videos. Safety first!
---
Whether you're following a pre-scheduled program or running to the beat of your own drum, you can smash your #marathongoals with a 7-Day Free Trial with Studio SWEAT onDemand. SSoD offers hundreds of killer online workouts, available on any device, anytime. Sign up today and you'll be one step closer to the finish line.