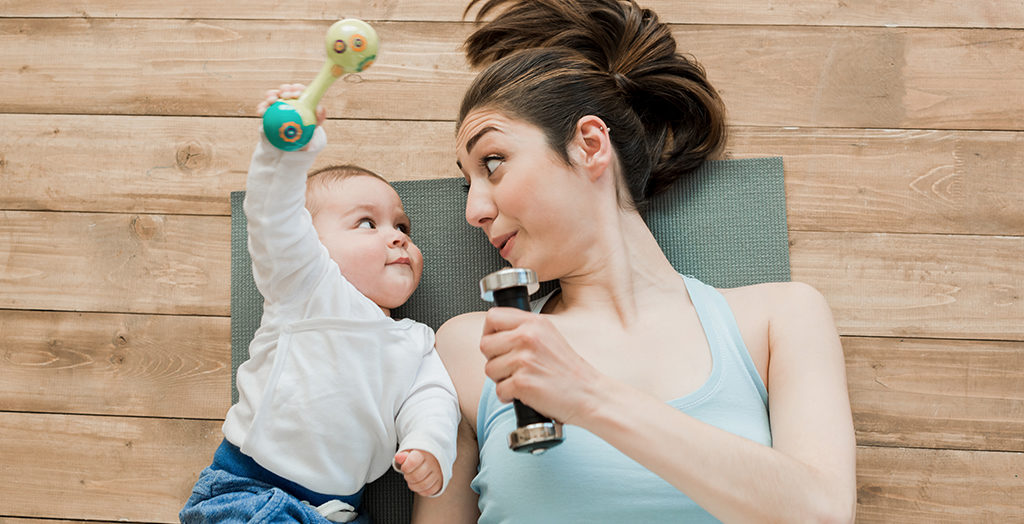 How do busy moms & dads find the time for their workouts? We've all heard the old, "My kids are my exercise!" But, since we're not all dead-lifting surly 15-year-olds or running a 5k after a toddler, some of us just need a little extra sweat to feel fit. It's just a matter of finding the right way to do it in between your time acting as a chauffeur, personal chef, and life coach all rolled in one.
Lucky for you, we've got the perfect workouts and exercise tips for the busy mom or dad with a hectic schedule.
---
Arm & Hammer
We call them a "classic" workout for a reason; dumbbell workouts are the perfect at-home workouts for moms and dads because they take up such little space (perfect for your office/playroom/makeshift gym). Plus, you can carve it up with just about an endless variation of moves.
Want a perfect arm workout you'll come back to again and again? Check out this 15-minute workout, designed to sculpt your biceps, triceps, shoulders, and back. It's the perfect training for picking up the little one or carrying all the grocery bags in one go!
Alotta Pilates
Through the use of controlled movements and breathing, Pilates is one of the best workouts to not only build core strength, but to also get in full-body toning, balance, and flexibility. Basically, it's THE perfect workout for the harried parent that just needs a little stability in their life. In all seriousness, Pilates is designed to give you the maximum possible workout with as little impact as possible. And, with its focus on mid-section strength and alignment, it's not too shabby for the busy mom or dad in search of flat abs that deals with an achy back or bad knees.
This mat-based Pilates class is one of the best at-home workouts for moms and dads because it's quick, simple, and you can get it done anywhere you can clear your kids' toys from the floor.
5-Min Fire
Don't have a lot of time in between meals and household chores? Make the most of your short breaks by doing a hard-and-fast exercise, like this intense 5-minute ab workout that'll get your abs absolutely burning.
TRX Tone it Up
TRX is an amazing addition to any busy mom or dad's workout schedule because of its versatility and portability. You can take the light weight straps anywhere and just anchor them on any heavy door. Then, just using your body weight, the TRX workouts you do will target your entire body. And, while TRX is easy to set up—that doesn't mean a hard, fat-burning workout is out of reach. A quick exercise tip for our busy moms and dads out there: just by changing your body angle, you can make any TRX move more or less challenging.
Learn more about how to max out your TRX workout with this quick full body 30-minute TRX class.
From Appetizer to Meal
Feel like you can't get an entire workout some days? Don't give up on your busy mom and dad workouts! Just get in a fun, yet tough, total body workout that'll pump you up for the rest of the day, like this fun 12-minute total body blast. It just requires a set of dumbbells and a little grit, plus you can probably get it done in the time it takes your daughter to pick out her outfit for school.
---
And, ya wanna know the best thing you can do for your busy mom and dad workout schedule? Sign up for Studio SWEAT onDemand's 7-Day Free Trial to get a full week of fat-torching, total body-toning workout classes that you can play when you want, where you want, and on any device. Best part… these classes feature everyday people like you and are taught by real trainers—not fitness models or actors, so you know that you're being taught by true experts that know the body sculpting benefits of a quick workout. Now, let's show everyone what parent power looks like!
BODY-SCULPTING WORKOUTS. NON-STOP NEW RELEASES

|

Pick Your All Access Pass Now!