Fitness Programs that Turn Back the Clock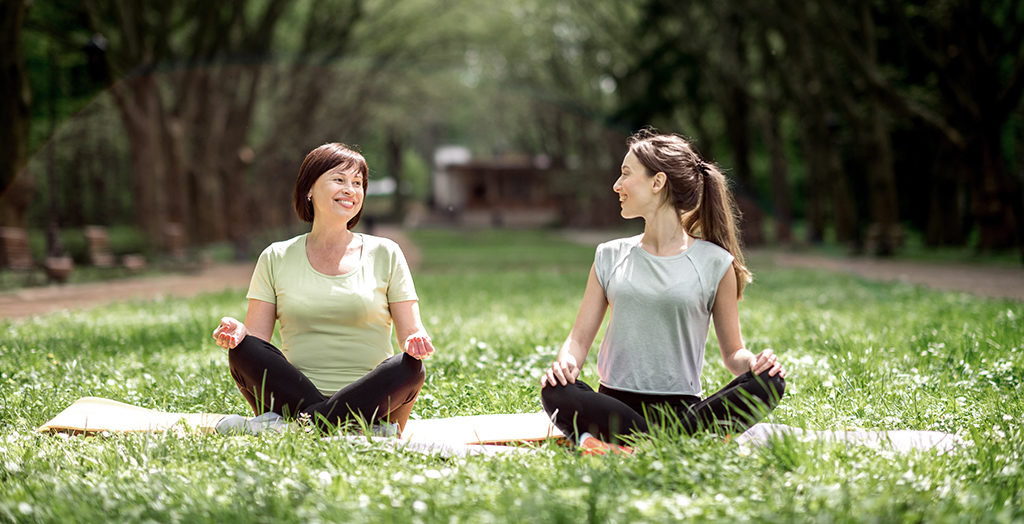 Did you know that exercise has age-reversing powers? We're not just talking about feeling like a million bucks after a great Spin session or that spring in your step you feel when you're getting fit—there is actual research that shows regular activity and exercise can slow aging in the mind and body. What's even cooler is that there are certain exercises that are especially good for keeping you youthful and vibrant, and Studio SWEAT onDemand's got some of the best ones right here! Take a sec to learn about our great age-reversing workouts, and you'll be able to create your very own anti-aging fitness program!
Younger with Yoga
Every day it seems like someone's thinking up another "benefit" that yoga can give, but the truth is: yoga's pretty awesome. This ancient exercise does wonders for toning your body, relieving stress, improving flexibility, building balance, and yes, it's a great age-reversing workout too.
By incorporating meditation, breathing techniques, and low-impact strength-building, yoga helps you strengthen the connection between your mind and body. In fact, a team of researchers showed that older, regular yoga practitioners have a reduced risk of disease and lower cognitive decline when compared to non-regular practitioners.
Want to tap into the inner secrets of yoga? Check out one of our many yoga classes and learn how to channel a more peaceful, more mindful you.
All the Right Moves
We think dancing is a great example of how exercise slows down aging. Of course, don't just take it from us: a study by Colorado State University showed that older subjects who took dance classes had improvements in memory, processing speed, and overall health just six months later.
But, if you're not one to dance like no one's watching, we understand. If you are, however, willing to bust a move with no one but your cat watching, try out this super quick leg toning Barre class, or this cardio-busting Zumba Class for Beginners at home. That way, you can really let loose!
Be Young at Heart
We all want to look and feel younger, and one of the great benefits of aerobic exercise is reversing the wear and tear on our cardiovascular system. There's plenty of evidence to show that intense aerobic exercise for a couple of years can improve cardiovascular performance—especially in a section of the heart that tends to naturally decline with age.
So if you want the best heart-healthy workouts, check out some of our cardio-pumping exercises and workouts from high-intensity interval training (HIIT) and the classic lower intensity cardio workouts.
A Different Kind of Muscle Memory
It's official: strength training doesn't just sculpt your body, it sharpens the mind too. A fascinating study found that just six weeks of weight training can significantly improve a person's memory and cognitive reasoning.
And while we're not telling you to drop the crossword puzzle and pick up a dumbbell, we still think a great weight training workout like our Carve It Up: Back & Chest class can help you work your body and your mind. This is one part of your anti-aging fitness program you don't want to skip!
---
At Studio SWEAT onDemand, we believe that youthfulness is a state of mind. The vitality and energy we desire is really available at any age—and one of the best ways to feel young is to get fit and healthy. So, if you want to enjoy the age-reversing benefits of aerobic exercise and weight training, give our 7-Day Free Trial a try. You'll get access to over 200 workouts you can play any time, on any device. And best of all, they're led by passionate, world-class trainers, leading other real people just like you – not actors or fitness models. Now c'mon, let's show the world what we've got!
BODY-SCULPTING WORKOUTS. NON-STOP NEW RELEASES

|

Pick Your All Access Pass Now!