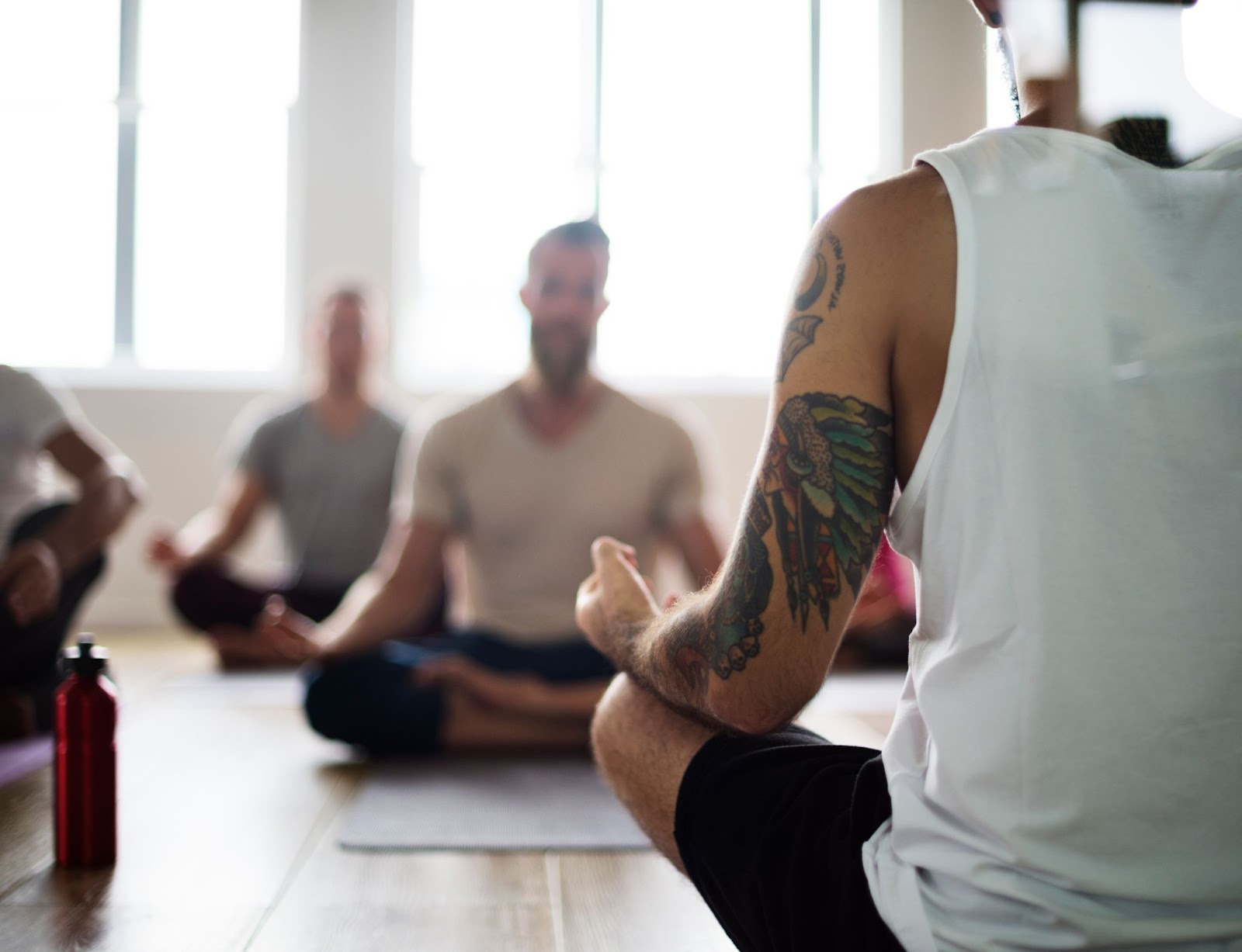 At Studio SWEAT onDemand, we love yoga, everything about it in fact: we love the deep stretches that run through the entire body, we love the intensity of holding a position for what seems like forever, we love the profound sense of calm when we're lying in the savasana pose. 
But one thing we don't like is the fact that when we step into a typical yoga class, we can't help but notice the rather glaring demographics — it's usually filled with women. Now, as a female-founded virtual fitness platform, we've got nothing against the fairer sex, but when you think about how amazing yoga classes are for our overall health and wellness, it just makes us feel a bit sad, and makes us want to ask the question: why aren't more men doing yoga? 
A Deeper Dive in the Numbers
When we pull the statistics of yoga participation across the United States, some very clear suggestions spring up. See for yourself: 
34.4 million people, or 10% of the US population, practices yoga
There are currently around 7,000 yoga studios in the US, and 100,000 teachers
The biggest demographic of yoga participants is women between the ages of 30-49
Only 28% of yoga participants are male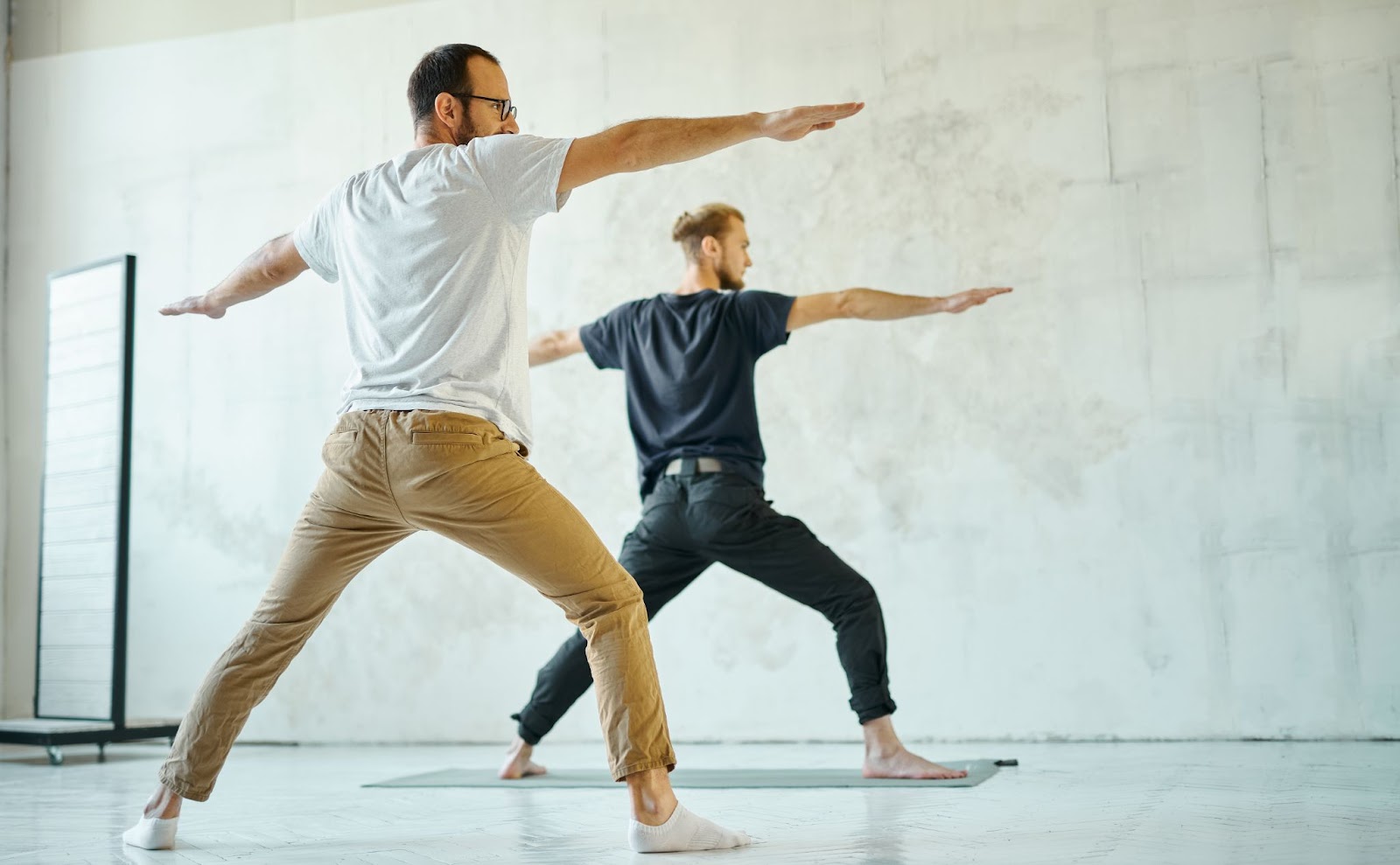 So Why Do Men Avoid Yoga?
The short answer to why men don't practice yoga…is that nobody really knows. However, we can speculate on a number of potential reasons. When we look at the participation from decades ago, when the exercise was limited to Indian yogis and American hippies, it seemed to be pretty evenly distributed, maybe even skewing towards the male side. But during the explosion of yoga through the states in the 90s and 00s, a couple of factors were happening at the same time: for the most part, the fitness industry targeted men through the prism of building huge, beefy muscles, leaving the toning impacts of exercises like yoga mostly for women. Later on, an entire clothing industry came about aimed at women — and the yoga pant was born. Now that we've covered the why, let's talk about why men need to start incorporating yoga into their fitness routines!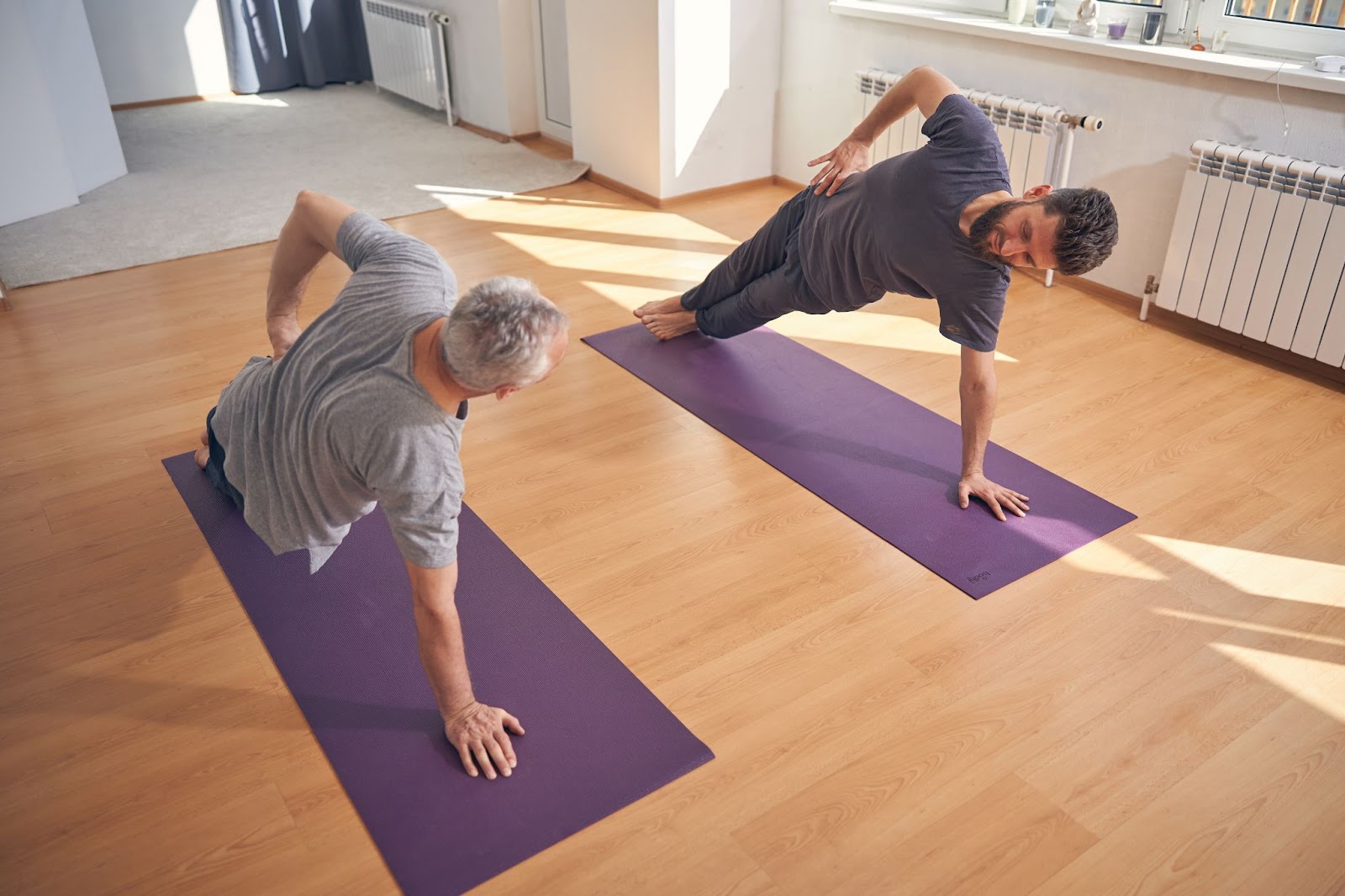 The Benefits of Yoga for Men
Injury Prevention: Since yoga improves flexibility and range of motion, it also enhances the connective tissue in the joints, leading to less injuries in the future. 
Improved Sexual Function: Not to dive directly into the gutter, but yoga has clinically been shown to improve male sexual functions in a variety of ways, including performance, duration (ahem), and desire. 
Better Productivity: A good yoga routine doesn't just boost your homelife, it elevates your abilities at work, too! According to recent studies, even a 20-minute yoga session boosts individuals' attention span, information retention, and energy level. 
Stress Relief: Many men face high levels of stress, anxiety, and other mental health issues. What's more, a lot of men have trouble seeking help for these inner problems. Yet another fantastic benefit of yoga for men is that it can be absolutely effective in reducing stress levels. 
Lower Incidence of Sleep Apnea: Men are also likely candidates for sleep apnea, a potentially dangerous condition that can seriously impact sleep, and overall health. But yoga has been shown to have a highly beneficial impact on lowering levels of sleep apnea, due to the focused breathing exercises one experiences with yoga. 
Our Favorite Male-Led Yoga Classes
Now that we've (hopefully) convinced you or the men in your life to take up yoga, how about some awesome onDemand yoga classes featuring male instructors? Here are a few of our favorites: 
Simply Yoga: This back-to-basics introductory yoga class features Studio SWEAT onDemand's own superstar trainer Taelor. It's no-frills, uncomplicated, pure yoga, and the perfect starter class for novices. 
Super Stretch Yoga: Taking things up just a few little notches is this stretchy, sweaty, 30-minute yoga class featuring Charlie. This full-body stretch sesh is perfect as a pre or post-workout routine, or just as a standalone class. 
Magical Myofascial Yoga: Your myofascial network consists of all the tough membranes that wrap, connect, and support your muscles. This all-encompassing yoga class targets the hips, shoulders, neck, and all the way down to the feet. 
If this man-centric-yoga-pep-rally got you, or the macho dude in your life, excited about trying out yoga for the first time, be sure to check us out at Studio SWEAT onDemand. Our virtual fitness platform features an endless library of yoga classes, along with onDemand Cycling, Barre, Pilates, Kickboxing, HIIT, TRX, and many more. We also offer a commercial program called Sweat Pro, which delivers our streaming fitness solution to large gyms, small fitness studios, hotels, universities, military bases, and more. Plus, we've got a corporate wellness program called the Sweat Force, that does the same for businesses of any size. To learn more about either of these programs or to schedule a demo, click here.
BODY-SCULPTING WORKOUTS. NON-STOP NEW RELEASES

|

Pick Your All Access Pass Now!