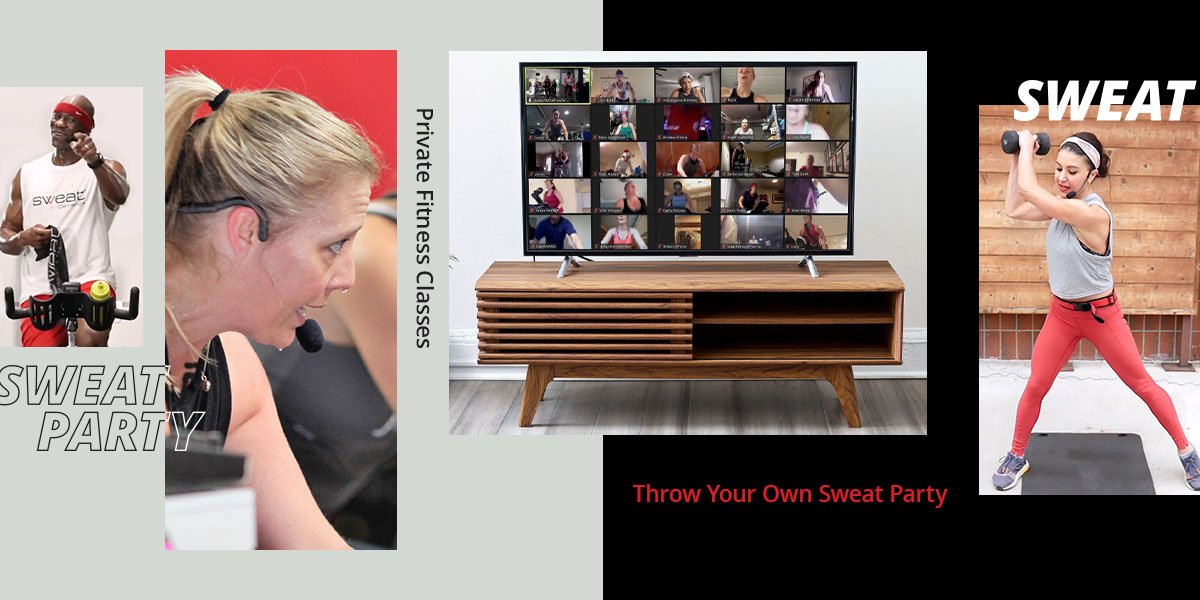 At Studio SWEAT onDemand, we've always been dedicated to delivering the best streaming fitness experience to people all over the world. And we created the Sweat Force to offer our virtual workout solution to corporations large and small. The Sweat Force gives employees access to our expansive library of workouts that can be done anytime, anywhere, on any device. 
Now more than ever, businesses could use the unparalleled benefits that only fitness can provide. When a company's workforce becomes fitter and healthier, a number of interesting changes occur — an improvement in team morale, a drastic reduction in sick days, plus a more productive and positive workforce. But none of these amazing benefits can happen unless employees are actively engaged in the organization's fitness program. 
And that's exactly why we created the Studio SWEAT onDemand Sweat Party.
What Is a Sweat Party?   
Sweat Parties are private fitness classes that can be scheduled and taken by groups of friends, employees, or family in different locations all at the same time. They're similar to a watch party, but instead of friends watching a movie together, eating popcorn together and commenting on the film, they're all working out together, and having a blast while they're at it. For a more thorough introduction, click here.
Why Sweat Parties Are Effective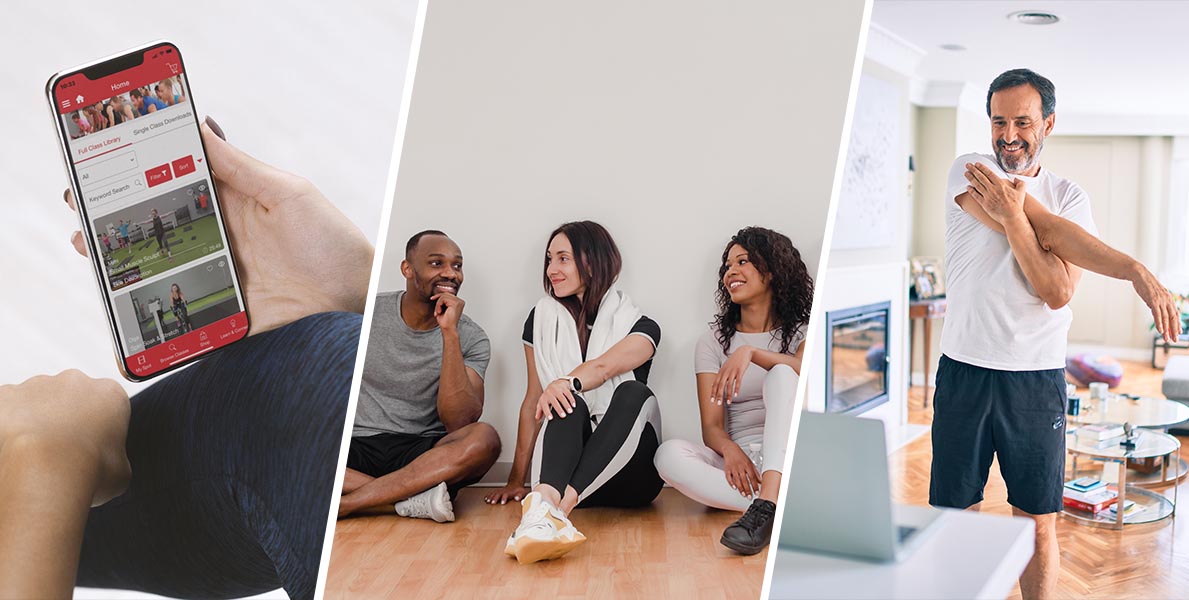 Sweat Parties combine the exhilaration of a group fitness class with an effective team-building workshop. Here are just some of the benefits companies experience while taking a Sweat Party: 
Building Trust: When team members sweat alongside each other, they're working together towards a common goal. This builds trust that translates to a more cohesive unit when working on projects. 
Boosting Morale: The endorphins released during an all-out workout foster positivity throughout the group. You'll find that when employees cheer each other on during a particularly strenuous workout, they're offering up support that soaks into the fabric of the team. 
Improving Health: Studies have long shown that a healthy fitness routine is the key to a more productive workforce, with less sick days and higher energy levels throughout the work week. 
Elevating Office Culture: When a company demonstrates that they care about employees' health and fitness, they build a culture of wellness in the organization. Which leads to happier employees and lower turnover. 
Class Ideas for the Perfect Sweat Party
At Studio SWEAT onDemand, we know that fitness looks different for everyone. There are those that prefer active, high-octane, sweat-drenching kinds of workouts, and then there are people who'd rather do something a bit easier. There are people who prefer cardio, and people who lean more towards strength training. We're well aware of this, and so we've created a handy list of class suggestions for your upcoming Sweat Party, with a variety of low, moderate, and high-intensity workouts. Explore the list to find a group class that works for your team's unique skills, interests, and abilities.
How to Create Your Own Sweat Party, in Less than a Minute! 
Fitness isn't complicated, so finding the right fitness class shouldn't be either. Here's how to create or join a Sweat Party, in no time at all: 
Step 1: On the Studio SWEAT onDemand website using any desktop or mobile browser, find a class you'd like your team to take.
Step 2: Pick the date and time for your sweat party.
Step 3: Select 'Schedule Party' – you'll get a link to share with all those you'd like to invite, or you can select to send it to your entire team if you're set up as a team in our system. 
Step 4: When it's party time, just open the link you shared or go to the "My Sweat Parties", which is located under "My Spot" on studiosweatondemand.com, and get ready to SWEAT!
For a more detailed explanation of the steps, check out this Quick Start Guide. 
As you can see, we've made it as easy as possible to give your workforce the tools to become their best selves, and in the process — better employees! If you'd like to learn more or to schedule a demo about the Sweat Force, our corporate wellness program, or Sweat Pro, our commercial fitness program, click here.
BODY-SCULPTING WORKOUTS. NON-STOP NEW RELEASES

|

Pick Your All Access Pass Now!