With our home studio comfortably nestled in sunny San Diego, we know a thing or two about living the sweet life — and it ain't hard when you've got gorgeous days the whole year round. But for those of you who live on the east coast of this country, or on any coast in any country a bit farther from the equator, summertime is gonna be your best chance to enjoy those warm, beautiful days that we sometimes take for granted. 
And at Studio SWEAT onDemand, we think there's no better way to enjoy the great wide open than with a butt-kickin' outdoor workout! Think about it: the exhilaration of a full-on sweat sesh, the glorious power of the pump, and the sweet satisfaction afterwards — combined with cool breezes, light puffy clouds, and a big shining sun! 
Don't get us wrong, we've got nothing against burning it up indoors (we do it literally ALL the time), but outdoor workout classes are a great way to break the monotony while boosting your vitamin D. So with that in mind, we're gonna take you through some of our favorite outdoor workouts in some of our favorite spots, to give you some inspo-for-the-outdoors. Giddy up!
Bustin' at the Beach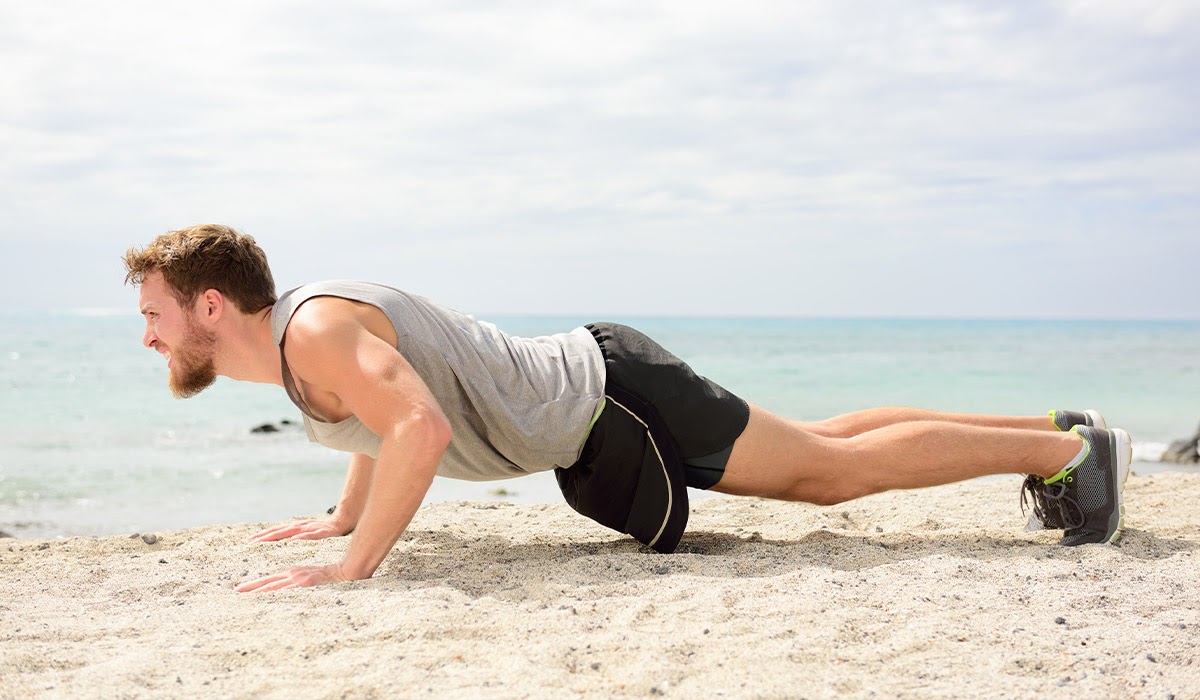 Let's face it: the beach was made for working out. You've got miles of wide open space, soft sand for a little low-impact resistance training, plus an endlessly big pool of water to jump into to cool off! Take a look at our 30-Minute Beach Body Sculpt – a half hour of tough bodyweight exercises, with 12-minute intervals tackling all your major muscle groups. This is one of the best beach HIIT workouts you can find, and it's adaptable, so you can take it anywhere!
HUNDREDS OF BODY-SCULPTING CLASSES

|

Sign up for your 7-day free trial now!
Pressin' at the Pool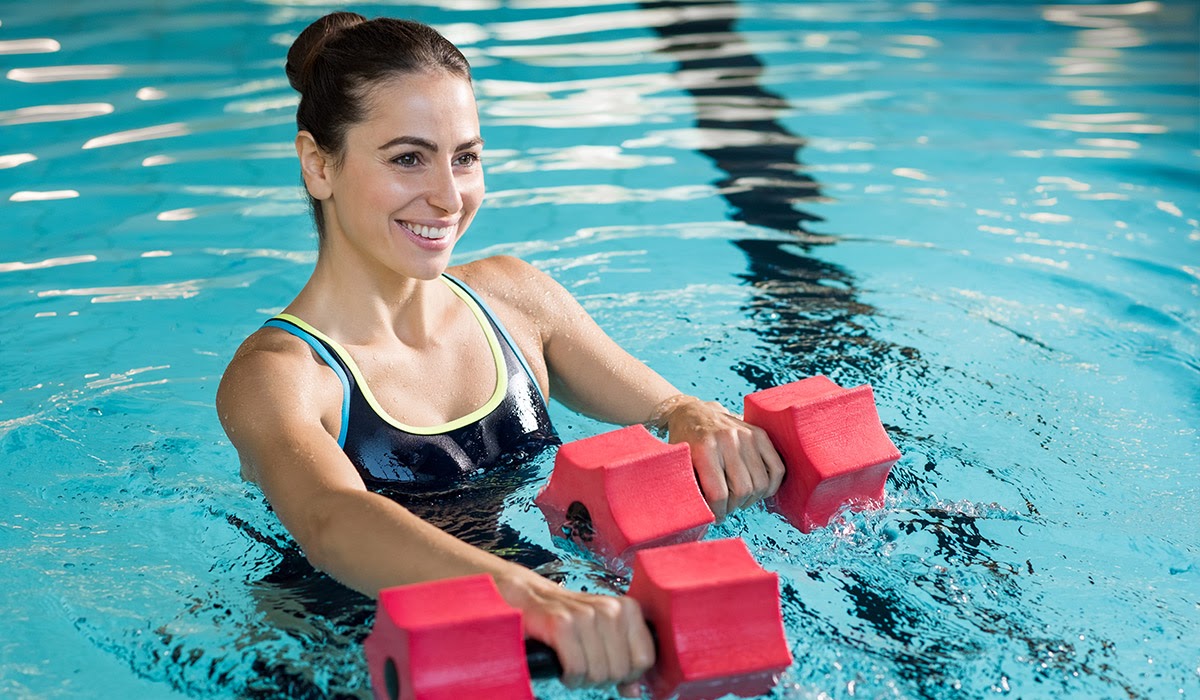 We know what you're thinking: yeah, the beach is all well and good, but what if you're nowhere near the coast! Not to worry, inland-friend, because we've got a pool workout that's perfect for you! This Online Water Aerobics Class features high-knees, flutter kicks, and even tricep presses! The beauty of outdoor pool workouts, like this one, is that you've got natural resistance all around you (water), which gives you a low-impact surface that won't hurt your joints (water) in a perfectly temperature-controlled environment (again, water!). 
Park It!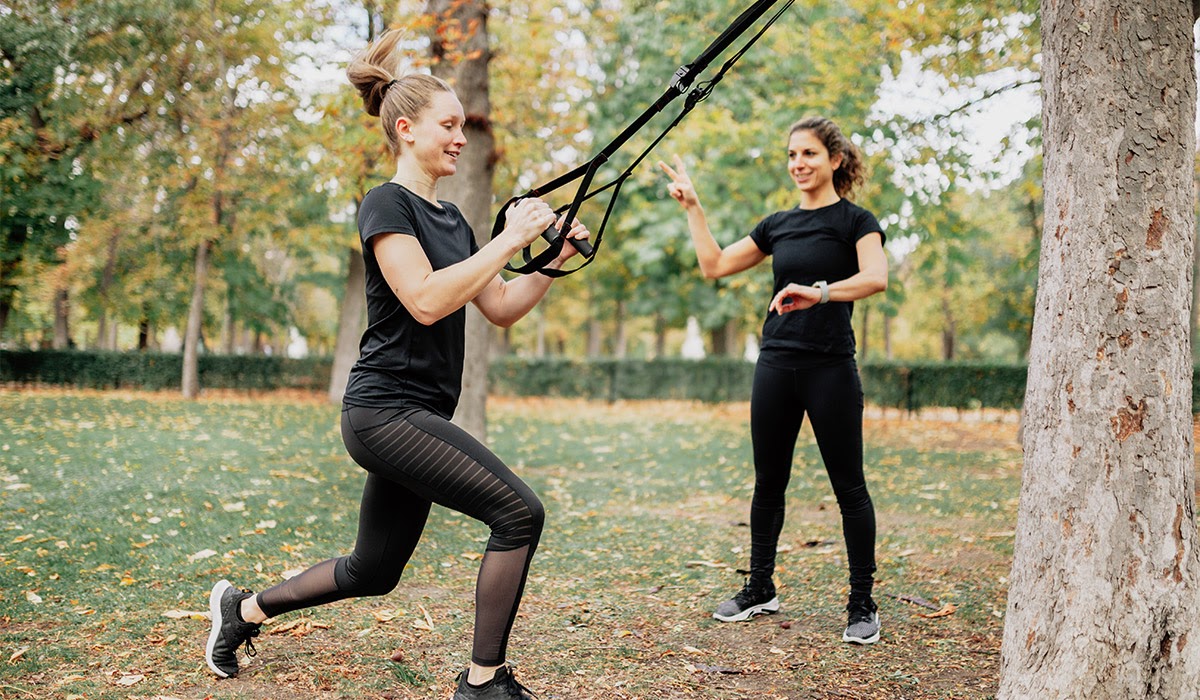 Wanna keep your outdoor workouts on dry land? We got you. Why not try a nice walk in the park? Actually, make that – why not try a non-stop, heart-poundin', outdoor TRX sweat session… in the park? That's more like it! Check out our TRX in the Park class, a full 30-minutes of total-body conditioning that'll have you burning those picnic calories in no time at all! All you need is a sturdy anchor point, like a thick tree or playground structure, some straps, and a couple gallons of sweat to spare! 
And if you don't have TRX straps (yet, we hope), be sure to try Soccer Mom 2 – this park bench workout tones your legs and carves your core, using nothing but your bodyweight!
Well there you have it, our favorite workout classes to help you make the most of the great outdoors, while still sweatin' up a storm. And if you wanna try workouts like these — plus like a bajillion more — sign up for our 7-Day Free Trial! You'll get access to our huge library of fitness classes, featuring workouts like Bootcamp, HIIT, Kickboxing, Yoga, Pilates, Spinning, and so much more — and you'll see why we were named the Best Fitness App for Variety! And here's the best part: our virtual classes can be taken on any device, any time, so whether you're stuck in a basement in Antarctica or a beach in Andalusia, you'll always be able to bring the heat. Now, get cookin'!