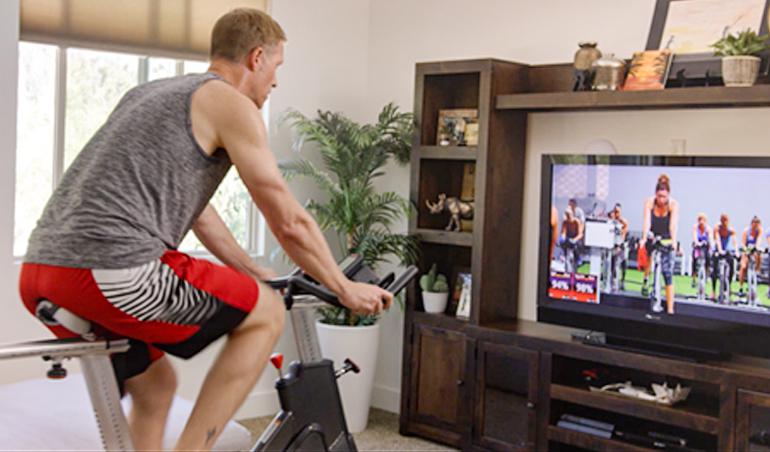 While schedules are getting busier and budgets are getting tighter, people are finding more ingenious ways to use tech to get fit. Case in point: there's a growing number of health nuts and fitness newbies alike who, rather than join a group Spin class at a local gym, opt to recreate the Spin class experience at home.
Spin is one of today's hottest workouts, and while a huge selling point is the group dynamic people get in a studio, online streaming services are letting people enjoy the community of Spin right in their living rooms. But there are a lot of other reasons why people are making the jump to indoor cycling at home.
Spin Any Time You Want, For as Long as You Have
The most obvious benefit? Working out at home is incredibly timesaving. There's no driving to the gym or finding parking. You can just slap on your gym clothes at home, get on the Spin bike, and go!
Plus, the selection at your cycling studio just can't rival the incredible variety of workouts available with streaming services like Studio SWEAT onDemand. If you only have a half an hour to spare, then you're going to skip that 60-minute, in-gym group class and rather opt for a virtual calorie-torching 30 min zone ride. You can do that with a streaming service! Plus, if you want, say, a more core-focused Spin class, there's an online video for that, too.
Tough to Score a Seat, & Costly
Local gyms and boutique studios have limited space, meaning if you don't book early enough, you're out a spot and out of luck. And it doesn't matter if your clicker finger isn't fast enough – if you have a gym membership, then you're still paying to not Spin!


The Best of Both Worlds
Spinners love the unifying and motivating aspect of a group workout, but don't be so sure that you lose that in a streaming workout. Because when you tune into a Spin class at home, you can still get the feeling of being cheered on by fellow riders, all in the comfort of your own home. A streaming service still gives you access to the most important part of a studio class, which is the encouragement and positive distractions created by the trainers.
Plus, you're (hopefully) Spinning in a cool and clean environment, and you're never far away from your own shower or some refreshing filtered water!
You Decide the Volume
For some, the riding to the rhythm of music is the best part of studio classes. But for a lot of people, they're much too loud! If you're someone who doesn't like the boom and bombast of a studio class, you can at least turn down the volume with a streaming service.
Get Helpful Stats
Measuring your progress could be a tad difficult in a studio. But, now that fitness fans are becoming more technically-savvy, they're turning to heart-rate monitors and calorie trackers to measure their progress. And while that's a little bit tougher to set up in a studio, lots of onDemand Spin services integrate those stats into the workout, or at least give riders enough equipment to track it themselves!
You Can Get a Commercial-Grade Bike at Home
Love how solid the Spin bikes are at your local cycling classes? The good news is you can absolutely get an affordable commercial-grade Spinning bike at home. Just check out our guide on how to buy a gym-grade Spin bike or take a look at the Studio SWEAT onDemand Bike Starter Set, and you can turn your den into its own mini gym!
But not all streamable Spin classes are made the same. Want the best of the best? For high-octane Spin videos featuring real trainers, real people, and real results, sign up for our 7-Day Free Trial. You'll get access to hundreds of not just Spin, but classes on TRX, Bootcamp, Yoga, and so much more!
Are you ready? Let's home SWEAT home!
BODY-SCULPTING WORKOUTS. NON-STOP NEW RELEASES

|

Pick Your All Access Pass Now!