A Buying Guide from Studio SWEAT onDemand
If you're looking to buy an indoor cycling bike on a budget, used or refurbished is definitely the way to go. Buying second hand is the best and cheapest way to get a quality bike, and you can find tons of them on sites like Craigslist or your local gym. So, before you buy, read our handy Spin bike buying guide—it might just be the key to getting the best machine for the right price.
There are two types used Spin bikes for sale out there: home (consumer) and commercial grade. We've created some tips to help you distinguish which will work out best for you, so read on riders!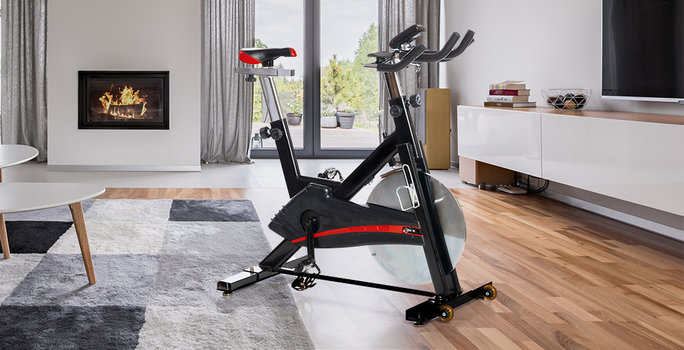 What to look for in used home indoor cycling bikes:
Home bikes are made to be assembled inside a customer's home, so they're typically a lot smaller and not as heavy-duty as a commercial bike. That means if a home indoor cycling bike has a lighter flywheel and frame—don't count it out. It should feel as stable as you're used to in the studio.
But, you still need to think about how they're constructed. They're usually put together by someone who doesn't know indoor cycling bikes that well, so they might not be put together with care. Keep in mind that a home bike will probably need to be tuned and adjusted by an expert.
Our advice is to test drive any home Spin bikes to get a proper feel. You should also check for little signs of wear and tear, like a loose drive train. And, last but not least, check for a lifetime warranty. If a seller is really confident in a bike, they'll offer this extra sense of security.
Just to be sure, try to ask the seller questions like:
Is there any warranty remaining?
What's been done to this bike? For example, did you replace the chain or belt?
Is there rust anywhere?
How often was the bike ridden and maintained?
Is the bottom bracket of the bike in good condition?
HUNDREDS OF BODY-SCULPTING CLASSES

|

Sign up for your 7-day free trial now!
Where to find them:
You can typically snag used home Spin bikes at big box used retailers and online sites like eBay and Craigslist.
What to look for in used commercial Spin bikes:
Commercial bikes are made to be used for hours on end, so if you notice that they're a little heavier or larger, it's because they're supposed to be durable. And most of the time, they have extra features like consoles and cup holders that are super handy.
Since used commercial Spin bikes are usually bought from places where they're already put together by professionals—like at your local gym—you typically don't have to worry as much about any extra tuning or alignment. If anything, the wear and tear from commercial bikes are typically superficial. And, many fitness companies buy the bikes and refurbish them so they're like new!
For extra peace of mind, here's what you can do to make sure the bike is good to go:
Make sure the bike has been professionally tuned and adjusted regularly
Check to see what bearings, chains/belts, pads, and inner parts have been replaced
See if the flywheel seems properly aligned
Check to see that tension on the bike feels right
Search for any rust and if you find any, use a product such as Rustoleum to remove it
Where to find them:
Your local gym and big box used gym equipment stores offer commercial and refurbished spin bikes you can trust.
Our recommendation…
So, does Studio SWEAT onDemand have a verdict? To be honest, our money's on buying used, refurbished commercial Spin bikes. Why? We think commercial bikes are the best cheap Spin bikes because they're so goshdarn sturdy and almost never wear out. Buying from a local gym is an even bigger plus because they usually rotate bikes because of superficial issues—that way you can have peace of mind that you're getting a high-quality bike that doesn't have any serious structural problems. You also don't have to worry about astronomical shipping prices!
Speaking of great bikes, check out our Bike Bundle Set right HERE!
Phew. That was a lot of information. But hey, now you're an expert! Hopefully, Studio SWEAT onDemand's armed you with the right tools to find the perfect bike on a budget. And if you're looking for another great deal, check out our 7-Day Free Trial for hundreds of on demand classes for Spin, TRX, Pilates, Yoga, Kettlebell, Sculpting, and more. Have fun saving and Spinning!
BODY-SCULPTING WORKOUTS. NON-STOP NEW RELEASES

|

Pick Your All Access Pass Now!