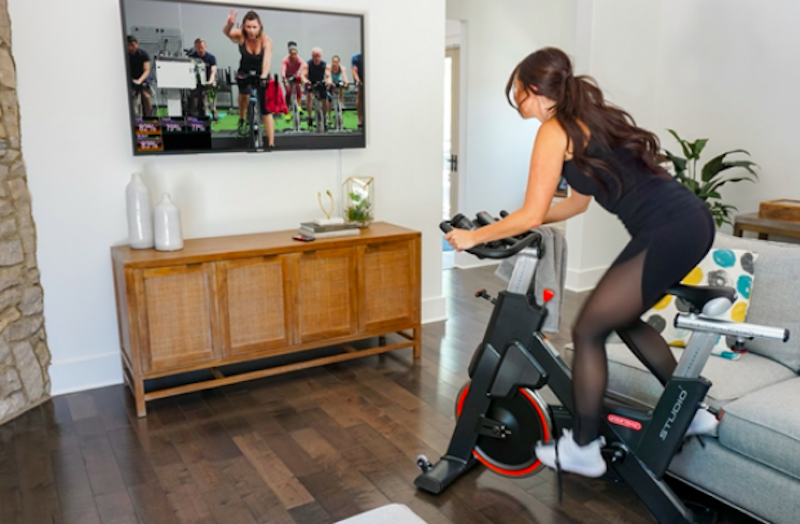 Here at Studio SWEAT onDemand, we've always been slaves to Spin. Heck, you could say we're pedal-possessed, crank-crazy, cyclepathic, riding radicals and proud of it! (Yup, we're a wee-bit obsessed). And in times where we're spending a good chunk of time at home, we can't think of anything we'd rather do than jump on a bike and get Spinning. But would you believe that not everyone in the world is as bike-biased as we are?
In fact, there are a lot of popular misconceptions about indoor cycling, and we're here to set the record straight. So let's take a look at the most popular myths around Spin classes, and maybe, just maybe, make a servant-to-the-saddle outta you!
Myth #1: Spinning Class is Only a Leg Workout
Um, hello? We're all-in-on-Spin, and do we look like we've got big ole-kangaroo legs? Not at all! We're proud of our ripped lower halves, but it's all in proportion! That's because Spinning is first and foremost a cardio workout. It gets your heart rate up, makes you sweat, and absolutely shreds calories. Plus, getting your body moving with an exercise like Spin can keep your mood up and your spirits high. Make no mistake, this is a full-body workout.
Myth #2: You Need to Buy Special Indoor Cycling Shoes
Though you can purchase some fancy-schmancy-dancy indoor cycling shoes that'll clip into the pedals (and give you extra power when you upstroke), it's certainly not necessary. The beauty of most Spin bikes is that you usually find a clip on the bottom of the pedal and a toe cage and strap on the top. Now I do prefer riding indoors clipped in, but it's definitely not a deal-breaker if you want to just sport your normal athletic training kicks.
HUNDREDS OF BODY-SCULPTING CLASSES | Sign up for your 7-day free trial now!
Myth #3: Cycling Leads to Injuries
No…no…NO! On the contrary, Spin-student! Indoor cycling classes are low-impact. Unlike other workouts that are tough on the joints, when you strap into a Spin bike, you're treating your body with care. Physical therapists even send their knee patients to Indoor Cycling classes. Plus, regular exercise like Spin can help strengthen your immune system to keep your body as healthy as possible!
One particularly ugly myth that has come up over the years is that Spinning and rhabdomyolysis (muscle breakdown that leads to toxins in the kidneys) are somehow linked. But again, that's all baloney! In fact, we even have a special blog on that topic.
Myth #4: Spinning Classes are Just for Advanced Athletes
On the contrary! Spin classes are not elitist – they're for everyone! Whether you're training for the Tour de France, or just starting to get on the bike, you can always pace yourself and set your resistance at a level you're comfortable with.
Myth #5: Indoor Cycling Only Happens in the Gym
This one really gets to us. At Studio SWEAT onDemand, we're all about giving you the best online Spin classes you can do from the comfort of home! And if you need an indoor cycling bike, we can help you with that, too. We designed our Bike Bundle Set to give you everything you need to create an indoor cycling studio, right in your living room.
So, that's it! We hope we've cleared up the confusion on this absolute gut-bustin', booty-movin', sweat-inducin', dream of a workout! When you're ready to get started and become a fanatic (trust us on this one), you can sign up for our 7-Day Free Trial. You'll be able to try out all of our online Spin classes, plus HIIT, Yoga, Bootcamp, and so much more. So saddle up, strap in, and let's ride!
BODY-SCULPTING WORKOUTS. NON-STOP NEW RELEASES

|

Pick Your All Access Pass Now!