So, you're finally ready to bite the gut-bustin' bullet, take the sweaty plunge, and drop that dinero on your own home cardio machine! Congratulations, fellow fitness enthusiast! This is your gateway to everlasting sweat sessions in the comfort (and privacy) of your casa. Having your own personal cardio machine has so many benefits it's insane: You'll no longer have to wait in line to use your favorite machine, you can get your heart pumping at any hour, and lest we forget — you'll never have to wipe down a stranger's sweat puddle again! (Honestly, it'd be worth it for that reason alone!)
But which to choose? These days, advancements in fitness technology have left us with tons of amazing options to craft our perfect home cardio workout. And sometimes, having too many choices can be just as bad as too few. With that in mind, here's our guide to choosing the best home cardio machine that caters to your specific health and fitness goals. 
But First, Some Considerations…
Before we bust through all the ins and outs, pluses and minuses, and whys and why-nots… there are a few considerations to keep in mind when making your choice of home cardio machine.
Price: Unless you've got some serious money to burn (lucky you!), you're going to want something that'll help you break a sweat, not the bank. Cardio is just one part of a well-rounded fitness routine, albeit an important part. So don't plunk down those G's on a machine you can't afford, at the expense of a bunch of other equipment that'll give you more bang for your buck. 
Ability: Just because you've heard that a particular home cardio machine is effective, it doesn't mean it'll be effective… for you. First of all, be realistic with your abilities and skills, then choose a machine that you know will allow you to safely push yourself toward your goals. 
Interest: This is possibly the most important consideration. The only way to make sure you actually get some results from your heart-pumpin' purchase is to do it consistently! Long-term commitment is the key ingredient to hitting your goals, so make sure you buy cardio equipment that you'll actually want to use! 
Now that we've gotten that outta the way, let's dive a little deeper into several advantages and disadvantages, the ins and outs, and the whys and why-nots of each type of cardio machine. 
Treadmills
The treadmill is by far the most popular piece of workout equipment out there. And for obvious reasons — it's effective, easy-to-use, and adjustable. And who could argue with the beautiful simplicity of it all: the belt moves and you move with it. Treadmills deliver effective cardio workouts with a focus on the lower body. However, they are not without some issues: Treadmills tend to be extremely pricey (especially when they need repairs). Also, they tend to put a lot of pressure on your joints. If you're looking to save money (or, you know, your creaky knees), you may want to consider a different machine. But if the treadmill sounds like it's right up your alley, consider spicing up your tread-sessions with interval training, power-walking, or some heart-pounding music. Better yet — check out a virtual treadmill class on Studio SWEAT onDemand! Our tread-shredding trainers will keep you company and give you the motivation you need to really burn it up! 
Rowing Machines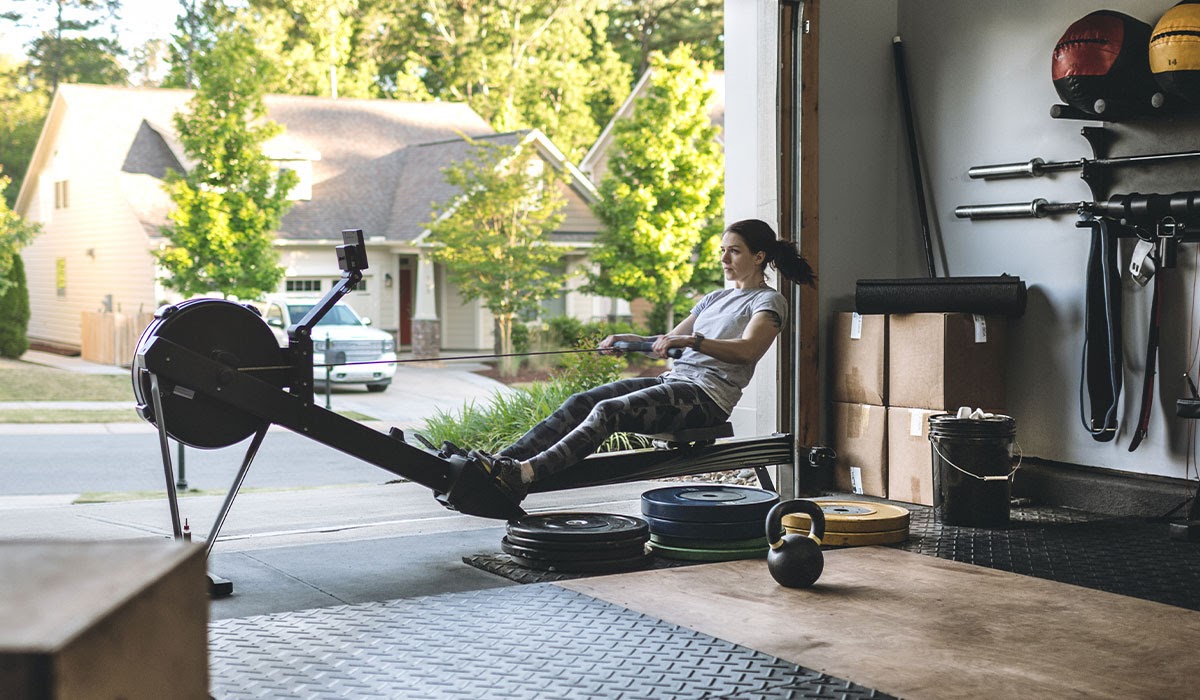 A rowing machine is a superb alternative for those looking to get a low-impact, full-body workout. Performing each row with appropriate form activates the upper body and lower body, as well as back and core. Because you are in a seated position, you will not be putting that much pressure on your knees, ankles, and hips, which means those with joint issues will delight. However, if you've suffered lower back issues in the past, you may want to steer clear of this one, as it does engage the back quite a bit. 
HUNDREDS OF BODY-SCULPTING CLASSES

|

Sign up for your 7-day free trial now!
Stair Climbers
These awesome(ly brutal) machines are an amazing way to shred tons of calories and keep your heart pumping furiously for ages. Because of the machine's design, this is going to be one of the toughest workouts available, and that means you're gonna see some real fat-burning with this one. However, even though climbing stairs is a lower impact exercise than running on a treadmill, the constant compression force you put on your knees may lead to some pain for those with knee problems. But if you don't have any known joint issues and can handle the challenge, a stair climber could be a great option.  
Ellipticals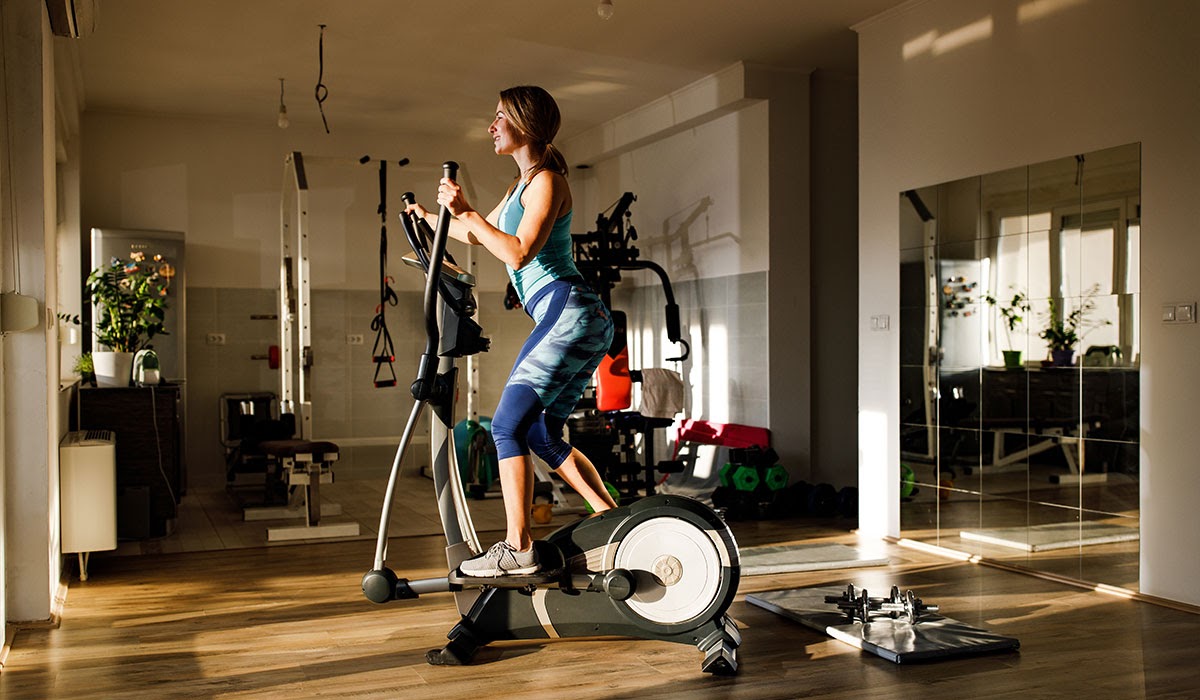 The elliptical is a great middle-of-the-road option — exercise wise, it's very simple to perform, it gets your heart pumping, and it won't destroy your joints. Not only that, because of the moving handles on many models, you'll be able to get some upper-body work in, too! The one major drawback is that it may end up being a little too easy-peasy. In fact, many sources have suggested that the "calories-burned" indicator on these machines may be slightly over-inflated. 
Indoor Cycles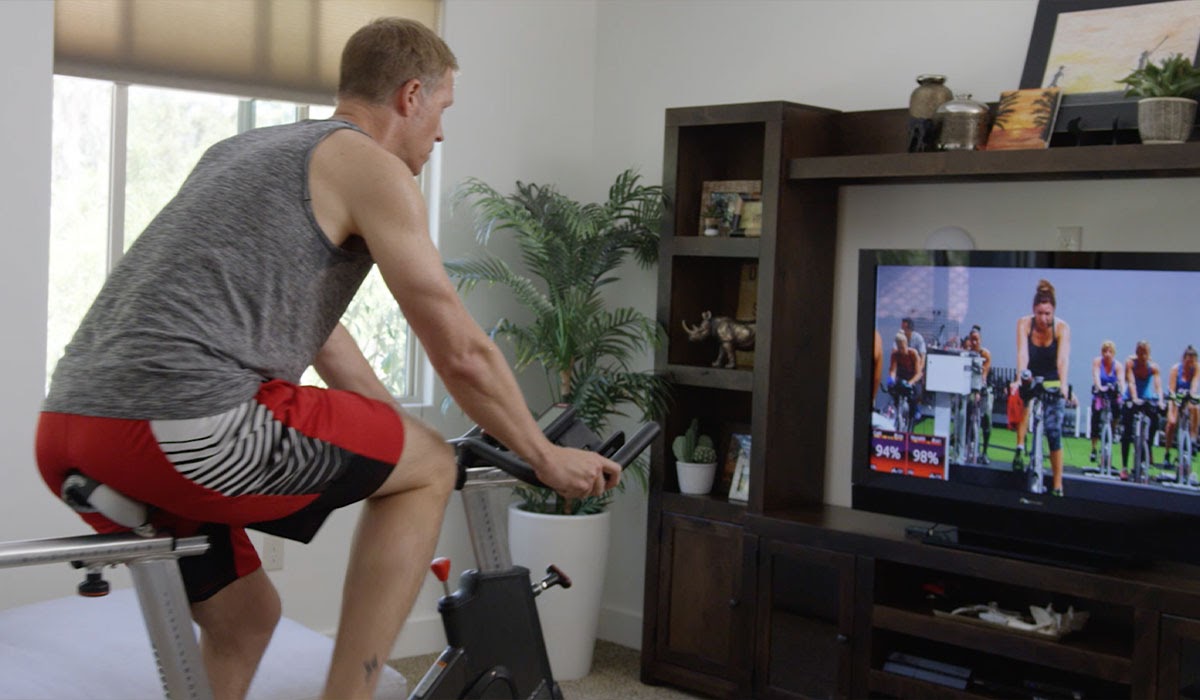 We're not gonna lie — indoor cycles are one of our personal favorites. They combine many of the best cardio machine benefits into one — low-impact, easy on your joints, hips, and back, and with the right settings, insanely challenging! Now, you can take it easy on these bikes, but why would you want to? The other great thing about an indoor Spinning bike is the fact that beyond any other cardio machine, it's truly well-suited to group fitness classes. Rowers, stair climbers, treadmills, and ellipticals all tend to be a little isolating. But if you want the motivation of a trainer, and the camaraderie of a whole class behind you, a Spin bike is the way to go. 
In fact, we love indoor cycling soooo much that we happened to build a company around it! Studio SWEAT onDemand delivers nonstop, onDemand fitness classes right to the comfort of your living room. Featuring weekly new releases, world-class trainers, plus a worldwide community of members, our virtual fitness platform is the best way to get in shape at home and on-the-go. And we're not just about Spinning – in fact, because of our huge collection of classes such as TRX, Bootcamp, HIIT, Tabata, Kickboxing, Yoga, Pilates, Barre, and more, we were named the "Best Fitness App for Variety"! If you wanna get started, snag your 7-Day Free Trial today, and we'll see you in the studio!