Peloton vs the Spinner Shift Commercial Bike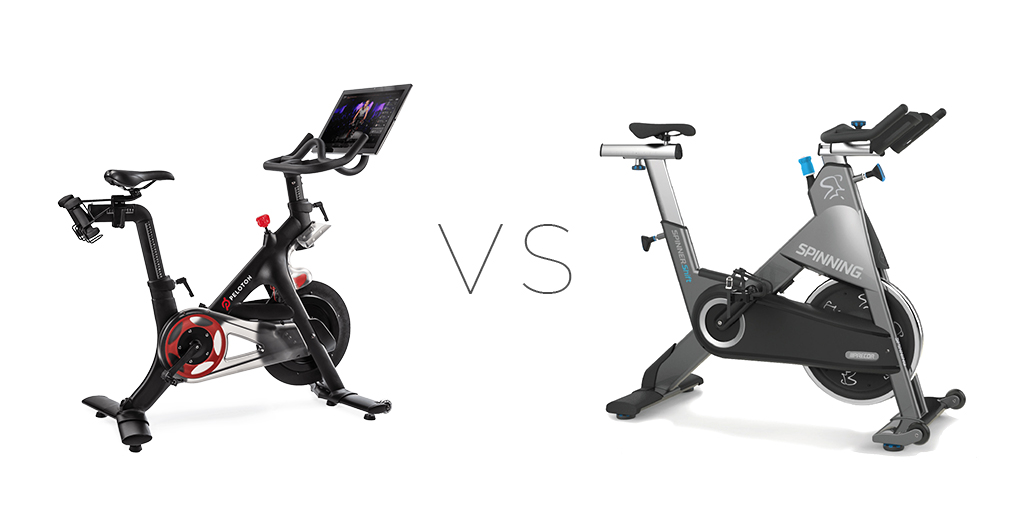 When people think of the best Spin bike, two brands come to mind: Peloton and the Spinner Shift Commercial by Mad Dogg Athletics. But which one is really worth it? To help you out, we poured over dozens of reviews, testimonials, and Studio SWEAT onDemand trainers' expertise to make our very own comparison of the Peloton bike vs the Spinner Shift.
Size
Size DOES matter when it comes to finding a good indoor Spin bike. In this case, the smaller, the better. So how does Peloton measure up?
At 50 inches, the Spinner Shift is a just a lil' longer than the 48-inch Peloton bike. But, the Spinner Shift is also 4 inches narrower than the 2-ft wide Peloton bike, making it the ideal bike for tight corners and small spaces. You can also store the Spinner Shift upright on it's handlebars to save even more space. When doing that it doesn't take up any more room than a nightstand. You cannot to that with a Peloton due to it's attached, non-removable display.
Verdict:
The Spinner Shift wins by a narrow (literally) margin.
Adaptability
Say with it us: good posture matters on a Spin bike! Bad posture won't just put stress on your knees, neck, and back, but it can also ruin the efficiency of your workout.
That's why the best indoor spin bikes are adjustable to your height and the length of your arms and legs.
And what do you know: the Spinner Shift's seat and handlebars can be adjusted forward, backward, up, and down to help you find the perfect fit. Better yet, that customization gives you the most efficient workout possible!
The bad news is, while Peloton allows you to move your seat, the handlebars can't really be adjusted forward or back.
Verdict:
No contest, the Spinner Shift is customizable where it really counts.
Chain vs Band
It's one of the great debates among indoor Spin bike enthusiasts: which is better, a chain drive or a belt drive?
There are pros and cons to both. In terms of riding, some people like the belt drive because it's not as noisy and rides super smooth. Others prefer a chain drive because it mimics the feel of a street bike.
In terms of maintenance, belt drives don't need the tightening or oiling that chain drives do. But, they still loosen over time and may need to be replaced entirely. With the right maintenance, a chain drive can really last.
Many think the Peloton bike is worth it just for its super quiet belt drive. But others like the fact that you have the option of getting a smooth belt drive or a chain drive with the Spinner Shift.
Verdict:
The Spinner Shift Commercial Bike offers both, so we have to go with the bike that lets the rider choose!
Pedals
Peloton's pedals are compatible with a very specific kind of cleats, so if you don't want to have to buy a special type of shoe (which they sell for $125!), you'd have to replace them with another kind of pedal.
Meanwhile, the Spinner Shift comes with either clip-in pedals that you can snap into with a cycling shoe, or clipless pedal with toe cages that allow you to just use your favorite sneaker.
Verdict:
Once again, the Spinner Shift wins on customization.
HUNDREDS OF BODY-SCULPTING CLASSES | Sign up for your 7-day free trial now!
Resistance
Ah, another source of conflict: the friction vs magnetic resistance argument.
The Spinner Shift uses friction resistance via brake pads, and some bikers love it because it feels the most like a real bike.
Others are head-over-heels over Peloton's super smooth magnetic resistance. This nifty tech creates resistance without physical contact, so it requires little maintenance.
Verdict:
Peloton Bike, because magnetic resistance is quieter and easier to maintain.
Weight Limit
Peloton bikes have a weight limit of 305 lbs. However, the super sturdy Spinner Shift can carry riders up to 350 lbs.
Verdict:
There shouldn't be anything limiting our riders from getting healthy and losing weight. The strong, steel-framed Spinner Shift wins by a long shot.
Screens
In the best Spin bike reviews, Peloton's most oft-mentioned feature is the 21.5" HD touchscreen that comes attached to the bike. The large tablet allows riders to get their readouts and join along the live and pre-taped Spin classes.
The catch? Unless you pay for the $39 a month subscription, the tablet doesn't really work. Even if you buy the subscription, good luck getting an efficient workout when you need a break—there's no pause function on the tablet.
With the Spinner Shift you can free ride without looking down, or you can stream some of the best online Spin classes out there, like those available on Studio SWEAT onDemand, right through your big screen TV, tablet or other favorite device. It's great to have the option to stream on any screen.
Verdict: The Peloton touchscreen is pretty much a hunk of junk unless you pay for their steep subscription. You're better off using the Spin Shift with your very own smart device of choice.
Price
Last, but definitely not least, how much will each bike set you back?
At Studio SWEAT onDemand, we offer the Spinner Shift commercial, a Roku to stream through your TV, and a year-long All Access Pass with the Premium Plan Upgrade for only $1,999 out the door.
A Peloton bike will cost you a staggering $2,867 year one when with the bike at $1995, plus shipping, sales tax, and the required year-long subscription.
Verdict: The Spinner Shift is the best bang for your buck.
Final Verdict
So, is the Peloton bike worth it?
The reviews are in, and we're backing the bike that gives you the most freedom of choice: The Spinner Shift. Our reason? We believe your journey to healthier, happier you should happen on your terms, on your time—and we think the Spinner Shift exemplifies that.
Want to find the right path to a fitter you? Explore your options by signing up for our 7-Day Free Trial. Choose between more than a hundred classes on Spin, TRX, pilates, and more, only on Studio SWEAT onDemand.
BODY-SCULPTING WORKOUTS. NON-STOP NEW RELEASES

|

Pick Your All Access Pass Now!