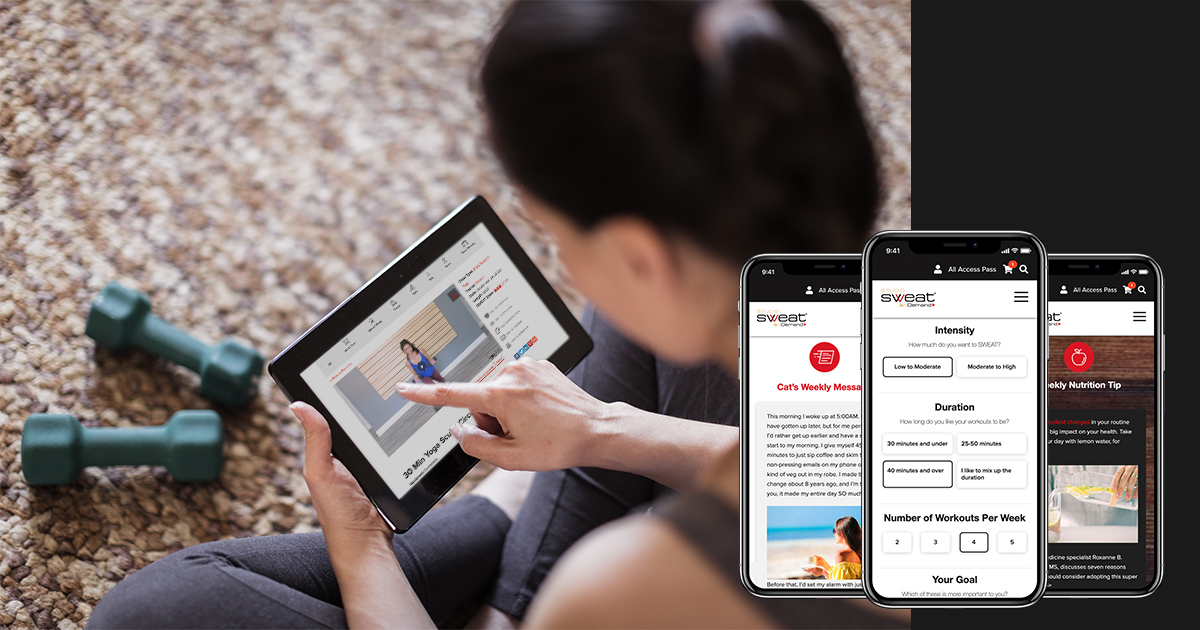 At Studio SWEAT onDemand, we created the Sweat Force to offer our virtual workout solution to businesses everywhere, with an endless library of workouts, wellness workshops, and company-wide fitness challenges. But now, we're sweetening the pot even further, with our Premium Membership enhancement! This upgrade gives your staff the health and wellness tools they need to reach their fitness goals, once and for all.
How Does It Work?
Assuming you're one of our existing partners that is giving your team the benefit of Studio SWEAT onDemand (if not, click here to learn how you can become one), the cost for them to upgrade to premium is only $5/mo. For many, that will be a game-changing 5 bucks.  
To offer them this option:
We send you a blurb and the link to where they can add the feature if they'd like to take advantage of the upgrade option.

You forward the blurb and link to your team in an email, a post, newsletter, or by whatever means you like.

Your employees click the link where they checkout using the account they already have set up with Studio SWEAT onDemand. They can easily cancel the $5/mo Premium Membership themselves anytime, but in the meantime, they're likely to experience major gains!
If you'd like us to send you the blurb and the link so you can offer this option to your team, simply get in touch with us at thesweatforce@studiosweat.com
If you'd like to learn more about this option, keep reading, And at the bottom of this blog you'll also see how your organization can offer the upgrade to your people, instead of them paying for it, if that's something you're interested in.  
Why Your Team Needs the Sweat Force Premium Membership
As fitness professionals, we know that if you want to break out of plateaus, overcome those obstacles, and make some real changes in your life, you're going to need the right motivation and guidance to get you there. And that's where our Premium Membership comes in. Let's take a deeper look at what's included in our Premium Membership…
Customized Weekly Workout Plans
When it comes to building a fitness plan, we know there is no such thing as "one-size-fits-all". We've all got different body types, unique workout abilities, and fitness goals. That's why we tailor our weekly workout plans to help the members of your team do what's best for their own unique needs. 
Expert Nutritional Tips
Crafting a fitness plan is one thing, but if you don't have your diet dialed in, it's all for nothing. That's why we offer nutritional advice from our Wellness Professionals, to help you take in the right kind of fuel for your engine. 
Early Access to Select New Releases
We're constantly putting out exciting new fitness classes through our app. But with the Premium Membership upgrade, your team will have access to select brand-new, hot-off-the-press content before anybody else!
Offline Class Downloads
Our virtual fitness solution is available to be streamed from any device, anywhere, anytime. But what happens if you're traveling and don't have a stable wifi connection? We've thought of that, too. When you go Premium, you (and your team) will always have access to the workouts they love, with or without internet. 
Weekly Motivational Messages
There's nothing like a helping hand and a guiding voice to help your employees reach for their best. That's why our very own founder and CEO, Cat Kom, will provide a special motivational message every single week.
10% Discounts on Merchandise
At Studio SWEAT onDemand, we don't just produce amazing live and onDemand workouts, we also put out some of the hottest threads and sweetest fitness gear you're going to find. With our Premium Membership, all these goodies are 10% off the regular price.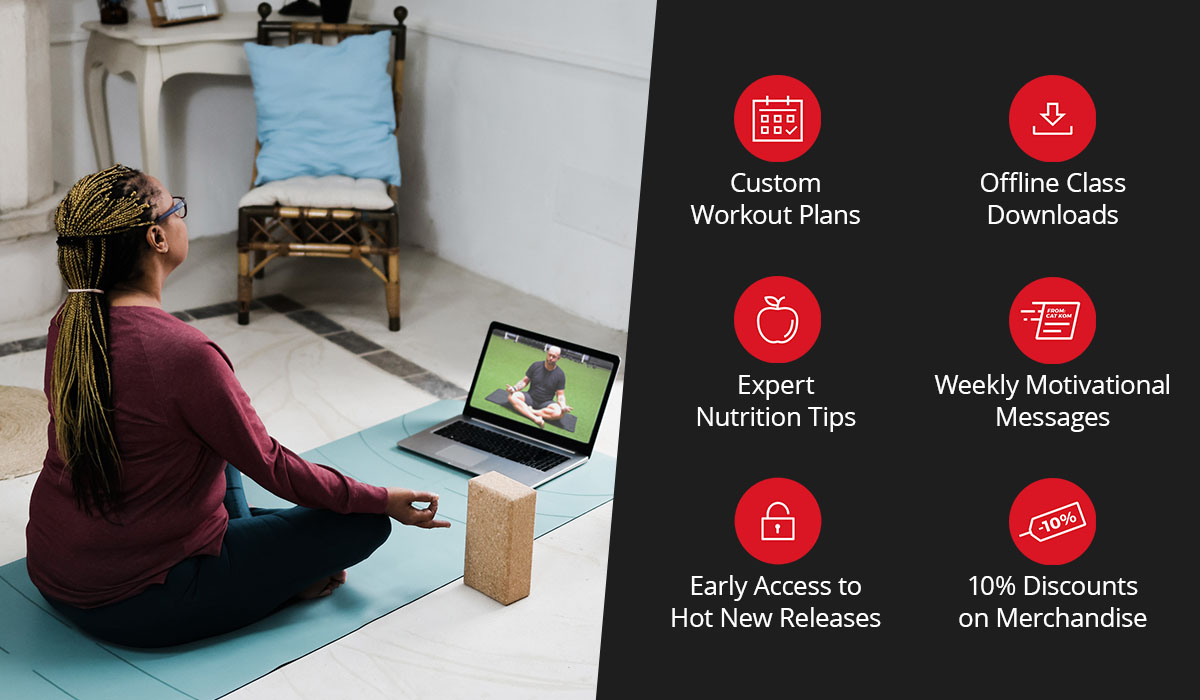 Why Our Premium Membership Works
We could spend all day regaling you with the amazing benefits of this upgrade. But we don't need to, because we've got hard, irrefutable data on our side. The fact is, on average, Premium members are 25% more likely to stick to their fitness routine! And since long-term commitment is the key to lasting results, it's hard not to see the benefit of going Premium.
Discounts for Organizations Adding the Upgrade for Their Team
If you'd like to purchase the Premium Membership upgrade for your whole team, we offer significant discounts per employee. Simply get in touch with us at thesweatforce@studiosweat.com to offer this plan to your team today.
BODY-SCULPTING WORKOUTS. NON-STOP NEW RELEASES

|

Pick Your All Access Pass Now!