Ever heard of the 75 Hard Challenge? If you haven't, allow us to enlighten you — it's a fitness challenge for the mind and body. Where most exercise challenges typically focus on getting in a set number of workouts each day, the 75 Hard Challenge goes much, much deeper. The goal of the challenge is to foster healthy habits, build mental toughness, and unlock users' true potential for the long run. 
The 75 Hard Challenge has garnered global attention recently, mostly because of its near-universal appeal, to people across all industries, ages, goals, and personalities. Everyone who undertakes 75 Hard — and actually completes it — is left a better version of themselves, and more capable of achieving their own personal goals, whatever they may be. 
And if you're a team leader or decision maker in a company, it's easy to see why this challenge would be a perfect fit, to not only make your employees happier and more satisfied in their lives, but to nurture productivity and resiliency in your operation. 
What Exactly Is the 75 Hard Challenge? 
Let's start with the essential structure of the plan. For exactly 75 days, participants must follow five strict rules closely: 1) Stick to one diet (doesn't matter which, but no cheat meals). 2) Drink a lot of water per day. 3) Read ten pages of non-fiction each day. 4) Do two 45-min workouts daily (one indoors, one out). 5) Take a selfie every day to measure progress. For a more detailed explanation of the challenge, read our recent blog. 
We know that the 75 Hard Challenge seems daunting — but that's kind of the point. After all, you won't get stronger unless you push yourself far past your comfort zone. But many who attempt the challenge find rule #4 to be the biggest hurdle of them all. Who has the time to squeeze in not just one 45-minute workout each day, but two?
And that's just where Studio SWEAT onDemand comes in. 
Why Studio SWEAT onDemand Is Perfect for the 75 Hard Challenge. 
Studio SWEAT onDemand (SSoD) is one of the most effective online fitness platforms out there, and it seems like a tailor-made partner for the 75 Hard Challenge. Here are a few reasons why: 
Accessibility
Doing 150 workouts in about 2 ½ months might seem like a pretty tall order. And believe us, it is. But who can find time to run out to the gym every time you want to break a sweat? SSoD clears this hurdle handily, with a fitness solution that can be accessed by any device, including smart TVs, mobile phones, tablets, laptops — if there's a screen, you can get your sweat on, anytime, day or night. 
Motivation
Another reason why SSoD is the perfect companion to 75 Hard is the fact that all our classes are taught by passionate, world-class trainers, who happen to be experts at pushing you past your limits, in an atmosphere of warmth and fun. SSoD also has an active, tight-knit family of members from across the globe, who are always offering support and guidance to each other.
Inspiration
Many of the other workout apps on the market feature a cavalcade of seemingly air-brushed fitness models and aspiring screen actors, barely breaking a sweat in a glamorous, well-lit studio. The problem is that this often leaves users feeling detached, struggling to reach these impossible fitness standards. Studio SWEAT onDemand, on the other hand, only uses real people — of different ages, looks, and body types — all working together. 
Fitness Variety
One of the hardest aspects of the 75 Hard Challenge is consistency. No matter how strong you may think you are, we all get bored from time to time. And that's exactly where Studio SWEAT onDemand shines. We offer an endless library of virtual workouts including Indoor Cycling, Yoga, Barre, TRX, HIIT, Bootcamp, Pilates, Body Sculpting, Running, Core, and so much more. That's why we were named 'Best Fitness App for Variety' by some of the world's leading fitness publications. Take a look at our Class Library, where you can choose from an exhaustive list of 45-minute workouts, many of which are designed for the outdoors! 
Looking for a "Less Hard" Challenge? 
When you've gotten your team through the 75 Hard Challenge, you may be looking to push your people even further with another challenge. Well look no further than our free 30-Day CaShleigh Challenge. This program incorporates resistance training and mobility exercises that gradually increase in intensity — helping your team increase their flexibility and lean body mass in just 30 days. It's easy to get started, and completely free to join.  Learn More!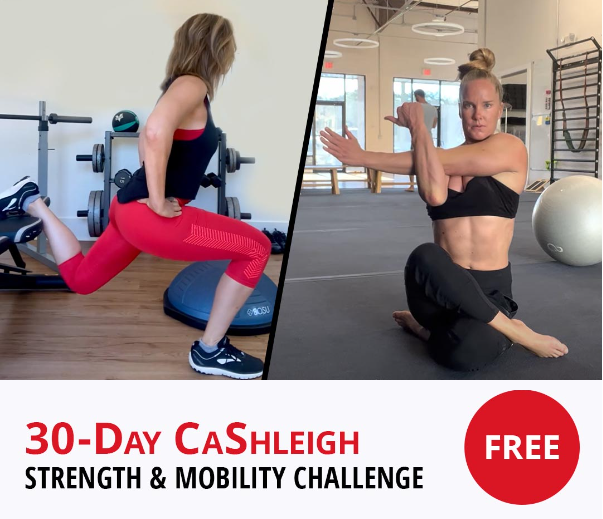 If you happen to like what you see, be sure to check out two of our latest offerings: the Sweat Force, our health and wellness program for corporations of all sizes; plus Sweat Pro, designed to offer virtual workouts to commercial facilities. To learn more about either of these programs or to schedule a demo, click here.