Vitamin D has been promoted as a cure-all. I'm sure many of you have seen the headlines in the news which state that nearly 80% of COVID-19 patients were found to be vitamin D deficient. There is no solid science to support that taking vitamin D can help prevent or treat COVID-19. Yes, I said it.
But there's a connection between vitamin D levels and the risk of respiratory infections in general. The vitamin plays many roles throughout the body. It supports a range of antiviral responses. It boosts the ability of lung cells to fight bacteria and viruses.
In many cases, severe COVID-19 symptoms result from the body's overly exuberant response to the virus (what's called a cytokine storm). The result is that the immune system attacks "friendly" tissues instead of targeting just the virus. Vitamin D can halt the over-reaction of the immune system.
There's no question that additional vitamin D is helpful if someone is low or deficient. But no trial has shown any benefit for giving vitamin D in any population that's already getting enough. PLUS if you get too much Vitamin D via supplementation that's not healthy either. Vitamin D is a fat soluble vitamin and can be stored in toxic levels and displace other vitamins/minerals from being absorbed and utilized properly. Do you remember the 3 little bears story? Too little and too much are no good. Just right is just right!
It's interesting to mention that too much vitamin D may actually contribute to fractures. A 2019 study published in JAMA found that people who took 4,000 or 10,000 IU a day saw a reduction in bone density compared with those who took 400 IU.
Deciding on Supplements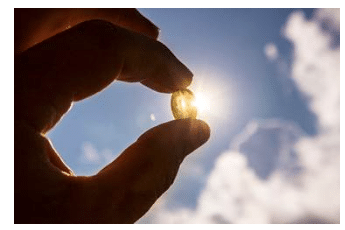 Ultimately, whether to get tested or take a supplement and how to do it comes down to having a discussion with your doctor and dietitian. I think you might find you will need to.
The National Academy of Medicine recommends 600 IU of vitamin D a day up to age 70; 800 IU daily after that. I generally say the sweet spot is somewhere between 800-1000 IU's most days of the week, especially in the winter. 2000 IU's if you have a history of deficiency. Also, check where you reside. It's pretty impactful if you are inside a lot without direct sunlight most of the year. Check the chart out below for more specific IU needs based on age.
No matter your age, you should know what your blood level is (even if it's not super accurate). If it's not optimal (50 to 80 nmol/L), turn to food first and then a supplement if need be (that's usually the best rule to live by anyway when considering supplementation). Choose Vitamin D3 for optimum absorption. Vitamin D2 comes in second.
Table 1: Serum 25-Hydroxyvitamin D [25(OH)D] Concentrations and Health [1]

nmol/L*

ng/mL*

Health status

<30

<12

Associated with vitamin D deficiency, which can lead to rickets in infants and children and osteomalacia in adults

30 to <50

12 to <20

Generally considered inadequate for bone and overall health in healthy individuals

≥50

≥20

Generally considered adequate for bone and overall health in healthy individuals

>125

>50

Linked to potential adverse effects, particularly at >150 nmol/L (>60 ng/mL)
*Serum concentrations of 25(OH)D are reported in both nanomoles per liter (nmol/L) and nanograms per milliliter (ng/mL). One nmol/L = 0.4 ng/mL, and 1 ng/mL = 2.5 nmol/L.
Table 2: Recommended Dietary Allowances (RDAs) for Vitamin D [1]

Age

Male

Female

Pregnancy

Lactation

0-12 months*

10 mcg

(400 IU)

10 mcg

(400 IU)

1–13 years

15 mcg

(600 IU)

15 mcg

(600 IU)

14–18 years

15 mcg

(600 IU)

15 mcg

(600 IU)

15 mcg

(600 IU)

15 mcg

(600 IU)

19–50 years

15 mcg

(600 IU)

15 mcg

(600 IU)

15 mcg

(600 IU)

15 mcg

(600 IU)

51–70 years

15 mcg

(600 IU)

15 mcg

(600 IU)

>70 years

20 mcg

(800 IU)

20 mcg

(800 IU)
*Adequate Intake (AI)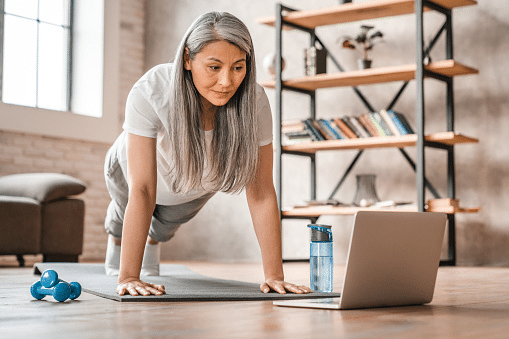 These Factors Should Be Considered:
• How much sun do you get? Just 15 to 20 minutes a day (on your face, arms, legs, or back, without sunscreen) can give you a healthy dose of vitamin D. But if you've been confined indoors, the way many people have been this year, you may not be able to rely on the sun for your D. You also may need longer sun exposure to produce vitamin D in the winter or if you have darker skin. But more time in the sun means more exposure to UV rays, which can raise skin cancer risk.
• What's your diet like? Many foods are fortified with vitamin D, but it may still be challenging to get enough from food alone. Cow's milk and plant milks are fortified with it, as are some juices and cereals (all contain about 100 IU per cup). Fatty fish (450 IU per 3 ounces) and egg yolks (41 IU) also have D. Mushrooms naturally increase their D levels when they're exposed to UV light (366 IU per half-cup).
• How old are you? I know, such a rude question. 😉  About 80 percent of older adults don't get enough D in their diet, and with age, skin becomes less able to make the conversion.
• Do you smoke? Please tell me you are not doing this. This danger­ous habit depletes many vitamins and can limit your body's ability to make D.
• Are you obese? People who are carrying extra weight have lower levels of the vitamin. Losing weight may boost D counts. I'm a weight neutral dietitian but it is physics if your body is carrying more weight than it was designed to; there will be penalty.
• Are you physically active? Blood levels of vitamin D may increase with more activity.
• How's your gut? People with bowel disease or metabolic problems that affect nutrient absorption may run low on the vitamin. 
If you are curious which foods contain the most natural vitamin D: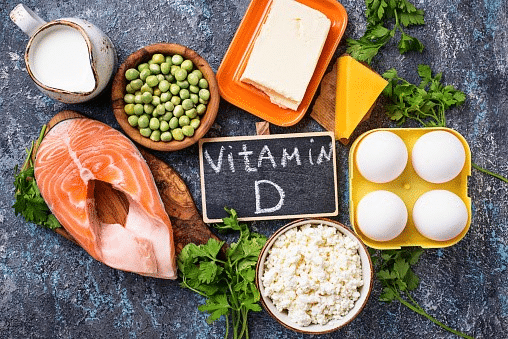 | | | | |
| --- | --- | --- | --- |
| Food Sources | Micrograms(mcg) per serving | InternationalUnits (IU) per serving | Percent DV* |
| Cod liver oil, 1 tablespoon | 34.0 | 1,360 | 170 |
| Trout (rainbow), farmed, cooked, 3 ounces | 16.2 | 645 | 81 |
| Salmon (sockeye), cooked, 3 ounces | 14.2 | 570 | 71 |
| Mushrooms, white, raw, sliced, exposed to UV light, ½ cup | 9.2 | 366 | 46 |
| Milk, 2% milkfat, vitamin D fortified, 1 cup | 2.9 | 120 | 15 |
| Soy, almond, and oat milks, vitamin D fortified, various brands, 1 cup | 2.5-3.6 | 100-144 | 13-18 |
| Ready-to-eat cereal, fortified with 10% of the DV for vitamin D, 1 serving | 2.0 | 80 | 10 |
| Sardines (Atlantic), canned in oil, drained, 2 sardines | 1.2 | 46 | 6 |
| Egg, 1 large, scrambled** | 1.1 | 44 | 6 |
| Liver, beef, braised, 3 ounces | 1.0 | 42 | 5 |
| Tuna fish (light), canned in water, drained, 3 ounces | 1.0 | 40 | 5 |
| Cheese, cheddar, 1.5 ounce | 0.4 | 17 | 2 |
| Mushrooms, portabella, raw, diced, ½ cup | 0.1 | 4 | 1 |
| Chicken breast, roasted, 3 ounces | 0.1 | 4 | 1 |
| Beef, ground, 90% lean, broiled, 3 ounces | 0 | 1.7 | 0 |
| Broccoli, raw, chopped, ½ cup | 0 | 0 | 0 |
| Carrots, raw, chopped, ½ cup | 0 | 0 | 0 |
| Almonds, dry roasted, 1 ounce | 0 | 0 | 0 |
| Apple, large | 0 | 0 | 0 |
| Banana, large | 0 | 0 | 0 |
| Rice, brown, long-grain, cooked, 1 cup | 0 | 0 | 0 |
| Whole wheat bread, 1 slice | 0 | 0 | 0 |
| Lentils, boiled, ½ cup | 0 | 0 | 0 |
| Sunflower seeds, roasted, ½ cup | 0 | 0 | 0 |
| Edamame, shelled, cooked, ½ cup | 0 | 0 | 0 |
* DV = Daily Value. The FDA developed DVs to help consumers compare the nutrient contents of foods and dietary supplements within the context of a total diet. The DV for vitamin D is 20 mcg (800 IU) for adults and children aged 4 years and older [26]. The labels must list vitamin D content in mcg per serving and have the option of also listing the amount in IUs in parentheses. Foods providing 20% or more of the DV are considered to be high sources of a nutrient, but foods providing lower percentages of the DV also contribute to a healthful diet. ** Vitamin D is in the yolk.
Groups at Risk for Vitamin D Inadequacy
Breastfed infantsConsumption of human milk alone does not ordinarily enable infants to meet vitamin D requirements, because it provides less than 0.6 to 2.0 mcg/L (25 to 78 IU/L). The vitamin D content of human milk is related to the mama's vitamin D status; studies suggest that the breastmilk of mothers who take daily supplements containing at least 50 mcg (2,000 IU) vitamin D3 have higher levels of the nutrient.
Although UVB exposure can produce vitamin D in infants, the American Academy of Pediatrics (AAP) advises parents to keep infants younger than 6 months out of direct sunlight, dress them in protective clothing and hats, and apply sunscreen on small areas of exposed skin when sun exposure is unavoidable. The AAP recommends 10 mcg (400 IU)/day vitamin D supplements for exclusively and partially breastfed infants starting shortly after birth and lasting until they are weaned and consume at least 1,000 mL/day vitamin D-fortified formula or whole milk. The AAP also recommends 10 mcg (400 IU)/day supplemental vitamin D for all infants who are not breastfed and ingest less than 1,000 mL/day vitamin D-fortified formula or milk. An analysis of NHANES 2009–2016 data found that only 20.5% of breastfed infants and 31.1% of infants who were not breastfed ingested these recommended amounts of supplements. Working with a dietitian can help.
Older adultsOlder adults are at increased risk of developing vitamin D insufficiency, partly because the skin's ability to synthesize vitamin D declines with age. In addition, older adults are likely to spend more time than younger people indoors, and they might have inadequate dietary intakes of the vitamin.
People with limited sun exposureHomebound individuals; people who wear long robes, dresses, or head coverings for religious reasons; and people with occupations that limit sun exposure are among the groups that are unlikely to obtain adequate amounts of vitamin D from sunlight. The use of sunscreen also limits vitamin D synthesis from sunlight. But wear your sunscreen, it's important!
People with dark skinGreater amounts of the pigment melanin in the epidermal layer of the skin result in darker skin and reduce the skin's ability to produce vitamin D from sunlight. Black Americans, for example, typically have lower serum 25(OH)D levels than White Americans. However, whether these lower levels in persons with dark skin have significant health consequences is not clear. Those of African American ancestry, for example, have lower rates of bone fracture and osteoporosis than do fairer skinned individuals. So this one may be a bit more complicated.
People with conditions that limit fat absorptionBecause vitamin D is fat soluble, its absorption depends on the gut's ability to absorb dietary fat. Fat malabsorption is associated with medical conditions that include some forms of liver disease, cystic fibrosis, celiac disease, Crohn's disease, and ulcerative colitis. In addition to having an increased risk of vitamin D deficiency, people with these conditions might not eat certain foods, such as dairy products (many of which are fortified with vitamin D), or eat only small amounts of these foods. Individuals who have difficulty absorbing dietary fat might therefore require vitamin D supplementation.
People who are obese or have undergone gastric bypass surgeryIndividuals with a body mass index (BMI) of 30 or more tend to have lower serum 25(OH)D levels than nonobese individuals. Obesity does not affect the skin's capacity to synthesize vitamin D. However, greater amounts of subcutaneous fat sequester more of the vitamin. Obese people might need greater intakes of vitamin D to achieve 25(OH)D levels similar to those of people with normal weight.
Obese individuals who have undergone gastric bypass surgery can also become vitamin D deficient. In this procedure, part of the upper small intestine, where vitamin D is absorbed, is bypassed, and vitamin D that is mobilized into the bloodstream from fat stores might not raise 25(OH)D to adequate levels over time.
Bottom Line
Most people will need a supplement. I take one. If you decide to embark on the supplement journey, here are some brand ideas to try. The Best Vitamin D Supplements to Take, According to Dietitians — Eat This Not That and The 13 Best Vitamin D Supplements for 2022 (healthline.com)
It does matter which one you choose. As always, work with your physician and dietitian as necessary.
Happy Holidays (if you celebrate) and restful reprieve time,
Miriam Jirari MPH, RDN, CPT
Certified Intuitive  Counselor
Studio SWEAT Dietitian
Resources: