Can you keep a secret??? Neither can we. Especially when it comes to one of our favorite fitness modalities ever — kettlebell training. And it's easy to see why: is there a more versatile tool than the kettlebell? It's literally just an oblong hunk of iron…oh, but with about 300 years of exercise science behind it. And over those centuries, mad Russian exercise scientists developed tons and tons of kettlebell exercises that focus on all major muscle groups, meaning that you can get a full-body kettlebell workout right in your living room, anytime you want. 
And if you've been in or around or near the Studio SWEAT onDemand sphere, you've probably heard us iron out all of our love for kettlebell workouts. So you probably already know the biggies — the swing, snatch, clean and press, and so on. But we'd like to share some of our favorite, off-the-beaten-path kettlebell exercises to add to your fitness arsenal. Are you ready to spill some tea? Because the kettle is ON!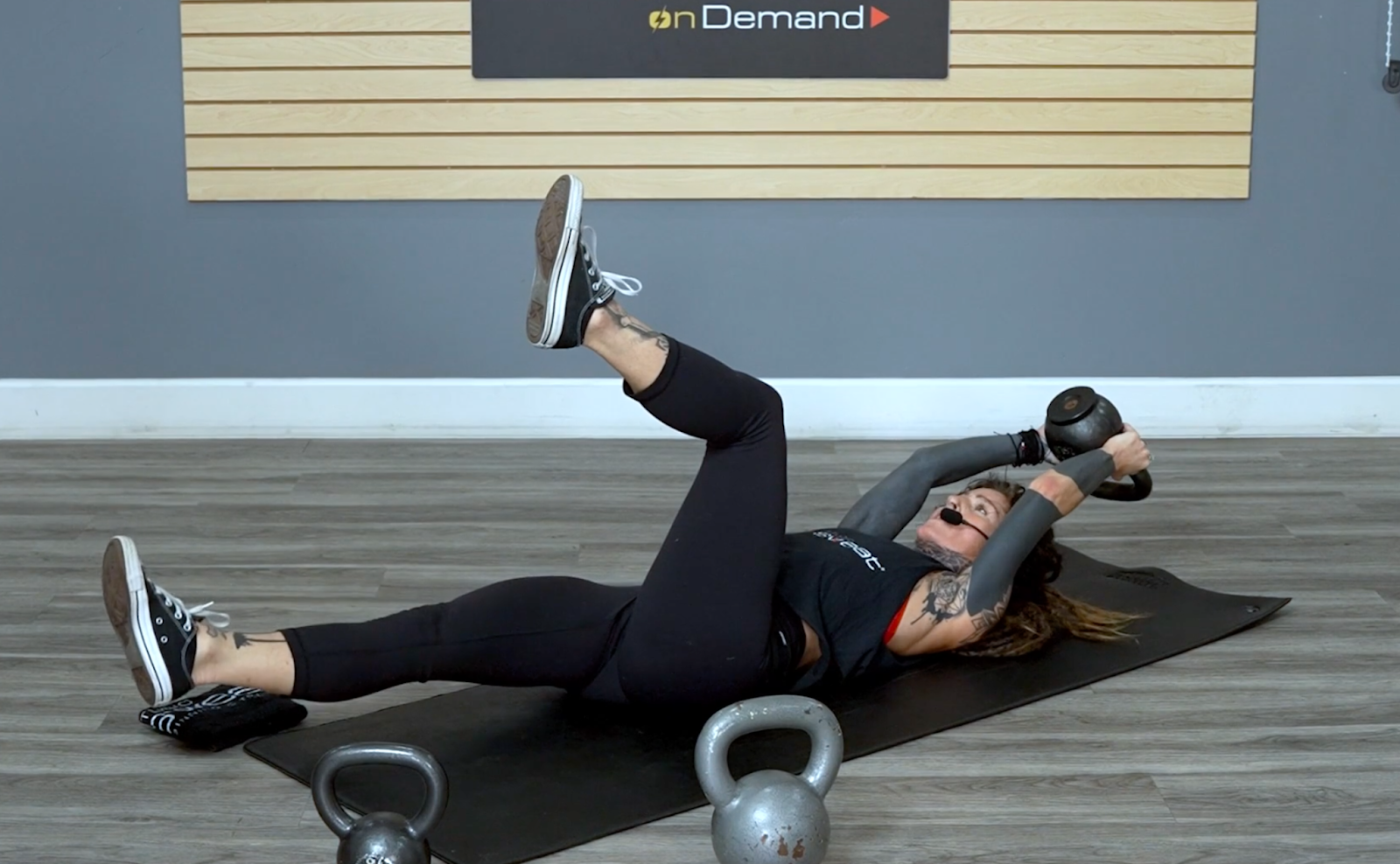 The Dead Bug
Our first kettlebell exercise sounds just as fun as it is to do. Taking it down to the floor, hold your kettlebell with both hands above your chest. As you reach it back to the wall behind you, send one of your legs long and low while keeping your spine totally stable. Bring both your leg and the kettlebell up at the same time. Alternate legs for three sets of 16-20 reps to light your core, back, chest & triceps right up.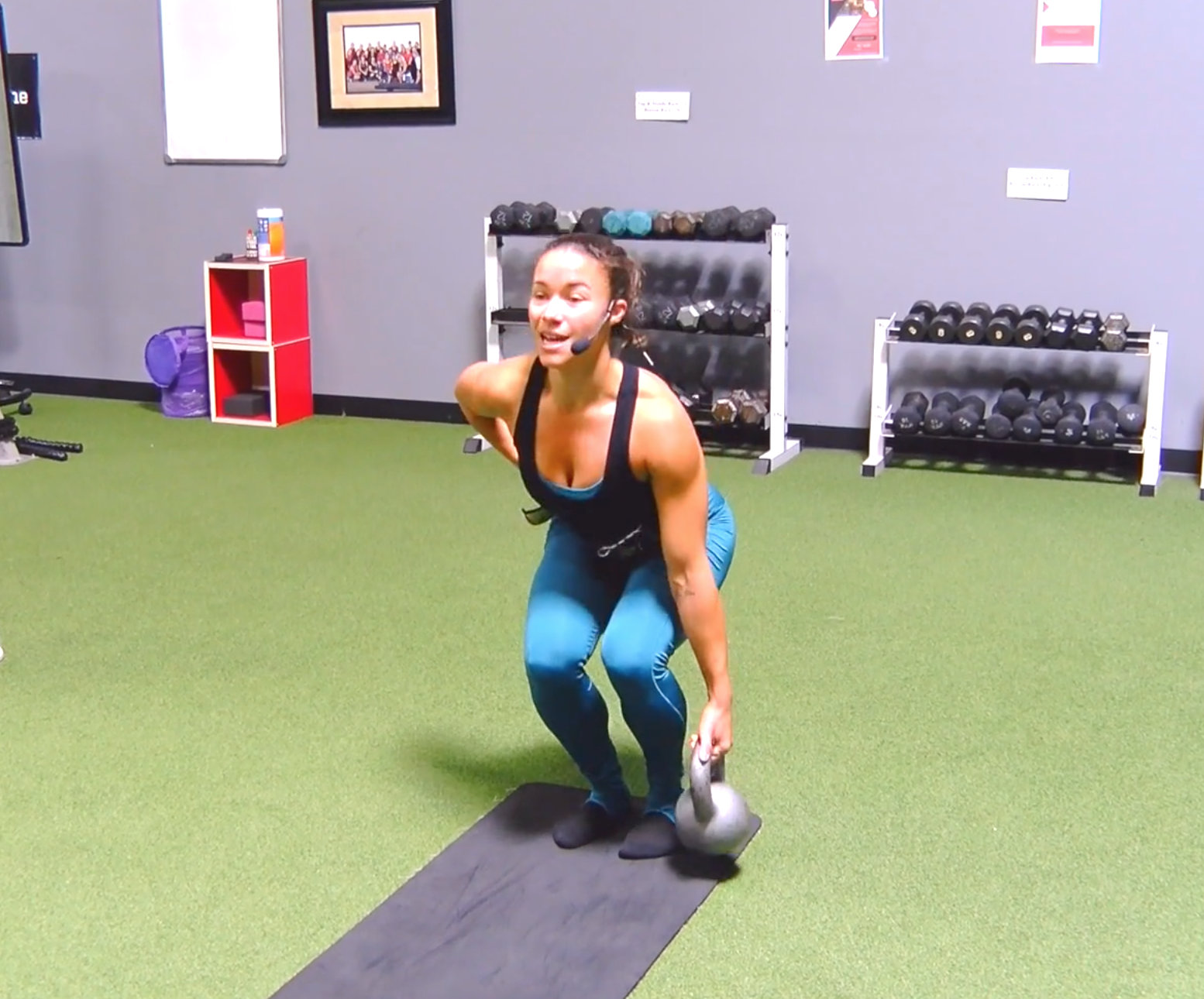 The Suitcase Squat
The suitcase squat is a lower body kettlebell exercise that focuses mostly on the quads. Simply keep your thighs together as you lower down into your squat, make sure to not lean too far forward, and hang the kettlebell down with one arm at your side. Switch sides, and do 3 sets of 10 squats.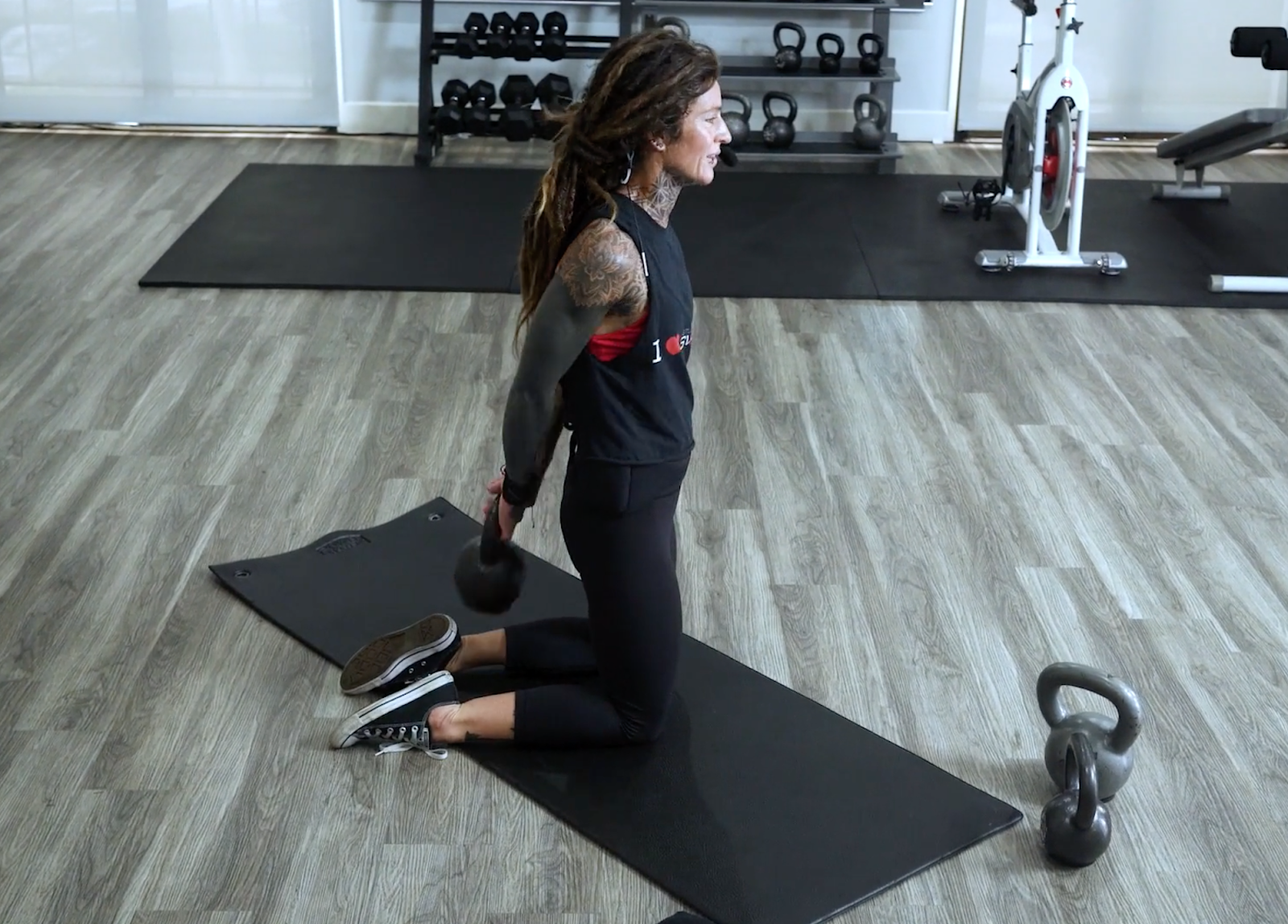 Kneeling Hip Circles
Next up we've got a disarming kettlebell move that we just love. A Kneeling Hip Circle keeps your entire body still, with a simple rotation of the kettlebell around your lower waist. Although it may seem quite straightforward, you're getting core stabilization plus a supreme shoulder kettlebell workout at the same time! Try 2 sets of 20 rotations, then call us in the morning. 

Lateral Lunge
Another great under-the-radar kettlebell exercise is the lateral (or side) lunge. This is performed just like a regular side lunge, with the option to add a single arm bicep curl or upright row at the top of the movement. Try 3 sets of 10 per side.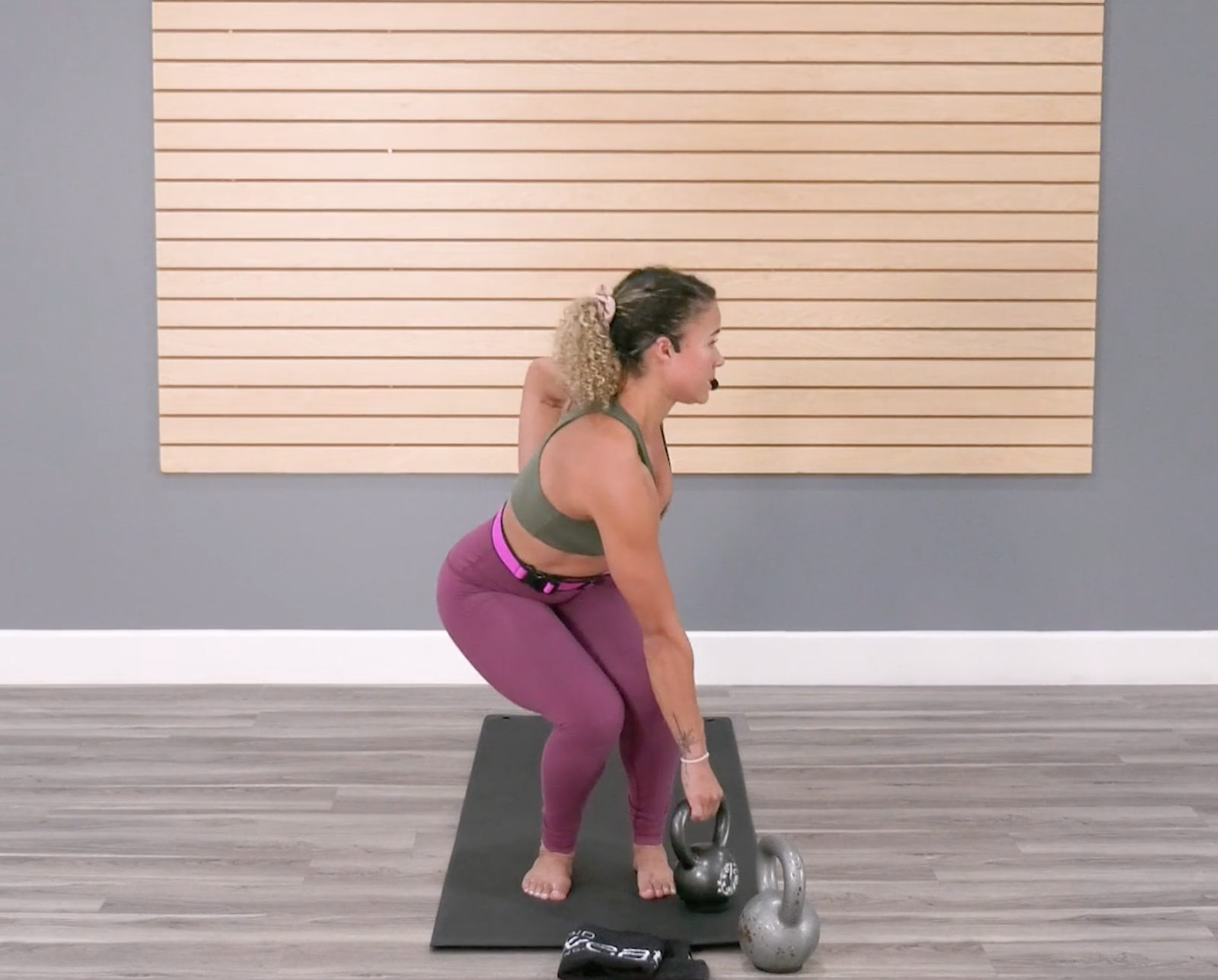 Twisting Chair Sit
The Twisting Chair Sit is a symphony of amazing oblique goodness. Starting off with the kettlebell in one hand, and with your legs together, lower into a slight squat and rotate the kettlebell to the opposite side of your body. Return to starting position and repeat on the other side. Try 2 sets of 15 movements per side.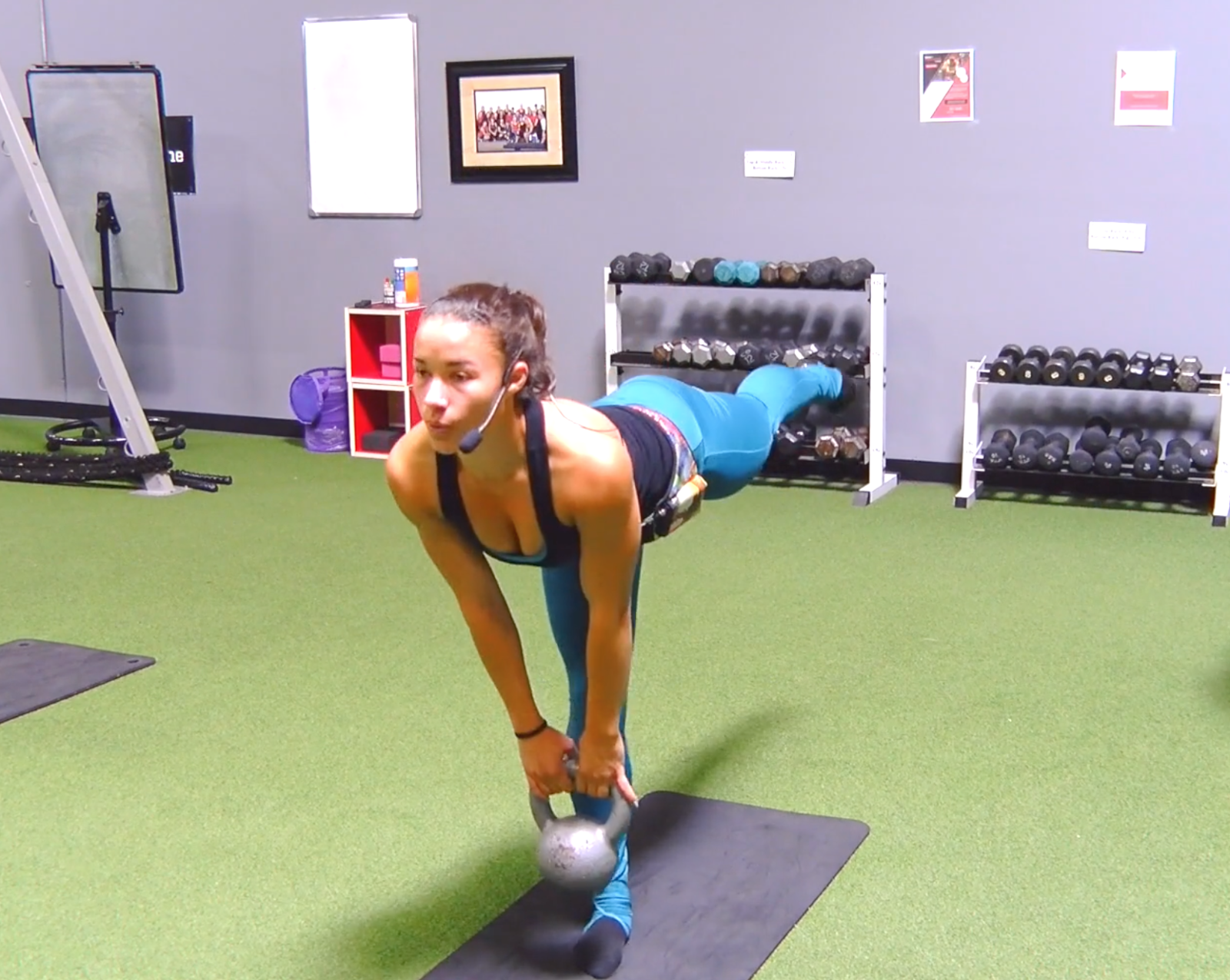 Single Leg Deadlift
Deadlifts are one of the best compound exercises out there — made even better by the uneven challenge of a kettlebell! Starting with the kettlebell in front of you in both hands, hinge at the hips while reaching one leg back. Try to pause there for a second before returning to the start position, switch sides, and repeat. Try 3 sets of 10 on each side. 
Well, our favorite, super secret kettlebell exercises are out of the bag, and we feel like a weight has been lifted off of our shoulders (literally!). Now if you're ready for some more amazing kettlebell action, check out Studio SWEAT onDemand's collection of Virtual Kettlebell Workouts! We've got a huge variety of fitness classes of different intensities, styles, and durations. Try one, and you'll be hungry for more. And while you're getting those cravings, why not sign up for our 7-Day Free Trial? Along with kettlebell classes, we offer tons of HIIT, Cycling, TRX, Yoga, Pilates, Sculpting, Barre, and more workouts you can do from the comfort of anywhere. Sign up today, and let's do this!