Well it's official — the countdown to Halloween has begun! We don't know about you, but when the spooky season comes around, we're ready for it. We break out our 13 boxes of halloween decorations from the garage (labeled by mood, feel, and theme, of course), fill our Pinterest boards with creepy inspiration, get the Nightmare Before Christmas locked and loaded on our TVs, and play the Monster Mash on rotation. Basically we're saying we go all-out for All-Hallow's-Eve! 
But around about this time of year, us fitness freaks, workout warlocks, and hellish-health nuts always begin thinking about something truly scary — falling off the clean-eating wagon…and straight into a pumpkin-shaped bowl of candy. Yes Halloween is for many a favorite holiday, and also the unofficial start of the holiday season. Which yeah sure, fills us with mirth and joy and twinkly lights and all the rest, but can also be a terrifying tempest of temptation. 
So what's the solution, then? Stay inside, skip the trick-or-treating, ditch the fun parties? Sounds fun: 'Sure, you guys go on ahead, I'll be in here doing squats.' Nah. Instead, why don't we incorporate everything we love about the holiday into our fit lifestyles, with healthy halloween treats that won't murder our diets!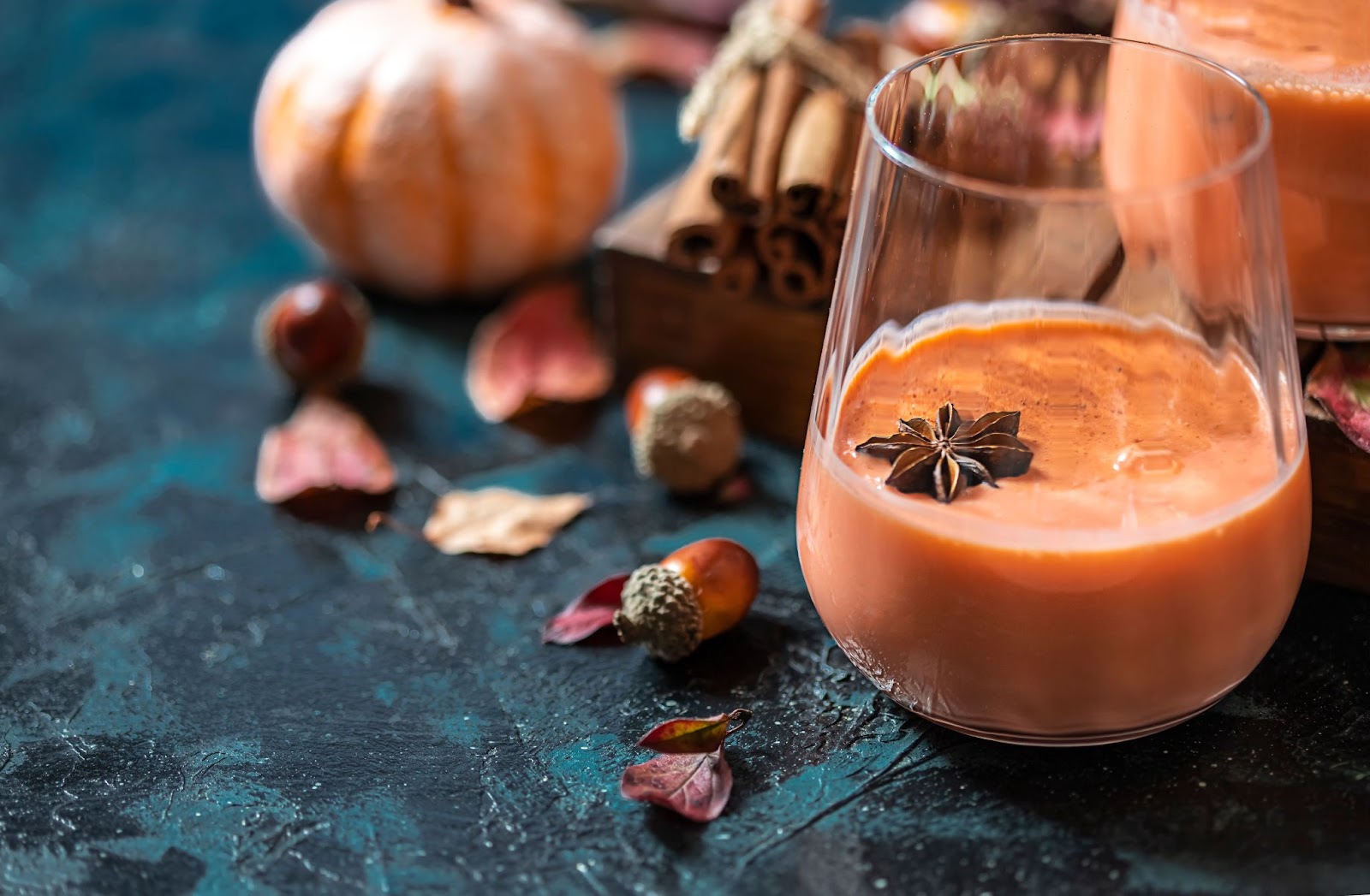 Psycho Pumpkin Smoothie
Let's dive right into the autumnal spirit with this harvest-inspired smoothie. Grab some frozen bananas, mashed pumpkin, oat milk, almond butter, and greek yogurt, and blend it together. You can also sprinkle some nutmeg, cinnamon, and allspice in there, and top it with an anise seed for a subtle, classy touch. Also, not to be this person, but if you're headed to a party, a little tinkle of rum in these will definitely hit the spot.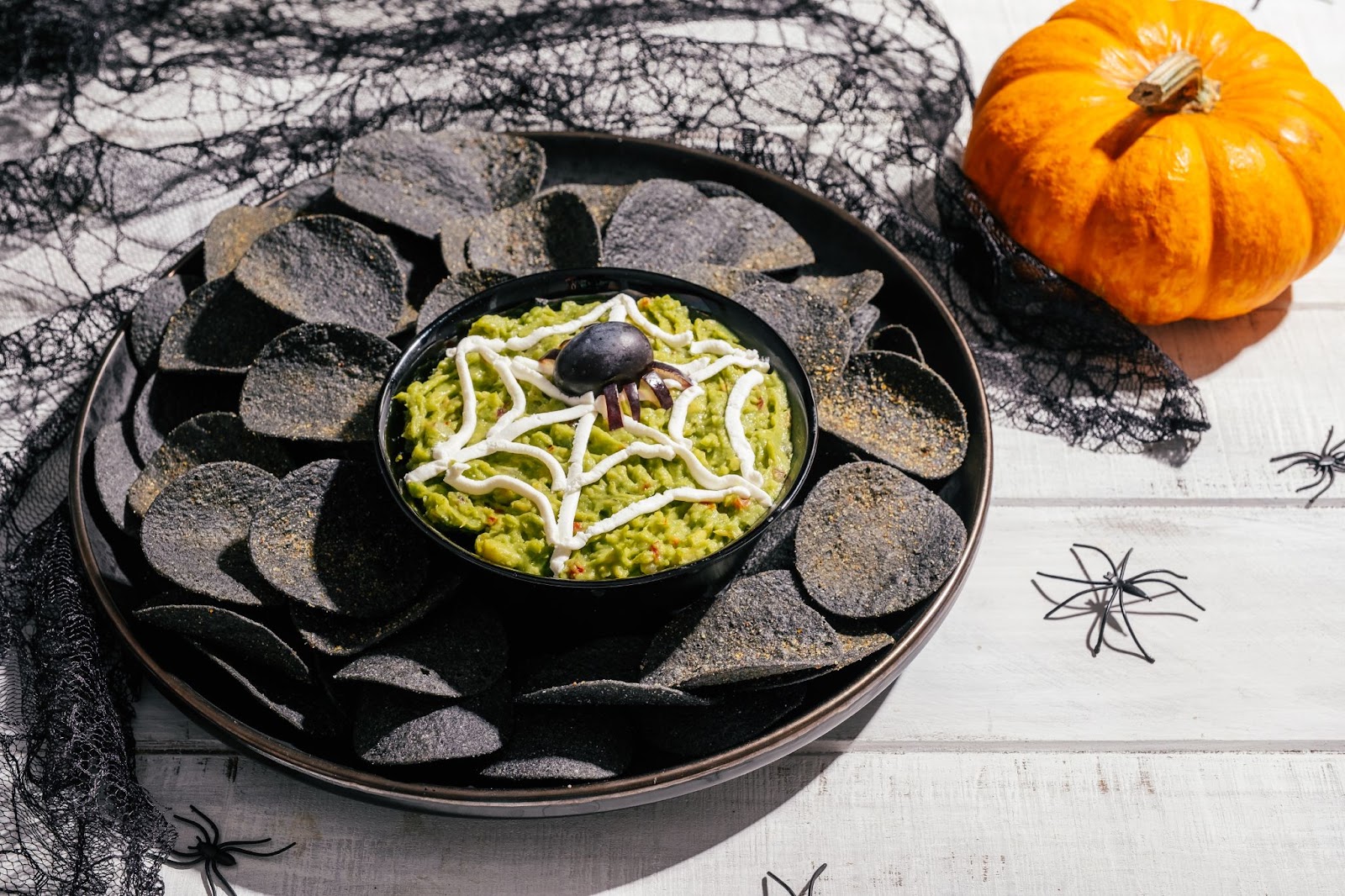 Ghoulish Guac
For a ghastly twist on your traditional guacamole bowl, try this festive take on it: pipe some greek yogurt or low-fat sour cream into the shape of a spider web across your guacamole bowl, and surround it with deep blue corn chips. And if you've got the chops, create a lil' spider friend sitting on top, made from black olives.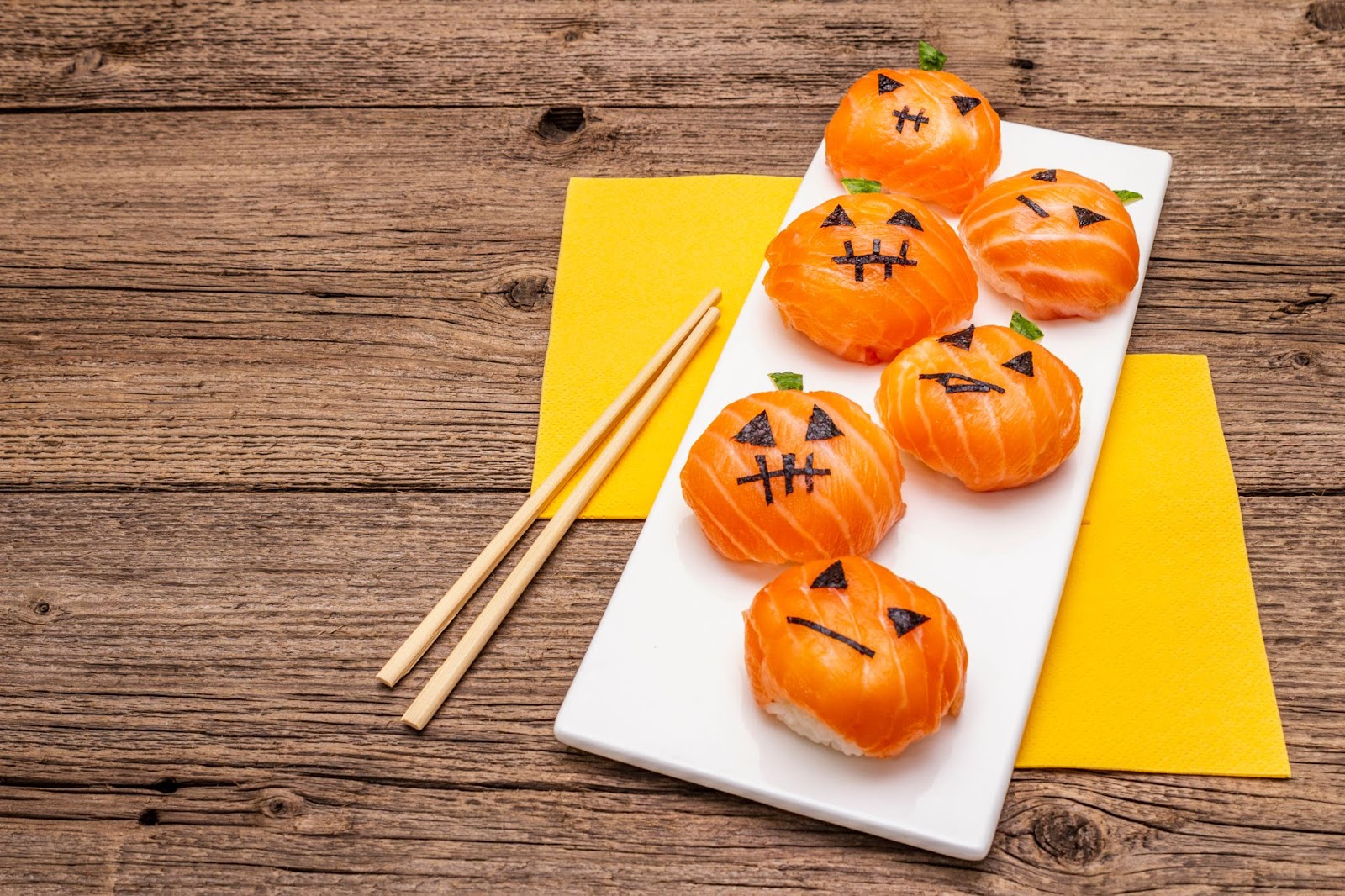 Kamikaze Rolls
If you're a fan of regularly rolling your own sushi at home, first of all, wow. Secondly, try out this clever pumpkin-ified version. Using only sushi rice shaped into half spheres, lay some thinly sliced salmon on top, then cut some nori into little triangles and lines to create your mini jack-o-lanterns. 
De-Brained Bell Pepper Zombies
This one looks like a wallop of a recipe, but it's eerily simple! Start by preparing a simple bolognese or other pasta sauce you like. Then, create your own 'zoodles' by sticking a couple of zucchinis into a spiralizer or julienne peeler, and quickly boil them in salted water. Grab some big-boy-bell peppers and carve any sort of Halloween-themed face into it (jack, goblin, ghost, Frankenstein) and fill.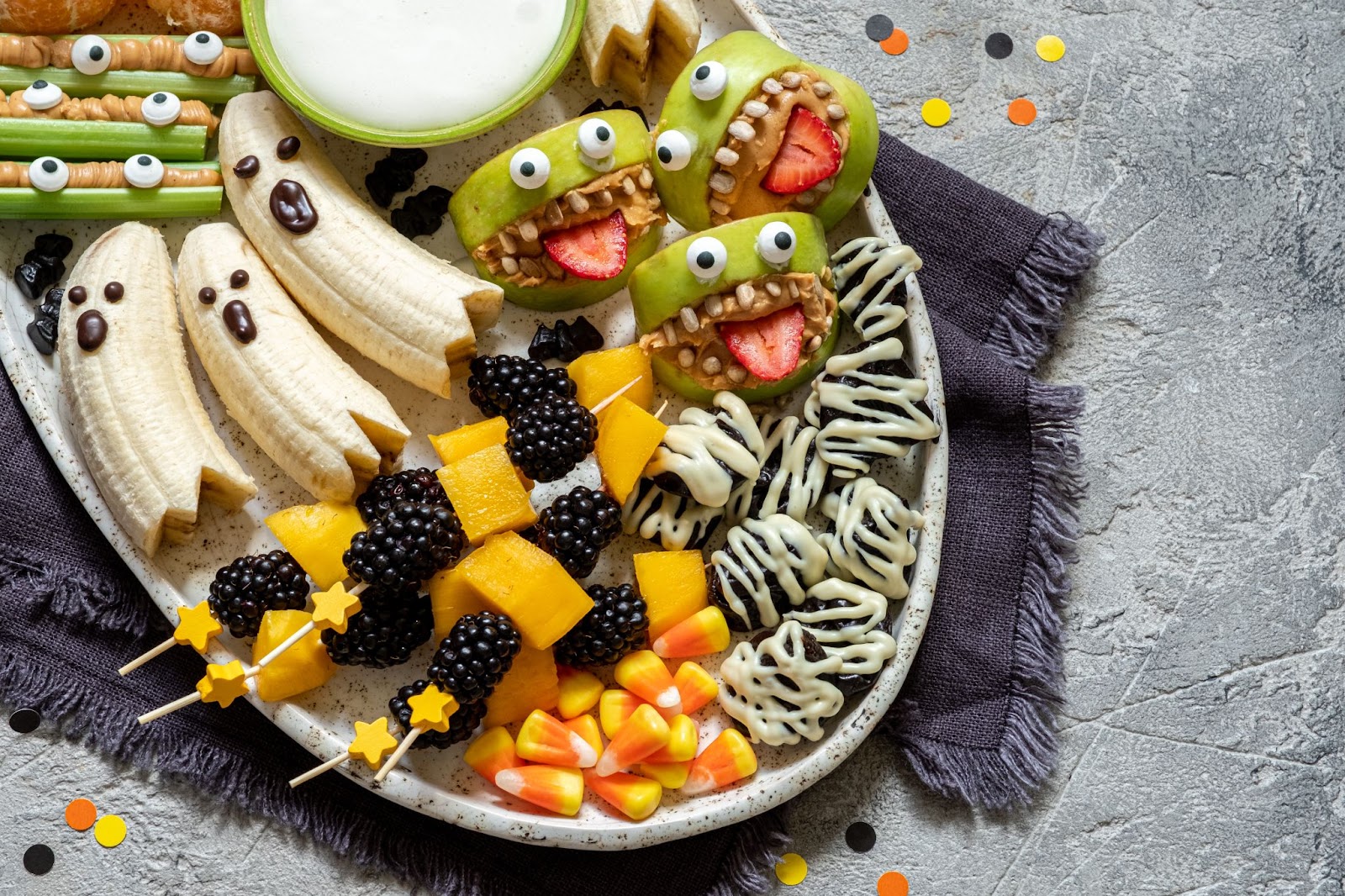 Fierce Fruits, Violent Veggies
Who says fruits and veggies have to be kind all the time? Sometimes they get a little grumpy, too! You can create tons of Halloween-themed treats with just a few simple ingredients. Boo bananas need just a few chocolate-covered raisins and some knife skills. Zombie apple slices need only some granny smiths, strawberries, peanuts for teeth, and some nut butter. And for googly-eyed celery, just add peanut butter, white and dark chocolate chips, and that's it!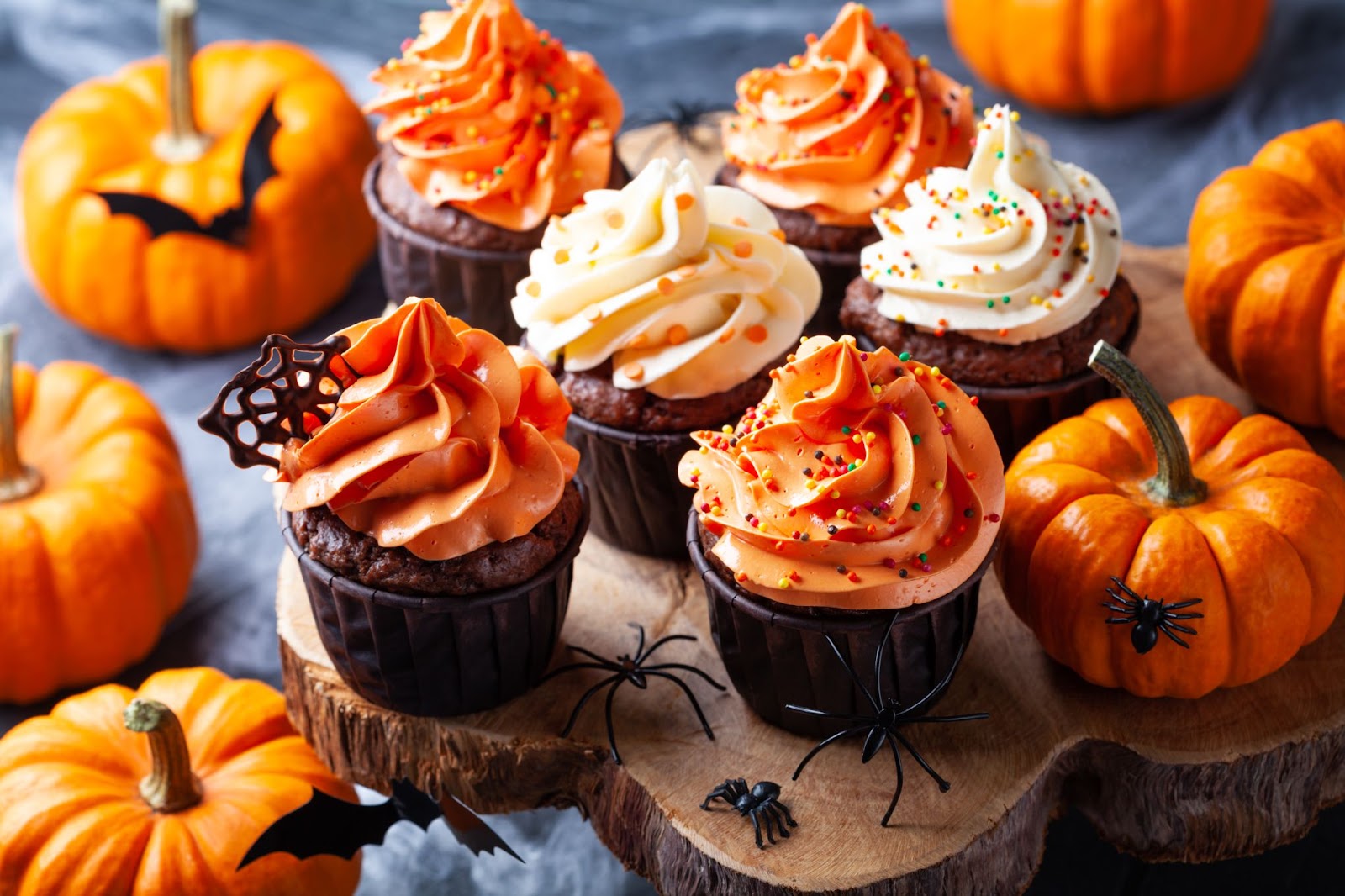 Spine-Chilling Pumpkin Cups
A healthy twist on the traditional cupcake, these devilishly delicious pumpkin cupcakes are really everything. Take any regular recipe in your grandmother's kitchen, and swap out half the butter called for with applesauce, and replace refined sugar with maple syrup, and use half whole-wheat pastry flour instead of the all-purpose stuff. For the icing, take any regular cream cheese frosting recipe and use the low-fat version. 
Well there you go, we hope our healthy Halloween treat ideas give you the inspiration to stick to a fit lifestyle all through the holiday season and beyond! Wanna beef up your spooky sweat routine while you're at it? Check out a 7-Day Free Trial with Studio SWEAT onDemand! We've got so many different workouts for you to choose from, it's scary! Sign up today, and let's get freakishly fit all year long!