Halloween is almost here! This means it's time to spookify your house, carve up some pumpkins, and get your costumes ready (is there anybody out there who's not dressing up as the cast of Squid Game this year?). You may also notice that pretty much marks the beginning of the onslaught of holiday yumminess: first, you've got heaps of Halloween candy, then, a tsunami of Thanksgiving treats, followed by a cavalcade of Christmas goodies, Hanukkah latkes up the wazoo, Kwanzaa cakes, nachos on New Year's and AHHHH! Once again, you find yourself off the workout wagon as soon as you got on it. 
If you're like most, you may fall into this pattern year after year. But this year, why not try STAYING on the path of health and fitness, while enjoying holiday treats at the same time? All you need to do is allow yourself those mini-indulgences, (careful not to overdo it), while squeezing in those workouts whenever it works for you and your schedule. And to help you, we've cooked up a no-equipment, total-burn fitness routine you can do when you're out trick-or-treating with your kiddos!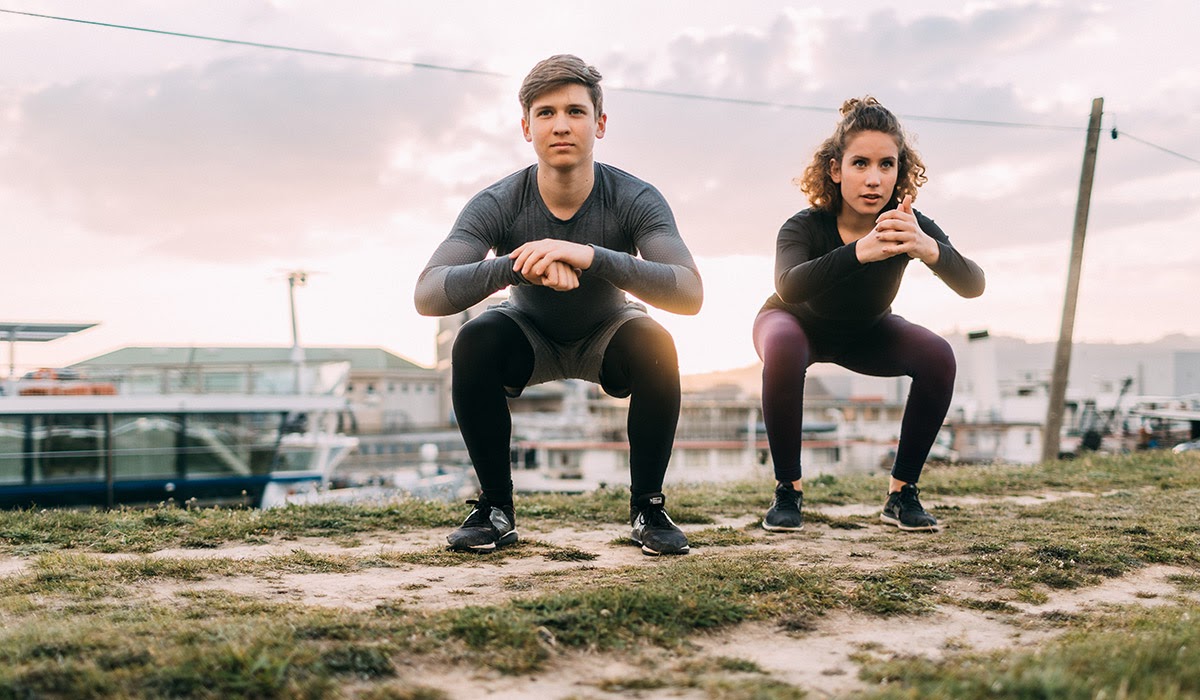 Spooky Sumo Squats
Start in a wide stance with your feet pointed outward at a 45-degree angle. Lower your upper body slowly, leaning your weight back into your heels while keeping your back straight, and pushing your knees outward toward your toes. Spring back up, and repeat for 10 times. Do this again for the next three houses. 
HUNDREDS OF BODY-SCULPTING CLASSES

|

Sign up for your 7-day free trial now!
Beastly Bench Step Ups
Do these standing in front of a bench, mini-retaining wall or other surface that stands approximately 2-3 feet tall. Simply step up, one foot after the other, then stepdown, alternating your leading foot. Do this slowly and carefully, five times on each leg and maintain full control of each step. Repeat for three more houses. 
Jack-o-Lantern Jumping Lunges
Start in a lunge position, with your front knee bent (making sure your front knee stays behind your toes), with your rear knee close to the ground. Spring up into the air, switching your leg positions, and land softly into a lunge position with your opposite feet in opposite placements from your starting position. Complete five jumping lunges on each side, repeated for three houses. 
Wicked Wall Push Ups
These may not be that challenging to some, so if you feel like you can turn up the intensity, try to squeeze in a bunch of extra reps. Start by facing a wall, place both hands in front of you on to the wall, shoulder-width apart. Lower yourself slowly, then hold your position at the bottom of the push up, then slowly lift up again. The further you stand from the wall the more body weight you'll have to work with and the closer you stand to the wall the less weight you'll need to handle. Find a stance that gives you the amount of resistance that feels right for you. Try 15 of these quickly, repeat for four houses. 
Spine-Tingling Side Crunches
You don't need to get down and dirty to work your core… Especially when you can do these standing. Simply place both hands on the back of your head, and lift one knee up at your side as high as you can. When lifting your knee, flex your toes up and focus on activating your obliques (side body muscles) and abs. Maintain control of each movement to ensure you're not relying on momentum to help lift your knee up. Return to the starting position, switch legs and repeat. Try this five times a side, for three houses. 
Blood-Curdling Burpees
Now, burpees are one exercise that is pretty scary even when it's not Halloween — but we love them anyway. With your legs shoulder-width apart and arms by your sides, lower into a squat position with your hands on the floor. Kick your legs back into a plank, then jump or step your legs forward into the squat, press into your heels and stand up. Repeat. These are tough for all of us, so maybe just try to hit one of these per house, for five houses. 
Welp, there it is! We hope you dig our Halloween-themed, no-equipment bodyweight workout. Try it this year, we promise that while your kids are loading up on calories, you'll be burning them up! And if you want more any-place-any-time workouts, be sure to get your 7-Day Free Trial with Studio SWEAT onDemand. We offer tons of terrifyingly terrific workouts that you can do from the comfort of home. And with so many to choose from, you'll be keeping those dreaded holiday hors d'oeuvres at bay. Sign up now, and happy Halloween!