There are precisely two kinds of fitness people. The first group are the gym rats: those devotees that crave the smell of old iron and new foam, a full workout crew waiting for them every day, a favorite or designated locker, and a need to envelope themselves in all things SWEAT. And then there are the other types of folks: those who feel confined at the gym, who don't particularly love the clinking of plates and the rushing of ellipticals; those who want to work out from the snuggly and cozy confines of their casa. 
If you fall into this second category, one potential danger that you have to watch out for is that all-too-tenacious, three-headed monster that is boredom, lethargy, and comfort! If you're working out at home, and only at home, you typically don't have an outside influence pushing you to reach and beat your best. So you might be prone to taking it easy on yourself, falling off the workout wagon, and pretty much just treading water. 
But not to worry, because we're here to help (as always). We've come up with our list of the best at-home workout tips to help you turn your homebase into a palace of pump! Now get your keister off of the couch and let's get into it!
Set Up a Designated Workout Space
One clear benefit of fitness gyms is the formality of it all — once you step inside, you know what you and everyone else is there for: to get fit! So why not recreate this in your home? By setting up a specific fitness-friendly place in your house, you'll be encouraged to start moving and grooving as soon as you catch a glimpse of it on your way to the refrigerator at midnight. Now, depending on your workout goals, and square footage, not everyone's space will look the same. If you're into yoga, a simple corner of your living room will do. If you're looking to bulk up and press those irons, half of your garage might be the way to go. If you want your own personal Spin studio, you might think about designating half of your home office, den, or guest room for that purpose. And if you need more specific tips to create your own personal home gym, check out our 3-Part Blog Series on that very subject. 
To Equip…or Not to Equip?
Once you've set up your designated fitness space, your next step will be to determine your needs for home fitness equipment. If you've got money to burn (and typically choose all the bells and whistles when buying a car), feel free to deck out your home gym with tons of fancy equipment. But know that you don't have to. If you so chose, you could get tons of full-body workouts using just your bodyweight. Or, you could get by with a paired down setup, i.e.: a couple sets of dumbbells, a kettlebell or two, a yoga mat, and some resistance bands. If you happen to crave cycling (like most of us do), we've got a heck of a connection on some pretty amazing and affordable indoor cycle bundles. What you decide to purchase is up to you. Just remember there's nothing as annoying (or wasteful) as having an overpriced hunk o' junk in the corner of your house for decades, collecting dust.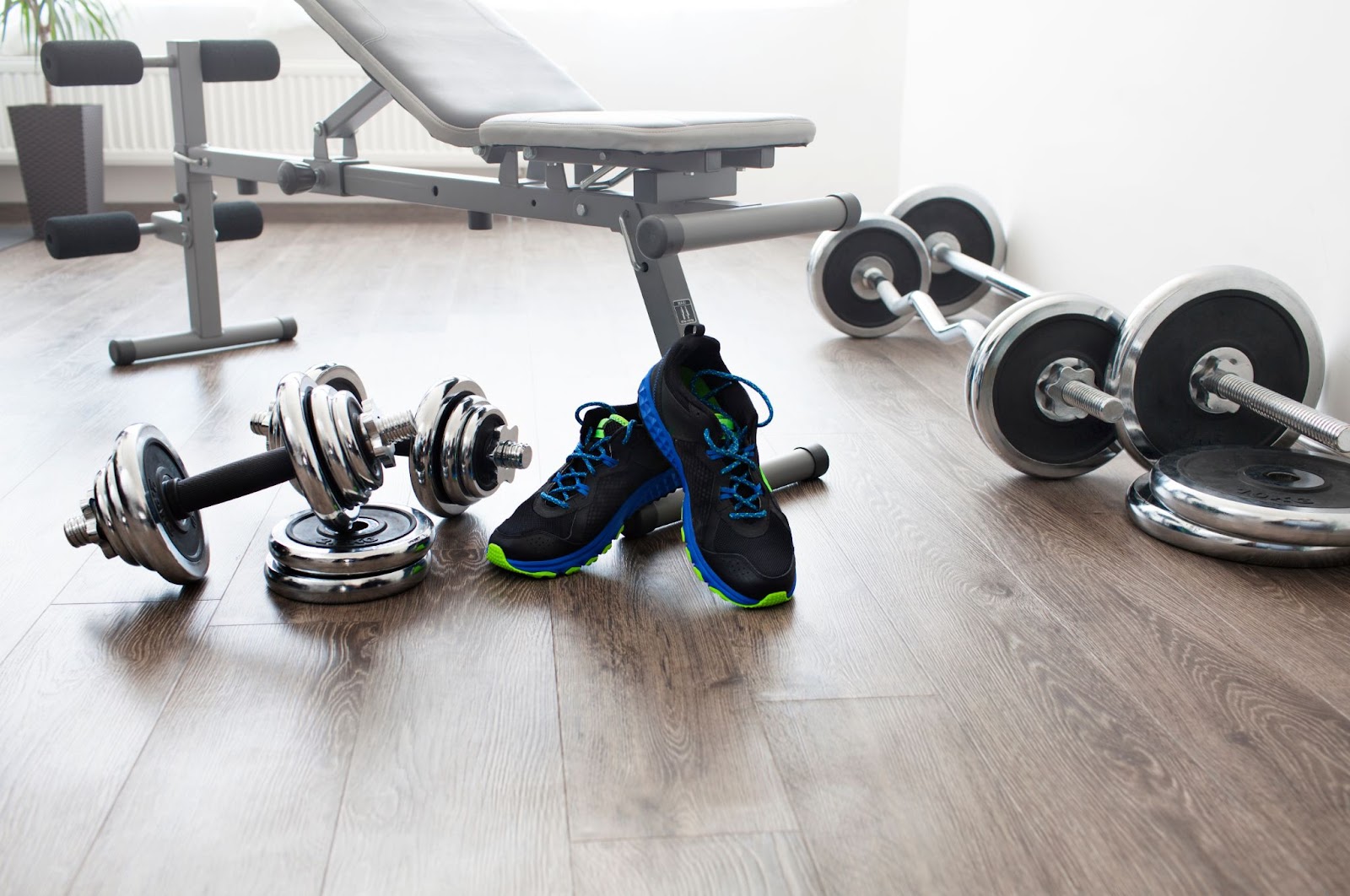 Sounds About Right
Music is the fuel to any amazing workout. Don't believe us? Try sprinkling some AC/DC on top of your bench press workout, some Eye of the Tiger on the treadmill, or some hip-hop on the final descent of your Spin class. Since it's so important, you'll want to be sure to invest in some pretty sweet audio equipment to augment your fitness routines. May we suggest the Anker SoundCore 80W Bluetooth Speaker for a portable and powerful speaker, or the PowerBeats Pro Wireless Headphones for an even more portable option. Whatever route you decide to take, know that the right music, played on the right equipment, can really make a difference in your fitness motivation. 
Set & Post Realistic Fitness Goals
Maybe you don't have the time, money, or interest to hire a personal trainer to pop by your house every day. No matter, but you still need a way to keep yourself honest. One great way to do that is by hanging a fitness goal calendar somewhere in your exercise space. Be sure to fill up that calendar with measurable goals. You could write in milestones such as 'Row for 30 minutes uninterrupted' or 'Bench 300' or 'Lose ____ lbs". And a terrific benefit of using a calendar is that you can break down those goals into tiny, achievable chunks, not to mention the thrilling moment of actually checking off those semi-goals.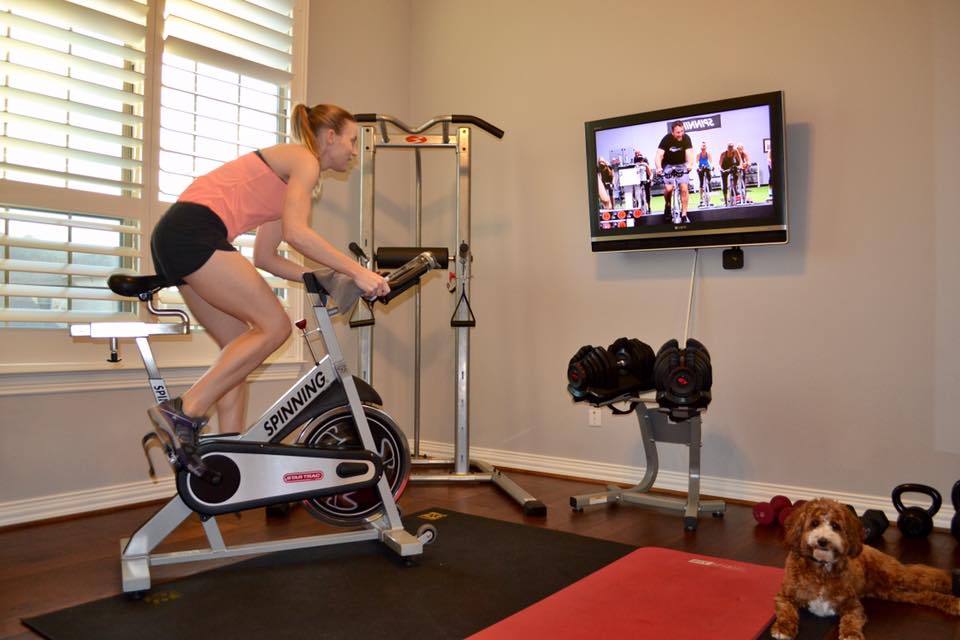 Sign Up for the Best At-Home Workout Platform!
One of the most important tips for a successful fitness routine at home is to bring the thrill and exhilaration of live group fitness classes right into your living room with Studio SWEAT onDemand! We've got an endless library of live and virtual workouts that can be taken from any device, anytime. And all our classes feature world-class trainers and real people like you (as opposed to air-brushed actors and fitness models), all of which add up to an immersive, in-studio vibe in every class. Plus, with our 7-Day Free Trial, you can experience everything we're made of for FREE, no credit card required. We hope you'll join us, and turn that humble abode into the house of sweat you deserve!
Choose Your Threads, Choose Them Well
And lastly, one oft-overlooked aspect of your at-home fitness plan is to have the right attire. Smelly gym shorts and tattered tank tops may be the easiest/cheapest option, but they won't be doing you any favors. You'll want to pick up some durable, lightweight and breathable gear that's designed to be sweat in. We've got tons of Workout Wear on our website that's perfect for your next home sweat sesh.