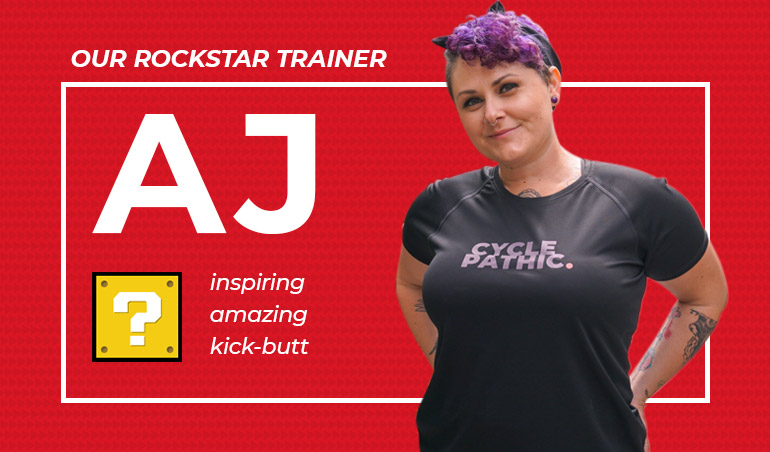 Want to know how our rock star trainers go about their day? We decided to pick the brain of our inspiring, amazing, and kick-butt trainer, AJ!
AJ's Philosophy:
My daily philosophy I live by? I have all I need to get by…
Family ✔️
Health ✔️
Shelter ✔️
Food ✔️
Coffee ✔️✔️
Knowing this helps me get through anything the day throws at me.
Morning Routine
I wake up most mornings by 5 AM to train my first client of the day. I straight-up roll out of bed, turn some new wave 80s music on, and put my first of two sets of gym clothes on. Then I pack two more sets of gym clothes, feed my cats (that are the most impatient animals in the world!), grab my iced coffee, my pre-made packed lunch, laptop, and head out. Best thing about my job is not needing to look my best all day 😂.
Breakfast
Coffee is the essence of life to me – it's my happiness in a cup. Other than that, I love egg whites on a tortilla with salsa (the second essence of life). That's the morning fuel I typically make after my 5 AM client. I am a true believer in fueling with carbohydrates and protein to get the optimal energy to start my day.
Late Morning
After my morning client and power-packed breakfast, I either go into the studio to work or meet my hiking buddy for a 6 to 10-mile hike. I love being outside, especially since I teach so much indoors. Any time I get my own cardio workout, it's always outdoors. Plus, we live in one of the most beautiful places in the world, and with so many amazing hiking trails you know I'm going to take advantage of that!
Lunch
Before I teach or after my hike, I eat lunch. Lunch usually consists of turkey chili, chicken vegetable soup, or a dish of chicken, broccoli, and rice I make the day prior. I also snack on an apple. Once again, I try to get that carb and protein before my next workout.
Teaching Time
If it's a teaching day (typically 3-4 days out of my week), I go straight to the studio and work until it's teaching time. My work consists of program-managing tasks for Studio SWEAT onDemand as well as Studio SWEAT. I love what I do, and love interacting with members!
I really look forward to teaching. I usually think about what I am going to do while I'm laying in bed the night before. I like to keep it fresh using different equipment for sculpting or doing circuits.
THE BEST part of preparing for a class is the music. I love music (just as much, if not more than coffee!!). I have hundreds of playlists and play everything from 80s, to rock, to rap. My favorite is 80s music and classic rock. I feel like a DJ and I tend to jam to my own playlist while teaching. I'm pretty sure I say, "this is my jam!" more than once each class. I tend to pick out music that matches my class drills.
Warm up
Before each class, I try to do my own dynamic warmup. I move and stretch the way my body is going to move during class. I think a dynamic warmup is super effective and great for injury prevention.

Personal Training Philosophy
My favorite part of my job is personal training, hands down. I love teaching group classes, don't get me wrong, but being able to work one-on-one with someone and seeing them slowly change and reach their fitness and personal goals always makes me proud… Plus, I like a challenge and every client is a new challenge.
My training philosophy is "train for better movement and a better quality of life." No better way to do that than a personalized training program because everyone is different, moves differently and lives differently, so a cookie-cutter exercise program may not work for everyone. I emphasize injury prevention and working on muscle and flexibility imbalances. I create programs that will keep my clients motivated, so they can feel the difference, not just see a difference. I create programs that teach them to be self-sufficient in their workouts. That's why I teach them how to train so they can take that knowledge and implement it in the future.
I also love the personal aspect of it, like getting to know each client and learning what motivates them the most. I'm passionate about inspiring them to find ways to break barriers and be more confident about their body type. It's just fun to introduce a client to someone and have them say that they have a BBA, a "Body by AJ"! Ha!
Personal Training Time!
My typical training session goes like this:
I have a workout plan already set up based on their goals and a physical fitness assessment that I give them previously. On the day of, I come in 10 minutes early to set up any equipment I need ahead of time, so I can maximize the hour they have with me to train. Then, I put on music I know my client likes to work out to (of course!). We always start with a dynamic warmup where they move and stretch at the same time. I typically do warmup moves that will mimic the moves we will do in the training. Then, we do the workout with breaks as needed. While working out, I am constantly checking their form, seeing if the imbalances we're working on are getting better or if some of their movement doesn't look right. If it doesn't look right, I'll ask what they're feeling and if they had any issues with that area lately – that way, we can correct it.
I constantly ask how my clients are feeling – this is my talk test to see if they're working as hard as I'd like or recovering well. After the fun workout, I give plenty of time for recovery, whether it be stretching, foam rolling, or breathing techniques to get the body back to where it needs to be. Remember: recovery is part of fitness! We then high-five each other and I end it by telling them to make good decisions and get their protein in.
Snack Time
After class or a hike, I drink a protein shake and eat a banana. It's quick, yummy, high in protein, and low in sugar.
Wind Down
If I don't have any afternoon clients to train and my workday is done, I go home to my second job which is "Mom Taxi". Having three kids that are all in Scouts and other activities means driving them everywhere… but I wouldn't change it for the world!
Dinner
Then, I make a dinner that usually consists of a lean protein, vegetables, and rice. We sit at the table as much as we can and do a family question of the night. For example, what superpower would you want and why? It's a great way to get your family together, and the kids love it!
Nighttime Routine
Before I go to bed, I play Tetris to clear my mind (that's right, that game is still around). Or, I watch a TV show with the hubby. Then I go to bed, think about my class tomorrow, and fall asleep surrounded by my ungrateful cats and loving husband – appreciating all I have.
~ AJ
Of course, every moment of AJ's day is filled with awesomeness. But, if you haven't seen AJ in action, check out her body-sculpting classes, along with hundreds of the best online workouts, with a 7-Day Free Trial.
So, this is our request to you; don't just read about what it's like to be a trainer – live it!
BODY-SCULPTING WORKOUTS. NON-STOP NEW RELEASES

|

Pick Your All Access Pass Now!