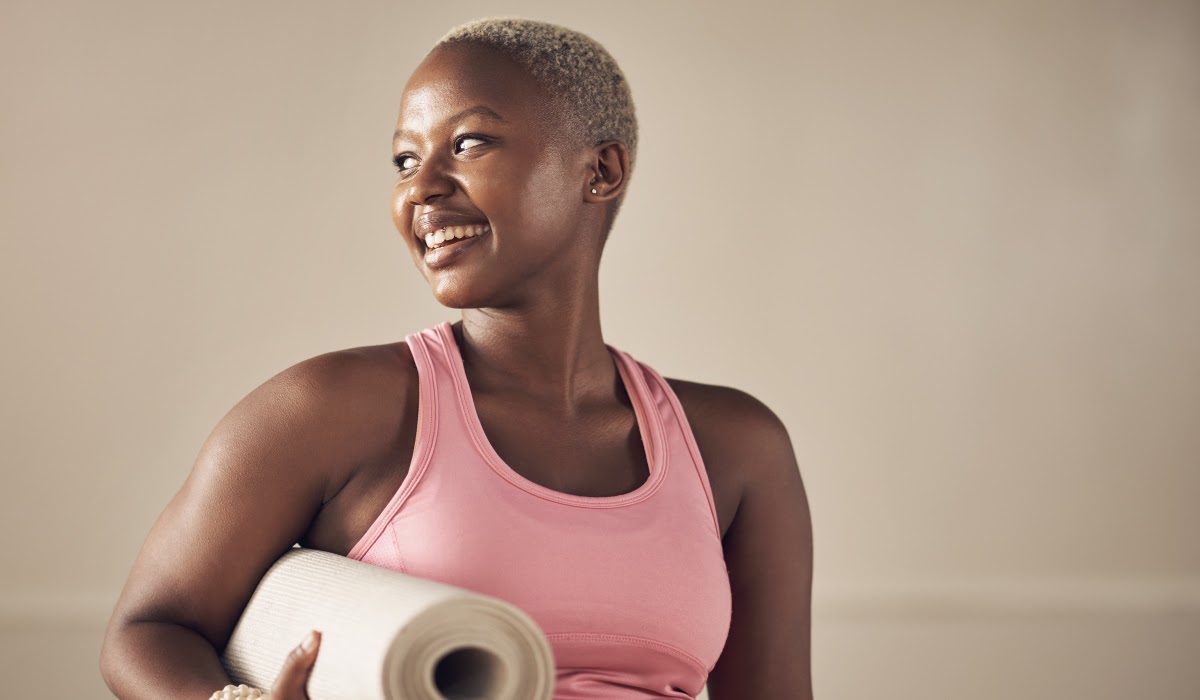 Breathe in…hold the pose…breathe out…
Ahhhhhh, you can almost feel the dreamy duality of yoga class. On the one hand, you've got the intense and sweaty stretch session, muscles being taken right up to the edge; and on the other, the quiet peace of centering yourself. That's one of the magical things about yoga, it's both brutal and relaxing, energy-draining and life-affirming — a little bit of ying and a little bit of yang.
And as far as the physical benefits of yoga, the list goes on — increased flexibility, cardiovascular health, respiration, muscle strength, toning, and not to mention protecting you from injury. But even more remarkable are the mental benefits of yoga. Sure, yoga gives you an incredible workout, but so do a lot of other exercise types. With yoga, you also get total mind and body improvement.
So let's dig our heels in and take a look at the important connection between yoga and mental health, through some scientifically-backed research.
Curbing Cortisol
Cortisol is an annoying little chemical, responsible for such lovely attributes as stress, mental illness, and lower life expectancy (curse you cortisol!). But the good news is that research on yoga and mental health has shown that practicing a steady regimen of yoga for just three months resulted in a massive reduction of cortisol levels, which means lower overall stress, and who doesn't want that?
HUNDREDS OF BODY-SCULPTING CLASSES

|

Sign up for your 7-day free trial now!
Working through Trauma
A study published by the National Center for Biotechnology Information found that people living with post-traumatic stress disorder (PTSD) and who had practiced yoga for ten weeks had fewer symptoms of the disorder. Even more astounding — 52% of the people in the study no longer met the criteria for PTSD at all! That's not to say that yoga is a cure-all to extreme mental illness, but the time spent breathing and living in the moment is always a good thing.
Dealing with Chronic Pain
This one sounds like more of a physical benefit but think about it — chronic pain is a long, drawn-out issue that many of us just live with. It's there in the morning, it's there when you lay down to bed, it's relentless. And you can bet that it'll take its toll on anyone's mental health. The beauty of yoga is that it delivers full-body relief to many common chronic conditions, from sports injuries to advanced arthritis and more. In a study published in 2005, researchers found that yoga decreased pain and improved the physical function of patients with osteoarthritis of the knees. Less shrieking… more smiling.
Better, Longer Sleep
As we've discussed in a bajillion blogs before — sleep is KEY. Not getting enough ZZZ's can wreak havoc on your mental health, leading to fatigue, weight gain, depression, and a whole lot more. And once again, here comes yoga to the rescue! In countless studies, yoga has proven to help you fall asleep faster, sleep longer, and feel more well-rested when you wake up in the morning.
We hope the mental health benefits of yoga have been firmly nudged into your noggin. At Studio SWEAT onDemand, we're big proponents of the sweet science of the stretch. That's why we offer tons of onDemand yoga classes that you can do from the comfort of your home, for zero bucks with our 7-Day Free-Trial. Check 'em out – we promise we'll get those positive vibes flowin' in you. Namaste baby!
BODY-SCULPTING WORKOUTS. NON-STOP NEW RELEASES

|

Pick Your All Access Pass Now!