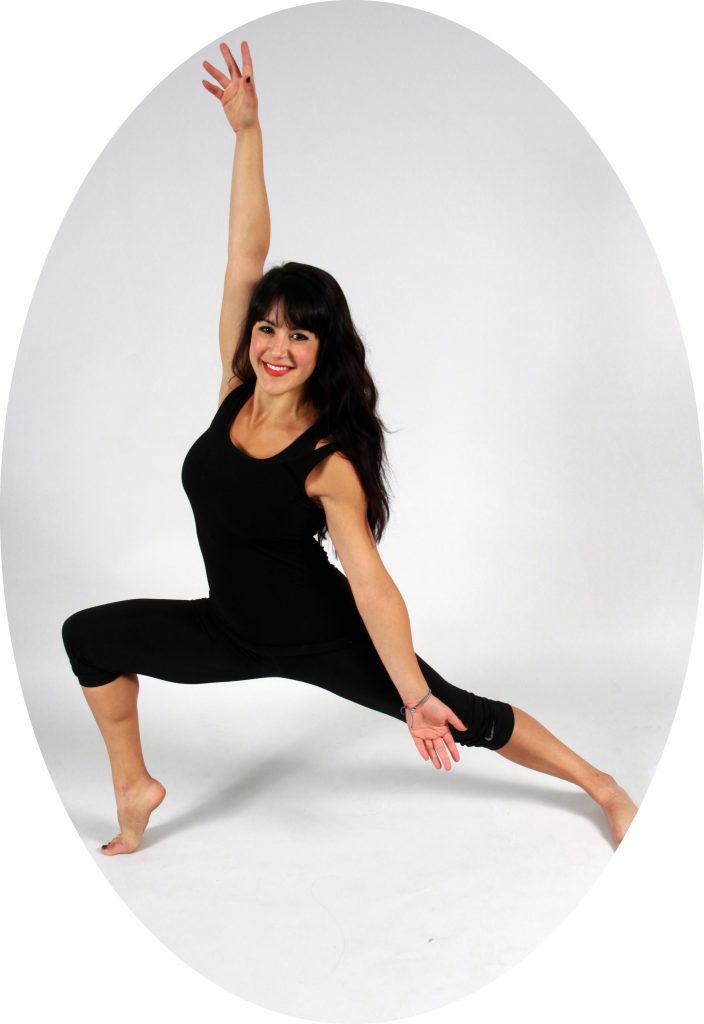 Hey all!
I decided to do a meal planning/prep kind of article this month so you have some killer new salads and overnight oats ready to go for your breakfast and lunch! I'm sure you have seen a "how to meal prep salads or overnight oats" blog at some point, so let me help simplify it. The goal is to make something balanced (macronutrient-wise), colorful, fresh, filling, and tasty. So many lovely fruits and veggies are in season right now, so let's take advantage. Mother Nature knows when and what we should eat which coincides with our body's optimal health. How brilliant is she?!
Balanced Salads:
a.      Have protein, fat, and carbohydrates
b.      Have at least 3 different colors
c.      Are filling and satiating but yet make you feel light and energetic
d.      Whole food dressing (that can be your fat source)
e.      Delicious!!!
The "Power to the People" Kale and Tofu Salad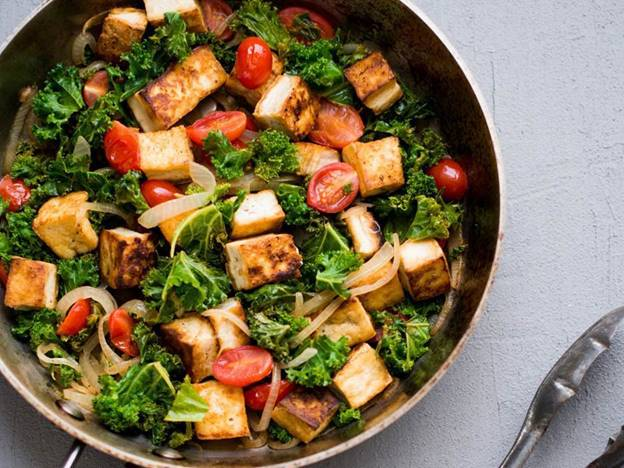 Ingredients: 
Wild Rice/Barley
Lentils
Spicy Ginger Tofu
Kale
Red onion
Carrots
Steamed broccoli
Bell pepper
Sunflower seeds
The Immuno-Boosting Burrito Bowl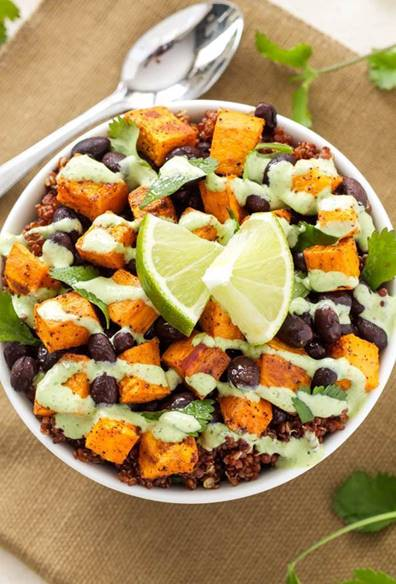 Ingredients:
Black Beans
Tomatoes
Red onion
Quinoa
Avocado
Bell pepper
Sweet potatoes
The Immuno-Boosting Buddha Bowl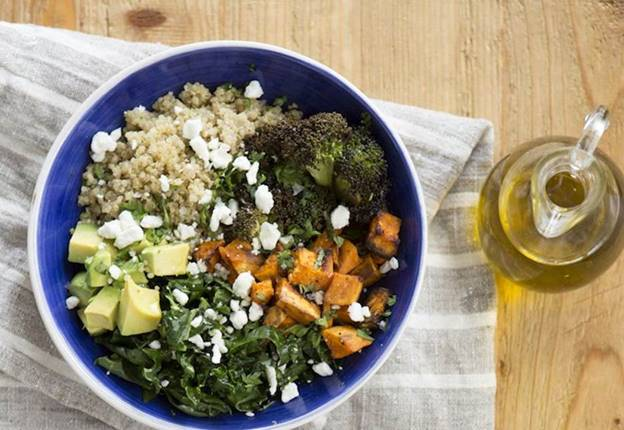 Ingredients:
Chickpeas
Spicy Ginger Tofu
Kale
Spinach
Quinoa
Bell pepper
Brocolli
Sweet potatoes
Avocado
Crumbled Feta cheese
Avocado Spinach Summer Quinoa Salad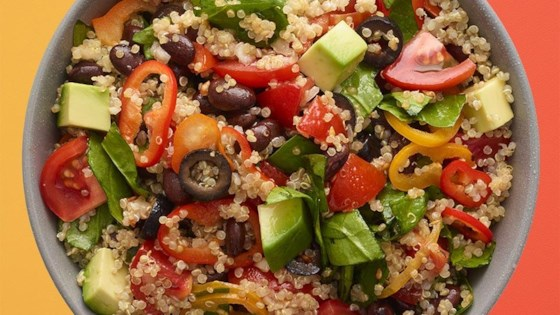 https://www.allrecipes.com/recipe/247169/summer-quinoa-salad/?internalSource=hub%20recipe&referringId=260&referringContentType=Recipe%20Hub&clickId=cardslot%2012

Ingredients:
Spinach

Quinoa
Black beans
Tomatoes
Avocado
Bell pepper
Black olives
Red onions
Kale, Quinoa, and Avocado Salad with Lemon Dijon Vinaigrette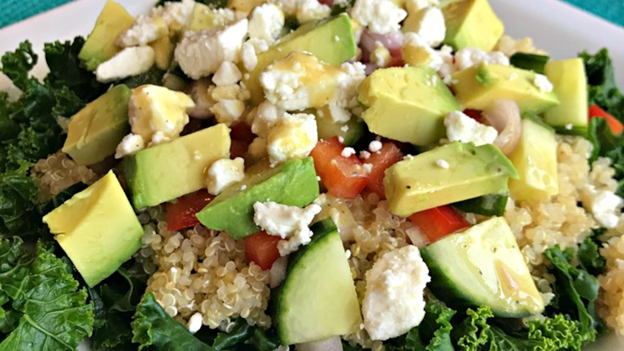 https://www.allrecipes.com/recipe/230050/kale-quinoa-and-avocado-salad-with-lemon-dijon-vinaigrette/?internalSource=hub%20recipe&referringContentType=Search

Ingredients:
Quinoa
Kale
Tofu
Avocado
Cucumber
Bell Pepper
Red onion
Top with crumbled feta cheese
Chicken Summer Salad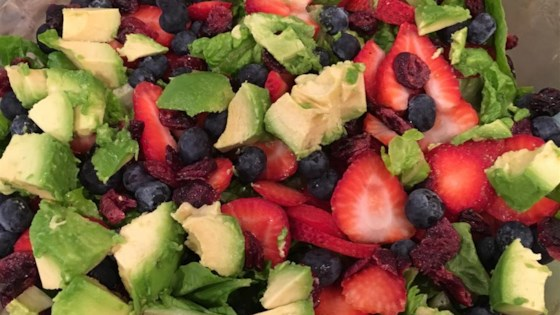 https://www.allrecipes.com/recipe/168936/amys-sensational-summer-salad/?internalSource=recipe%20hub&referringId=260&referringContentType=Recipe%20Hub&clickId=cardslot%2050

Ingredients:
Romaine lettuce

Chicken Breast
Avocado
Diced strawberries
Dried cranberries
Southwestern Tofu Salad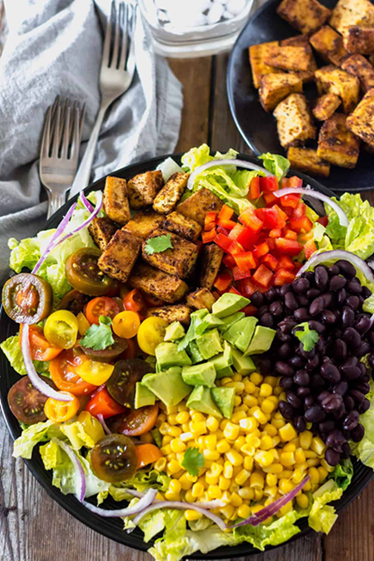 https://healthiersteps.com/recipe/southwestern-tofu-salad/

Ingredients:
Romaine lettuce
Black beans
Tofu
Avocado
Tomatoes
Sweet Corn kernels
Bell pepper
Red onion 
Now let's talk Overnight Oats!
Balanced Overnight Oats Have:
a.       Whole grain oats
b.       Protein
c.       Fat
d.       Fruit
e.       Flavor!
PB & J Overnight Oats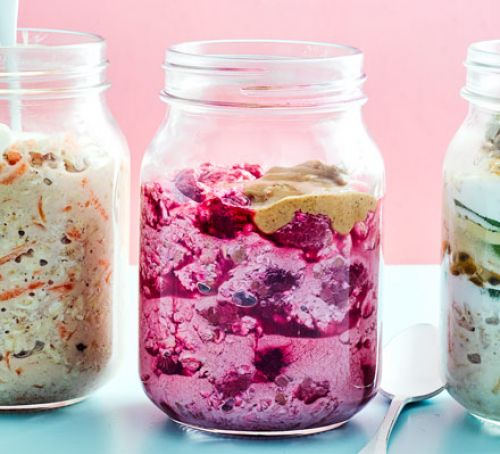 https://www.bbcgoodfood.com/recipes/pbj-overnight-oats
Ingredients:
raspberries

oats
1 tsp maple syrup
1 tbsp peanut butter
Whole Foods Overnight Oats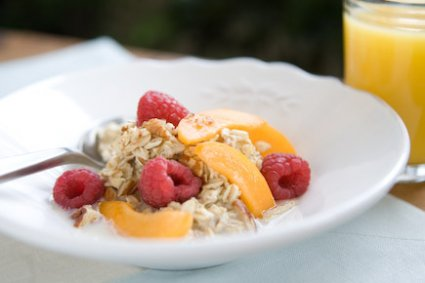 https://www.wholefoodsmarket.com/recipe/overnight-oatmeal?qt-mobile_recipe_details=1
Ingredients: 
2 cups rolled oats (not instant or quick cooking)

2 cups low-fat milk, unsweetened soymilk or almond milk
1 teaspoon lemon zest
1/2 teaspoon pure vanilla extract
1/4 cup chopped pecans, walnuts or almonds
2 peaches or apricots, pitted and sliced

2 tablespoons agave nectar (optional)
Chocolate Banana Overnight Oats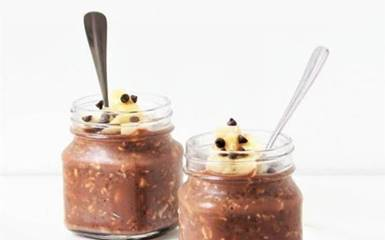 https://rachelgoodnutrition.com/chocolate-banana-overnight-oats/
Ingredients
½ cup rolled oats
1 tablespoon chia seeds
1 cup milk of choice
1 medium sized ripe banana
3 teaspoons unprocessed unsweetened cocoa powder (I like hershey's)
1 teaspoon vanilla extract
2 teaspoons hot water
Carrot Cake Overnight Protein Oatmeal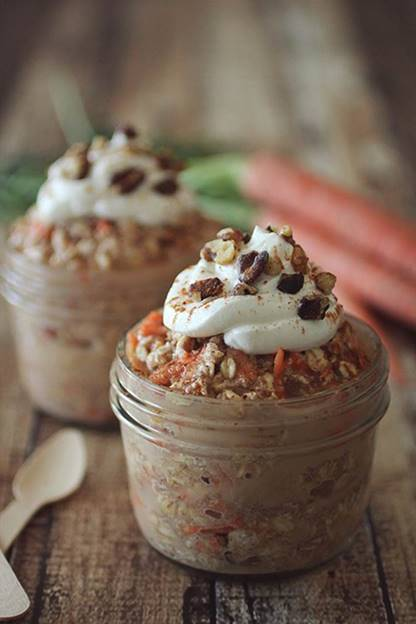 https://dashingdish.com/recipe/carrot-cake-overnight-protein-oatmeal/
Ingredients:
Unsweetened almond milk (or milk of choice)

1/2 cupPlain low fat Greek yogurt (or mashed banana, applesauce or pumpkin)

1/2 cupGrated carrots (I used one large carrot)

1/4 tspSalt (or to taste)

1/2 tspCinnamon

1/2 tspApple pie spice

2 tbsBaking stevia (or 1/4 cup sweetener)

1 cupOld fashioned oats

1/4 cupProtein powder (or additional oats)
Hope you feel a little food inspired for some of your meals. Hit me up and let me know what you've tried!
Miriam MPH, RD, CPT, Certified Intuitive Eating Counselor
Studio SWEAT Dietitian
BODY-SCULPTING WORKOUTS. NON-STOP NEW RELEASES

|

Pick Your All Access Pass Now!