If you have not tried a live class, you must try one! We know that being able to click play on-demand is beyond convenient, but it's super fun to jump into a live class when you can.
We live stream most of our Live Classes using Zoom since so many are now familiar with it. Here are the easy steps to join our live classes.
Go to our Live Classes page to see our scheduled Live events  – This page can be accessed from the homepage by clicking the Live Classes tab or through the Live Classes Menu in the app. Images below.
Make sure you are Logged in to see the schedule and join a class
The live-stream class will begin right there on the live classes page. We suggest you visit the Live Classes 5 to 10 minutes before class scheduled start time (remember they are listed in PST, except on the calendar view which should show your time zone) so you're connect and ready to sweat when it's go time!
TIP:  Join using Internet Audio for the best experience
Browser View

App View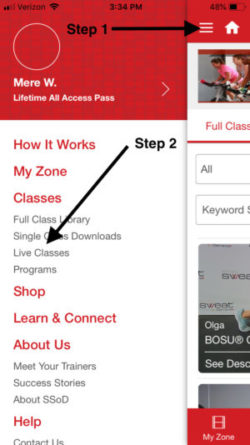 Posted in: Spinning® and Classes