If you have not tried a live class, you must try one! We know for the day to day being able to click play on-demand is more convenient, but it's super fun to jump into a live class when you can.
Live classes can currently be streamed through a web browser (desktop or mobile) and our Apple and Android apps (you must sign in to the see the player!). It is not available through our other mobile or TV apps. Remember that not all mobile devices will support the live class player. You must also be signed in to your account and be an All Access Pass member to be join a live class.
To view the live class schedule or to join a live class from a web browser just click here! We suggest you bookmark it. You can also see the link to Live Classes on our homepage when logged in as seen below. And if you need the direct link, well… here you go!

If you'd like to join the live class from our Apple app on your iOS device or from our Android app on Android devices, open the app, click on the Menu icon then Live Classes.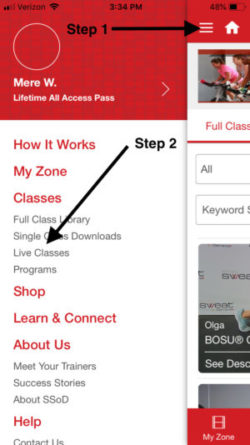 Posted in: Spinning® and Classes BODY-SCULPTING WORKOUTS. NON-STOP NEW RELEASES | Pick Your All Access Pass Now!