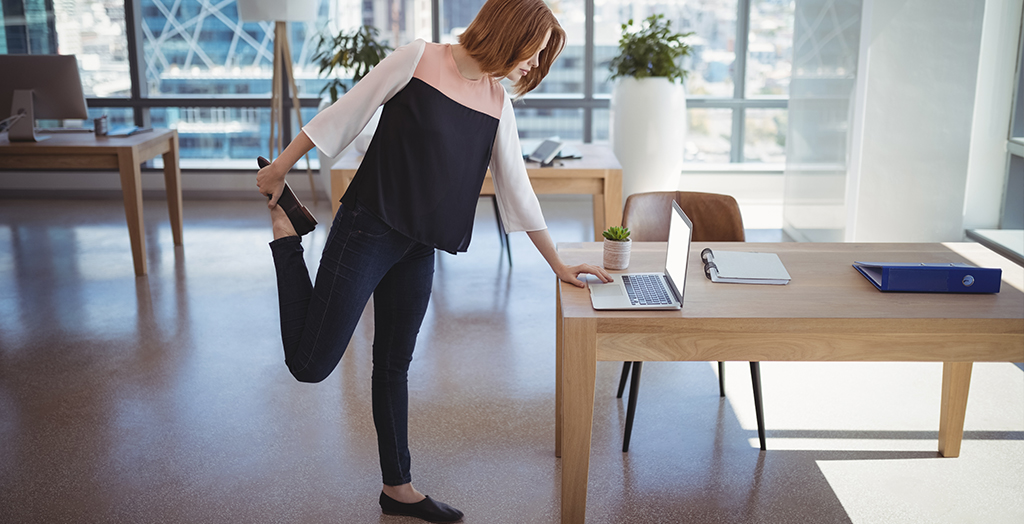 Is it possible to exercise at work? Sneaking in a quick lunch break workout sesh during your hectic schedule might seem like a miracle. Lucky for you, at Studio SWEAT onDemand, we're always coming up with quick workouts that work around your busy day. With some of our 30-minute-and-under workout videos, you can stream a perfect short workout session on your mobile device, all while you're on your lunch break. So, no more excuses. We're gifting you with a few videos we think are PERFECT for the worker that wants to go from completely slammed to totally ripped.
Your Yoga Solution
Yoga: it's the best way to let loose at work. Instead of putting a lampshade on your head at the office Christmas party, try this relaxing, stress-reducing 30 minute Yoga video during your lunch break. Yoga is as low impact as it gets, and you'll learn crucial breathing techniques for the inevitable moment that Susan eats your sandwich… AGAIN.
Does every meeting with Sean make you wanna squeeze your stress ball until it bursts? Thankfully, Yoga also teaches you super helpful techniques on releasing muscle tension through dynamic stretching.
You Should Be Dancing
It's your break from work—why not make it fun? We found this great 10-minute, low-impact workout that incorporates dance moves while improving agility and activating your core. This workout is perfect if you're looking for something more exciting than the run-of-the-mill, basic 30-minute workout video. Basically, it's a lunch break workout that doubles as dance practice!
For Your Core
Want to stretch the limits of what a core workout can do? Try our 20-Minute Stretch, Restore and Core class. This double-the-benefits workout is a lighter, looser take on an ab workout that'll open up your spine and give your arms and legs the stretch they need.
Sculpt with the Best
Got a few free weights lying around your office? Try a more heavy-duty workout with our low-impact Sculpt class, a super-efficient exercise that's perfect for sculpting and toning your figure.
Plus, this half-hour, full-body workout video is designed for people that want precise strength training that's easy on the shoulders and knees. That means you can get back to your desk feeling pumped and refreshed—not achy and sore.
As always, instead of getting mad when Jill inevitably messes up your coffee order, channel your rage into 5-10 more reps. Now THAT'S synergy.
And, don't have dumbbells handy? Excuse eliminated. You want to prime those muscles with no equipment. There are tons of streaming workouts you can do at work right HERE!
See any workouts you like? Good, because it's time to get off the dinky balance ball chair and really get crackin' on achieving that dream body. And don't just stop there, whether you need a convenient 30-minute workout video or a full hour of fat-torching workouts, you can make the perfect training program from Studio SWEAT onDemand's library of Bootcamp classes, kettlebell workouts, Pilates, and so much more. All you have to do is sign up for the 7-Day Free Trial, and you can get access to workouts led by world-class trainers. And best of all, our classes include real people—not actors or fitness models. Time to put the work in workout!
BODY-SCULPTING WORKOUTS. NON-STOP NEW RELEASES

|

Pick Your All Access Pass Now!