A Side by Side Comparison
Pretty much every time you turn on your TV or log on to your computer you see this ad of a lady riding an indoor cycling bike in her plush New York apartment, right? Me too! It's funny though because it's a workout that's been around since the mid-1980s, Spinning®, a.k.a. Indoor Cycling, but for many of you it's just now being thrust into your line of sight.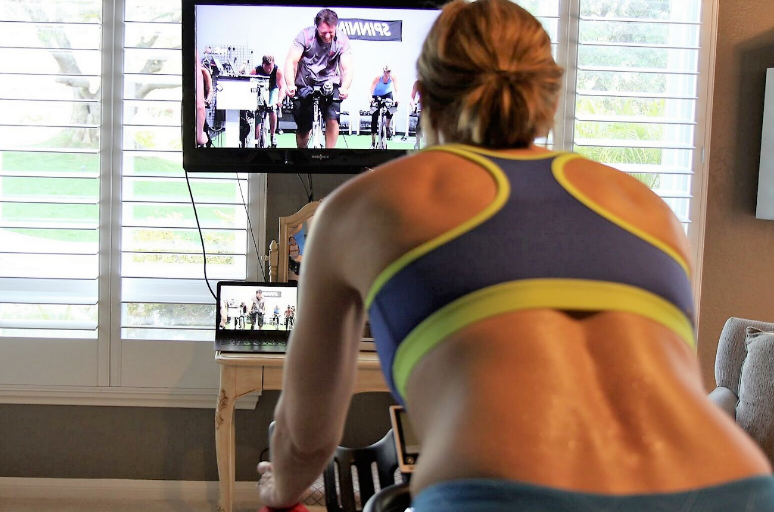 Spinning® is a seriously incredible calorie crushing, body sculpting workout, which is why it's maintained, and continuously built such a strong following. It's typically done in a group setting at a big box gym, boutique fitness studio or cycling studio, but lately, a new trend is emerging, working out from home, and it's taking off like wildfire. Why? Because it's offering busy health enthusiasts around the world an affordable solution to get it done in a private setting, and on their own schedule.
In this article, we're going to talk to you about the two top emerging options you can use to jump on board the Virtual Spinning® bandwagon from the comfort of your own home, Studio SWEAT onDemand® (SSoD) , and Peloton Cycle.
From the surface Studio SWEAT onDemand® (SSoD) and Peloton Cycle appear similar due to their strong promise, accessible platform, and dedicated target demographic, but when looking through a clearer lens, the differences are what make the companies so distinct and unique. Let's look at the comparisons!
START-UP COSTS
Studio SWEAT onDemand®

Peloton

Completely Up to you!

Use Any Indoor Cycling Bike That Fits Your Budget

and

Pick From

Month to Month, 6 Month or 12 Month Subscription Plans

as low as $19.88

~$2,823

______________

The Breakdown

$1,995

Base Exercise Bike Price, Exclusively Sold Through Peloton Cycle

+ $200 Average Delivery Fee

+ Sales Tax for Most Buyers

+ $468

$39 Monthly Subscription Fee for Required Minimum 12 months
Rather than restricting users to one bike, SSoD suggests at-home cyclists pick any indoor cycling bike that meets their budget or circumstance. Heck, if it were me I would Shop Costco or Checkout the Indoor Cycling Bikes on Amazon for some amazing steals and deals before dropping thousands and committing to paying Peloton $39/mo with a lengthy commitment!  You don't even necessarily have to have a bike in your home; you may just choose to use a bike you have access to, like at your local club, office gym, or hotel workout room. In that case, you can still enjoy all of the benefits of SSoD by just bringing your mobile device to the bike!
Riding at-home is an amazing option though, and Indoor Cycling Bikes are available through numerous online retailers (like Amazon), as well as local fitness stores, or even Costco. When browsing online, search for "Spinning Bikes" or "Indoor Cycling Bikes" and you'll see several affordable options. You can even go pre-owned if you prefer. SSoD also offers various quality & reliable bikes through their website for as low as $489, and that includes the subscription for classes.
The Peloton bike offers a built-in console that has a great immersive experience, and some fun bells and whistles, like the ability to compete with other Peloton riders. A downside to the built-in console is that you risk the technology becoming outdated. As the console is mounted to the bike, if the hardware becomes obsolete or technology advances and Peloton software does not, you might be stuck with the bike as is. And what if you want to stop paying the $39/mo, then what?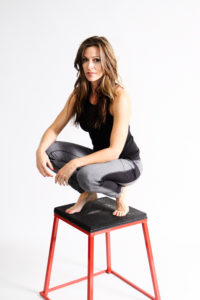 That's why Cat Kom, founder of SSoD, said she prefers to allow her customer to not only have flexibility when it comes to the bike they ride but also with means they choose to watch their Spinning classes. She said, "Most people, given the option, would likely prefer to look in front of them to a flat-screen mounted on their wall, rather than down at a screen mounted to a bike, so at Studio SWEAT onDemand we like to offer options for people to watch our classes using things like Apple TV or their Internet Ready TVs. It really allows for more of an in-studio feel that way." And if you prefer to look down while you ride, you can watch SSoD classes using your phone, a tablet mounted to the bike of your choice, your laptop screen, etc. Whatever suits your mood or budget!
OPTION TO TRY IT BEFORE YOU BUY IT?
Studio SWEAT onDemand offers a Free Trial 7 Day Trial where they offer over 100 classes you can take for a test ride. This includes not only their world-famous Spin class but their off the bike supplemental workouts, like Yoga and Boot Camp. You can use the free trial through almost any Internet Ready Device (smartphone, laptop, streaming TV, or Tablet) or through their Apple or Android Apps.


For Peloton's full-service option (like you see on their commercials) there is not a Free Trial. It's a little tough for most people to be able to "try before you buy", unless you happen to live near one of their showrooms, so to commit to spending $2800+ before trying the bike or classes might feel pretty risky to many consumers. You can, however, get a 14-day free trial to watch classes, but only through an iOS device.

Register Today to Get Access to Over a Hundred Body Sculpting Classes by Signing Up for Your FREE 7 Day Trial
Once the free trials have expired, what's next? Let's talk about the plans available.
PRICING & PLANS AVAILABLE
Studio SWEAT onDemand®

Peloton

Subscription Monthly Cost

as low as

*$9.94/mo

Standard rate: $19.88/mo

$39.00/mo

**or  $19.95+tax mobile app only  App does not include interactive experience or data tracking

Contract Required

NO

Yes

A 12-month commitment at $39/mo is required for those using the Peloton Bike.

No, if you just use their iPhone or iPad app.

Free Trial

✓

✓

Live Classes

✓

✓

Sells à La Carte Classes

✓

Custom Workout Design

✓
Studio SWEAT onDemand® Pricing Options: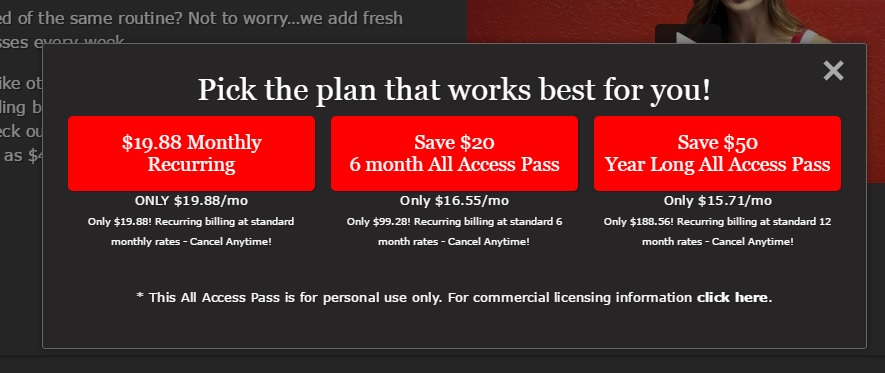 The All Access Pass is a subscription that gives riders unlimited access to a vast library of on-demand workouts on and off the bike. They have hundreds of on-demand classes available now, and that number grows each week as new classes are added to the library. You can buy plans to go month-to-month or save even more with 6 or 12-month options. They also run intro specials throughout the year that bring the price down as low as *$9.94/mo so watch for those deals!
Get Your All Access Pass Today to Get UNLIMITED Access to Over Four-Hundred Body Sculpting Classes
Their newest offering is live-streaming classes, which they started adding recently, though most at-home riders seem to prefer on-demand classes over live streaming. It is nice to know they have both options on the horizon though! All live streaming classes will be free for those with an All Access Pass.
Purchase Single Classes a la Carte which can be viewed without Internet access because they are Downloadable. These are a fantastic option for when you only want the occasional video workout, or if you have poor Internet connectivity, as then you can actually download the class you purchased right to your mobile device or computer. Single Classes are only $7.88 each.
The Premium Plan –  for an extra $5/mo provides a custom weekly workout plan, with suggested workouts for the week that are tailored to your fitness goals and objectives. It's no secret that when it comes to meeting your fitness goals, motivation is key to success, but it's hard to pick through hundreds, or even thousands, of workouts to find the ones that are best for you, so the Custom Weekly Workout Plan Pass takes the guessing away. Premium plan members also get unlimited offline downloads, discounts on merch, other fun perks!
Peloton Pricing Options:
Peloton does not have the option to buy single classes, but they do have the option to stream unlimited on-demand and live classes. They began with only live-streaming classes, but have since jumped on board by also offering on-demand classes as well, most likely because research is showing the at-home rider's desire to click play when their schedule allows for it. Riders now often describe the live classes as "novelty".
Peloton's full-service option (that you must commit to when you purchase the bike) is $39/mo with a 12-month minimum contract.
If you don't have their bike, the only other option they currently have is for their iOS app and that is **$12.99/mo.
WAYS TO WATCH THE CLASSES
Studio SWEAT onDemand®

Peloton

Android App

✓

✓

contains limited features and casting options

iOS App

(Apple Mobile Devices)

✓

✓

contains limited features and casting options

Other Options to Display Classes

-TVs

TV Apps on ROKU & Apple TV + Multiple Options to Cast/Mirror!

-Computers

-Apple TV

-Gaming Devices

-Pretty much anything with a browser. For a complete list please click here.

Note: Browser support for video playback can vary.

Mounted Bike Console

-TV , only if you own Apple TV
The Peloton app mentioned primarily seems to serve as an extension of their regular service and is included for those paying their $39/mo fee, though you can access it without buying their bike for $19.95+tax/month.
On the flip side, and as mentioned earlier, SSoD provides a large variety of options to watch their classes not only for Apple users, but also for Android users, as well as those that prefer to use their PCs, their generic tablets, TVs they already own, etc. Typically, if you can get the Internet on a device, you can use it to watch SSoD workouts, and if you can't get the Internet, there's always the option to pick and purchase from a huge inventory of single class downloads. We know there's still a lot of places where there's a need for this option, so SSoD is happy to provide it for you.
Now, we've got one last important area to cover, and it might be the most defining subject of all, and that's…
THE COMPANY, COMMUNITY, & CHARACTER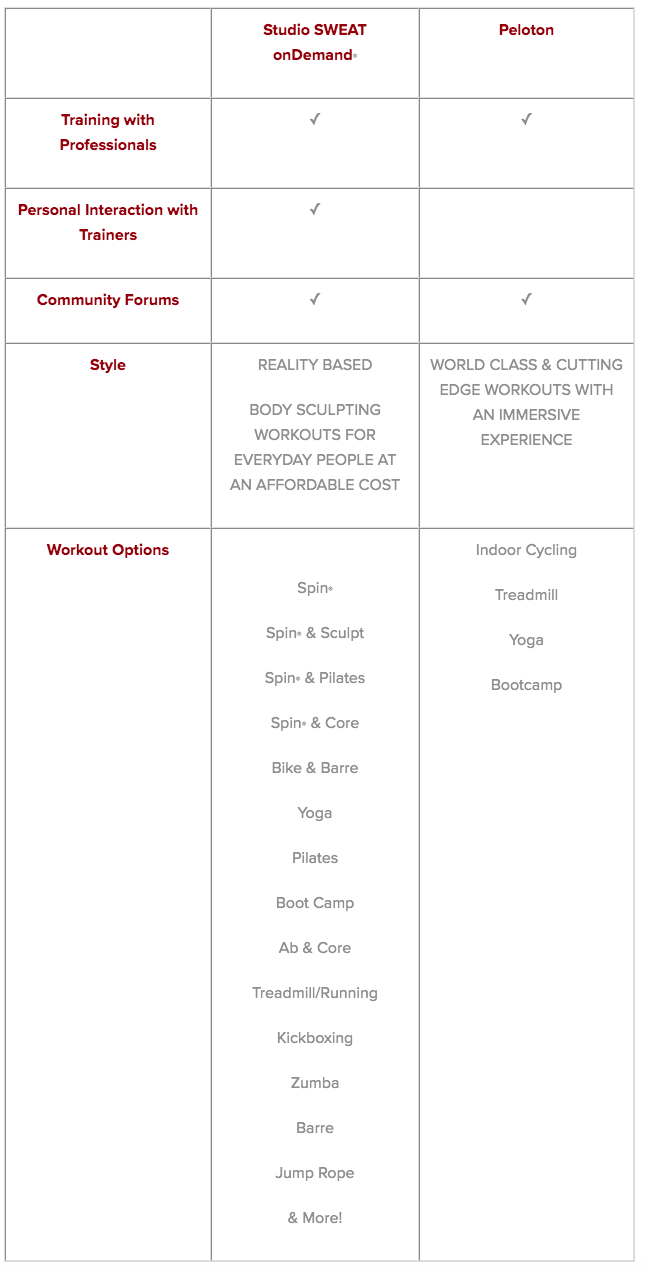 Peloton uses a somewhat staged environment with more of a DJ driven club environment, and instructors that have similar builds and styles, while SSoD has more of a reality-based athletic environment with everyday people just like you. This gives at-home riders that "in studio" feeling, and really helps them feel as if they are part of a community of like-minded people.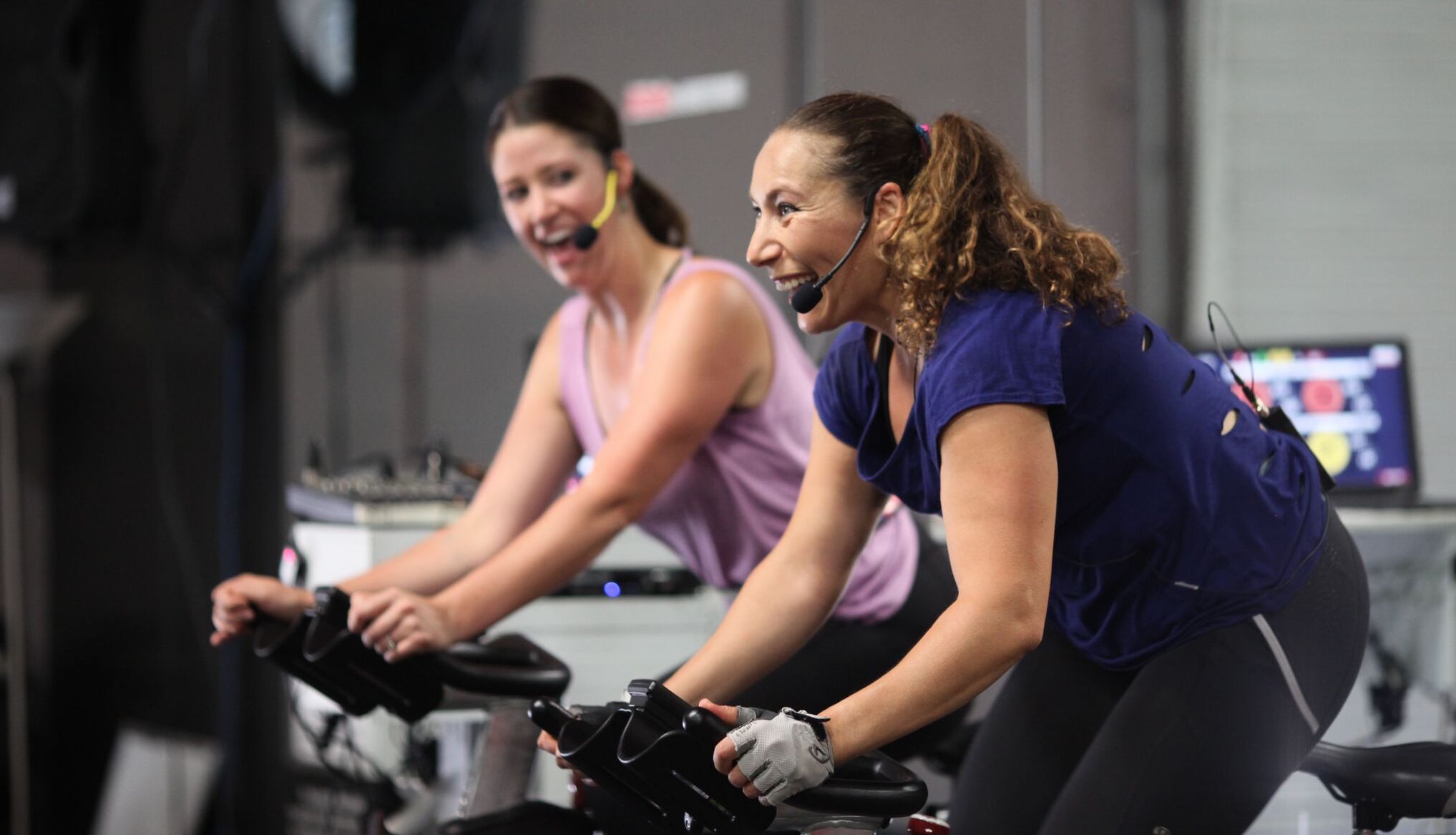 There's no question that both of these companies are building a following worldwide and are providing fresh and fun at-home fitness experiences that go beyond anything the cycling market has ever seen before. Most of this debate really comes down to the question "which option is best for you?" If you're looking for an aesthetic and innovative encounter, use Peloton. If you're more interested in real workouts and community that keeps the everyday person motivated, and at a price you can afford, check out Studio SWEAT onDemand.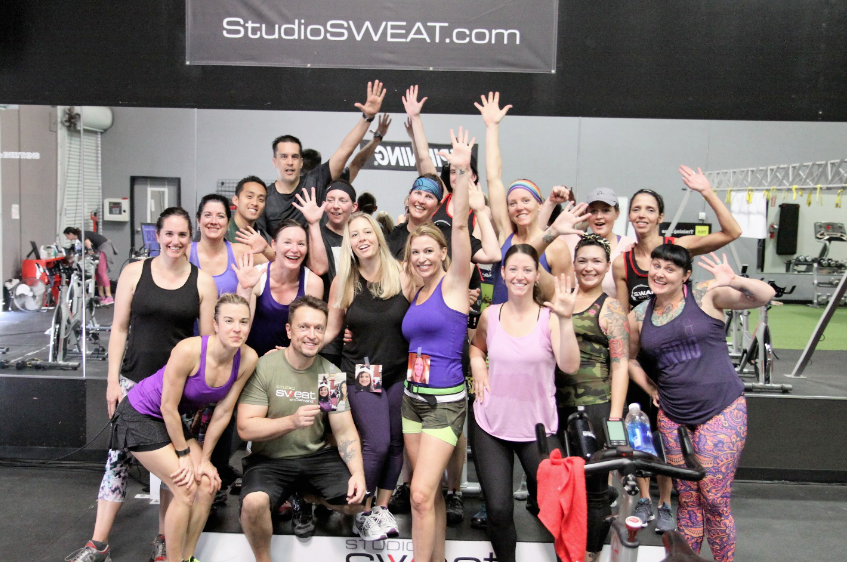 BODY-SCULPTING WORKOUTS. NON-STOP NEW RELEASES

|

Pick Your All Access Pass Now!