Here's the problem. After the year we've just had — working from home, kids out of school, those quarantine lbs adding up, and ALL of us spending more and more time glued to our phones — we're all in need of getting up, getting out, and getting active. And that goes for our families, too. 
Although healthy exercise is always a good idea, this year it seems to be even more so. And wouldn't it be good if we could all get our workouts in, while actually spending some quality time together, too? You're darn right it would! 
There are so many benefits of exercising as a family, so let's get into it – here are our family workout tips to get your whole clan moving and grooving! 
Schedule Time for Fitness
Kids, despite all of their protests, actually like and benefit from structure. Whether it's having a regular bedtime or after-school schedule, kids tend to do much better when a portion of their days are planned out. So when it comes to family workouts, all you need to do is create a schedule, and stick with it. It could be a nightly walk, a weekly hike, even a Thursdays-are-for-rock-climbing type deal — if you schedule your family exercise routine, your kids will be much more inclined to participate. 
HUNDREDS OF BODY-SCULPTING CLASSES

|

Sign up for your 7-day free trial now!
Learn a New Sport Together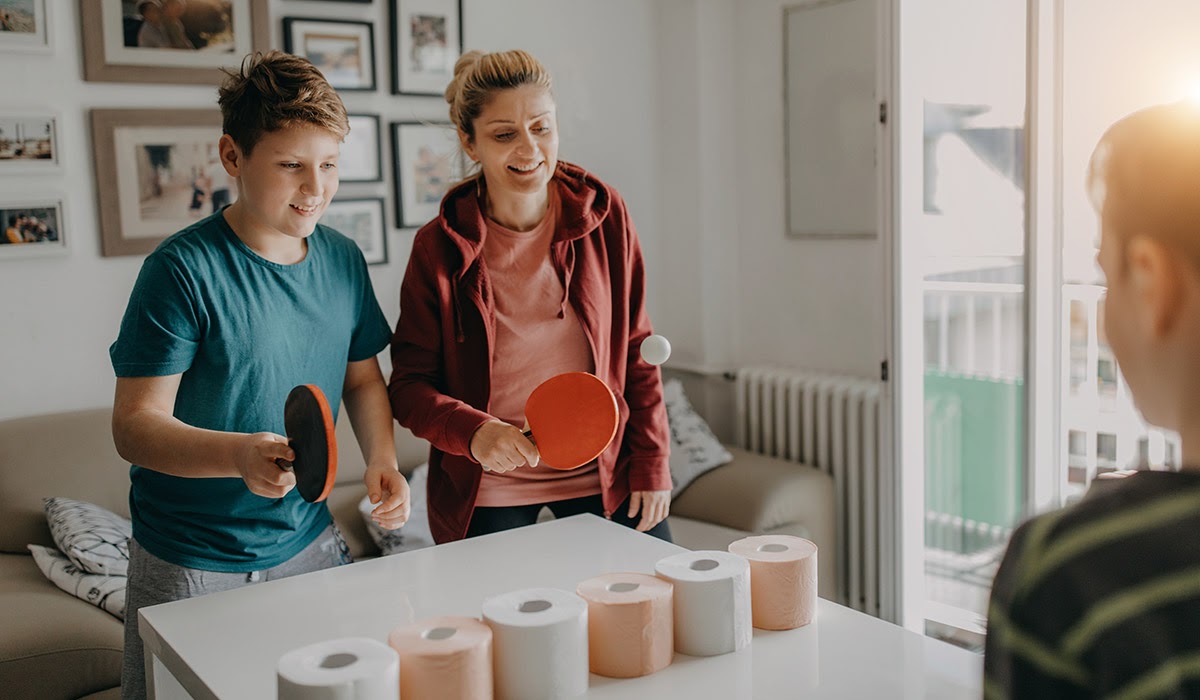 Kids like novelty. Who are we kidding — we all like novelty! An easy way to get your kids excited about working out is to try out something new. Maybe your family wants to take up Jiu-Jitsu, learn ping-pong, or dive into water polo. Introducing a brand new sport could be just the spark they need to work out together. If you can pique their interest in something new, they may even forget to drag their feet, make excuses, and complain! 
Reward Your Crew
At Studio SWEAT onDemand, we're not above a little bit of bribery — if it gets the job done right. Now ideally, you'll all collectively discover the joys of working out, but to help you a little, try some light bribery (keep it light!). For example, you could set a weekly family workout challenge (like everyone getting in 45 minutes of cardio, completing 10,000 steps, etc.) and once it's achieved, you each get to pick out a new water bottle or maybe you'll earn yourself a beach day! Or maybe you plan a family fitness goal (like x number of minutes a month or a weight loss goal), and once you hit your goal as a family, go on a family vacation! 
Get Competitive
Let's face it, we've all got just a little of that competitive fire inside of us. And you can tap into that spirit (and get your family working out) by challenging another family to a little friendly competition! Pick a team sport, like volleyball, soccer, or ultimate frisbee, meet at your local park and play! Make sure to always practice good sportsmanship — don't boast when you win and don't get too down on yourselves if you lose. Remember this is all to get you active and healthy, so keep it positive!
Try Virtual Family Workouts
One of the best ways to get your crew a-movin' is to get into some family workout videos, courtesy of Studio SWEAT onDemand! With our Free 7-Day Trial, you'll get access to tons of virtual fitness classes that anybody can do — kids, teens, parents, grandparents, anyone! And with workouts like Hip Hop Cardio, Bootcamp for Kids, Boxing Drills, and more, everyone in your family will find that much-needed fitness inspiration. So what are you waiting for, sign up and let's get fit, fam!