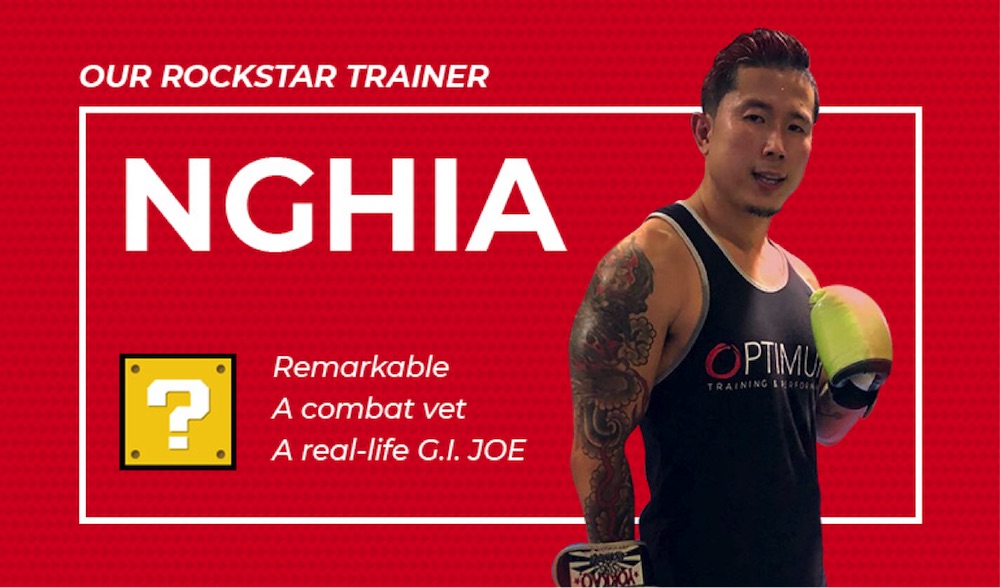 For this latest Day in the Life of a Trainer series, we're talking to a real-life G.I. JOE – Nghia Pham of Optimum Training & Performance. Nghia is one of the most interesting people, let alone trainers, we've ever met: a combat vet that served for 7 years, he's worked with pro athletes and Olympic 2020 hopefuls, as well as your regular joe who just wants to get healthy.
But what's even more remarkable about Nghia is his outlook on training that emphasizes mental, as well as physical, strength.
How Did You Get Started with Personal Training?
Honestly, I never planned on being a trainer. It's just through my experience and the people I was surrounded with that translated somehow, and I have to give credit to the people that inspired me to use these skills.
But it's been a long journey, and I've been around athletics since I was little. I wasn't naturally gifted, so I had to find a way to train to get better. Then after high school, I served 7 years in the Marine Core. That sparked something in me because I had to be combat-ready all the time.
I had an opportunity to be surrounded by warriors – and it made me realize mental strength was more important. Eventually, I became a platoon sergeant, and having so many marines under me taught me that strength is not just about staying in shape. There's something about the training, exercise, and overcoming your fears; people come out of situations like that also mentally stronger, because they have an outlet for stress.
So, when I left, I started a regular 9-5 job, but I felt like there was something missing in my life. I felt like I wanted to use my experience to help people. So, I got a part-time job doing personal training. It just felt so natural and easy. And after a few months, I made a commitment to make it my full-time job, and I started doing really well.
What's the First Thing You Do When You Wake Up?
First thing I do in the morning is meditate. I try to think about my personal goals, career goals, and reflect on everything I've experienced.
Then I have a shake, usually a healthy smoothie with fruits and vegetables. But the priority is dropping my kids off and heading straight to the gym.
Then, I usually see my first client around 8-8:30.


How Long Is Your Typical Day?
In my typical day, I'll see about 8-10 clients. I'll usually see a client and take a break or eat a small meal. I'll usually schedule my own workout sometime that day, either strength-training, jiujitsu, or speed work.
What's Your Go-to Fuel?
I eat throughout the day, but my go-to meal is yam with a lean chicken or turkey meat. I also like a lot of raw or steamed vegetables – like bell peppers.
How Do You Prepare for a Training?
After I get home, I go over my notes to prepare for the next day. I'll do things like go over my clients' schedule, plan their training, track their progress, note injuries etc.
If my client is an amateur or pro athlete, then I have to structure out their training. Like for a kickboxer or MMA fighter, we have to plan out their training before a competition to prepare them and gradually progress them in time.
For something like baseball and football, you have to work with the demands of the season, make calculations for spring training, Nike camps, or tests like the shuffle or the vertical.
If needed, I'll do more research to make sure my clients are getting the most effective training. I'm not trying to kill my clients to make them better – I'm trying to teach them and educate them.
What's Your Nighttime Routine Like?
I have a routine I practice every night, and it's something I also teach my clients: before I settle down, I usually do a stretch or yoga routine. Or, I use a foam roller for some myofascial release, and some breathing techniques. Because doing what I do, I need to get rest to be productive. I need to be able to shut it down, and that's something I teach my clients, too.
What's Something You Think People Don't Understand About Personal Training?
I think a lot of people don't realize how much knowledge it takes to be a good trainer.
You have to educate yourself on the science of movement, but most of all, you have to love to help people. Being a great trainer is about loving helping people. A lot of the time, it's about learning about what a person needs. You need to understand so much about your clients – what if someone is going through cancer treatment or is pregnant?
You need to be able to open up, and you need to learn to listen, because training is almost like a therapy session. Some clients will work hard all day long, but until you can understand what someone's fighting through and help them cope with it the right way, then they won't know the right way to get results.
In the end, you gotta be flexible, be open to learning different things, and you gotta be humble. You're a mentor, a counselor, and someone that can inspire your clients.
Well, we at Studio SWEAT onDemand are certainly inspired. Are you?
Build that physical and mental resolve by signing up for a 7-Day Free Trial with Studio SWEAT onDemand. With a team of world-class trainers that offer real workouts and real results, we'll get you on your way to a happier, healthier lifestyle.
BODY-SCULPTING WORKOUTS. NON-STOP NEW RELEASES

|

Pick Your All Access Pass Now!