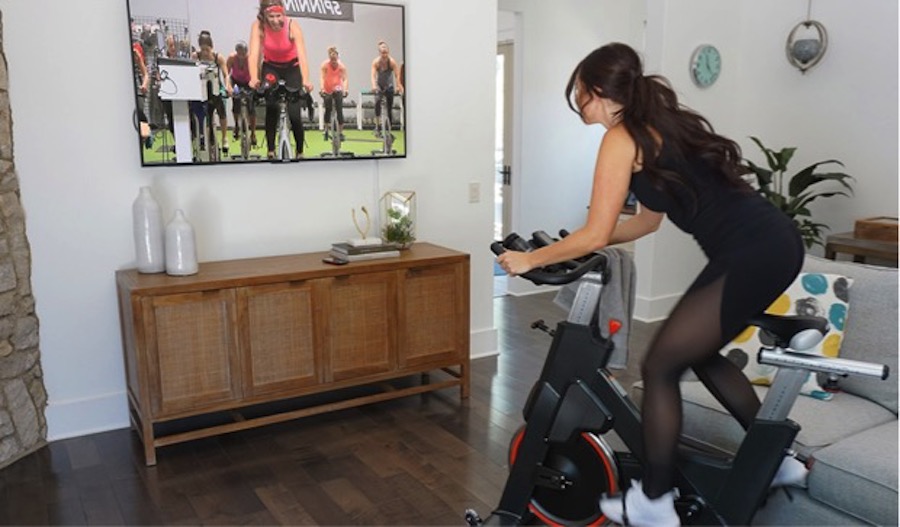 Still on the fence about Spinning? This is your lucky day, because we've collected 5 free Spin classes that might change your mind.
But a word of caution:
Not All Spin Classes Are Created Equal!
This is just a small sampling of Studio SWEAT onDemand's fat-torching, calorie-burning classes (we've got tons more when you sign up).
Before you create your own DIY Spin workout from an online template, or follow a low-fi video of some guy in his basement, remember what goes into planning a Spin class. The best Spin instructors often consider balancing muscle groups, rhythm, and the endurance of the riders. They also focus on bettering the riders' fitness levels with a balance of proper interval training and endurance drills. They become experts on queuing, motivating, and delivering to you a safe workout that gets you results.
But with any other free Spin class, you don't know anything about the trainers; are they certified, or not? Are they able to offer advice on how to modify the workout based on your needs? Do they know enough about training to know when workouts get too intense?
Are you watching something straight out of the 80s as the price for watching something free? Are you watching 3 static riders in matching uniforms pedaling to a script and not breaking a sweat? If so, that is NOT the best free indoor cycling workout. I'll tell ya that right now!
Thankfully, you can rest easy with Studio SWEAT onDemand, because every single one of our classes is taught by world-class trainers with the right certifications, experience, and passion. And the classes are all filmed in a live environment with real people, creating a super immersive environment. So, with other virtual Spin workouts, remember to do a little bit more research!
 And what about the video quality? Is it going to freeze on you 10 times so that every time you get into it you're stopped dead in your tracks? That's no fun. Is it going to work on your WiFi or phone connection? I hope so. But, that'll only happen if the content deliverer has the proper equipment to film and upload the class and has the expertise to make sure it renders in multiple resolutions since everyone has different Internet Speeds. Studio SWEAT onDemand's free workouts have all this.
But, let's move on to the thing you came here for, because we've got a sampler of 6 of our favorite Spin classes that are just waiting to be discovered.
Nothing else can get you to those fat-burning heart rate zones like Spin. And with this 28-minute ride, our fearless leader Cat Kom will absolutely put your heart through the ringer and back. Get ready, because you're headed to the cardio zone.
Are you a beginner Spinner or a cycling savant? No matter your skill level, this power-focused cycling workout just needs 20 minutes to get your heart absolutely pumping.
HUNDREDS OF BODY-SCULPTING CLASSES | Sign up for your 7-day free trial now!
How long can you go? If you're ready to go the distance, check out this amazing charity ride cycling class that goes on for a full hour. 
This free Spinning class is quick, but it ain't easy. In just a half-hour, Cat will guide you through smooth jumps, fat-burning sprints, and climbs that'll leave you shaking at the knees. But trust us—you're going to feel amazing after this one.
Looking to just break a quick sweat road riding style? This is the express ride for you!
Defy gravity with this intense climb that'll push your quads to the absolute limit. Think you can take it? This class goes an incredible 45 minutes, meaning you'll absolutely work your cardio and sculpt your legs.
So, feel FREE to try all those out, but also know that there's a better way to try before you buy. Sign up for a 7-Day Free Trial using the Studio SWEAT onDemand service, and you'll get unlimited access to hundreds of Spin classes, plus tons of different classes like TRX, Yoga, Bootcamp, HIIT, Pilates, and more. And you can play them on your favorite mobile device or TV. Because why settle for the free online Spin class here? You deserve to join an entire community of passionate Spinners and get guidance from some of the best trainers out there.
So, join the club, because Spin will set you free.
BODY-SCULPTING WORKOUTS. NON-STOP NEW RELEASES

|

Pick Your All Access Pass Now!